Park fishing offers chance to slow down
HOMESTEAD, Fla. — Even as Eleanor putters her way southward, disregarding the serenity of Biscayne National Park with each gaudy roar from her engine, the two men standing guard over the shore pay no mind.
It would appear hard for the fishermen at Convoy Point to disregard such a distraction; Eleanor's obnoxious growls send birds away in a hurry, adding rippling waves through the water that trail the outdated vessel.
For 42-year-old Samuel Perez and his 55-year-old brother, Carlos, the loud salute from Eleanor's captain, passing the men on his way towards Mangrove Key, adds some excitement to their day.
| | | |
| --- | --- | --- |
| Click on the video at the right to view a slide show of fishing photographs prepared by writer Camron Ghorbi. | | |
"It can be slow, sit here all day with no fish to catch," Samuel said. "But this is our life, we always fish since we were little."
Though the sense of tranquility that so thoroughly defines Biscayne National Park is easy to recognize, the importance of fishing to the park's identity may not be as noticeable at first glance.
The Perez brothers, who grew up in the renowned fishing town of Cartagena, Colombia, are not the only ones who have relied on surrounding waters for their livelihood. An important chunk of park history tells the story of the Tequesta Indians, who originally inhabited the shores of Biscayne in the 1700s and built their lives around the bounteous bay. Now, many fishermen count on their daily trips to the park as a way to feed their families.
"We both have children close to here," Carlos said. "We all eat a lot of fish when we go home."
According to the Biscayne National Park Web site, more than 500 different species of fish live in the 175,000 protected acres of the park. It's not only the rare, colorful fish abundant near the coral reef that draw eager visitors to the park. Many choose the convenience of the Convoy Point walking trail over the glass-bottom boat tours to truly take advantage of the park's many offerings.
"I always come fishing out here with my son," 29-year-old Thomas Slaughter said. "Since he's just a little kid, no one ever gives us trouble. He'd rather sit out here than jump off a boat."
| | | |
| --- | --- | --- |
| | | Local fisherman Carlos Perez stands on the breakwater at Biscayne National Park and waits for his next catch (Photos by Camron Ghorbi). |
According to Park Ranger Astrid Rybeck, anyone under 16 years of age is allowed to fish in the park. For most others, a specific saltwater fishing license issued by the state of Florida is necessary.
Biscayne National Park also serves as one of the few locales where spearfishing, a fishing practice involving the shooting of fish with a speargun, remains legal.
The distribution of licenses is important in ensuring that there are no examples of over-fishing that might be threatening to the local wildlife.
Though only one type of fish (smalltooth sawfish) is listed as endangered in the park's online directory, a number of reptiles and marine mammals that make their homes in the shores just east of Homestead are considered endangered.
"I know some people need to eat, but we usually end up just putting what we catch back into the ocean," Slaughter said.
Biscayne National Park additionally offers a Fisheries Awareness Class, held once a month off-site at Suniland Park in Pinecrest, for an informative opportunity to learn about fishing at the park. The class, which helps remind all fishermen of the different nuances involved in catching, identifying and releasing fish, is a free course offered in both English and Spanish.
| | | |
| --- | --- | --- |
| At right, visitor Paulo Sanchez, 42, turns trips to the park into family outings. Below, signs line the walk along the bay's edge with information about the bay wildlife. | | |
Abundant marine life is not all that makes Biscayne National Park special for anglers of all shapes and sizes. The crystal clear water, blending into the horizon in a picturesque sunset, manages to draw out fathers and sons, husbands and wives, and just about anyone willing to spend a few hours hoping for a tug of the line.
"My father used to take me fishing all the time, and I bet Ryan will do the same," Slaughter said of his young son. "When something is as engraved in you like fishing is in my family, you're constantly looking for new places to go out and toss a line."
For Michael Mayes, 65, a former lobster fisherman from the northeast, Florida represented an opportunity for well-earned retirement. After 40 years enduring one of the most dangerous professions known to man, Mayes finally called it quits. After he made the decision to move south with his wife more than five years ago, his grandchildren have made the yearly visit to spend time relaxing on Biscayne's shores.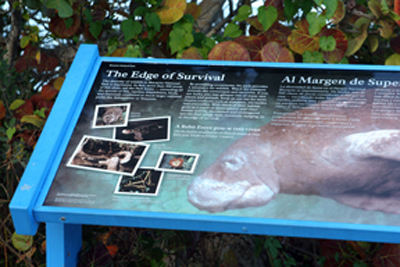 "I'm always the happiest when they're down here," Mayes said. "It's my favorite part of living in Florida, their visits."
For the Perez brothers, fishing has been a way of life since childhood.
For the Slaughters, fishing is a chance to spend quality time with family. For Mayes, fishing provides the opportunity to connect past with future.
Personal reasons aside, Florida's jewel of Biscayne National Park brings together anglers of all backgrounds with an opportunity to enjoy a simple, common interest.
"Isn't it incredible?" Mayes said. "You come down here thinking you want to finally get away from it, and this place makes you want to start all over again."
If You Go
Biscayne National Park, 9700 SW 328th St., Homestead, Fla., 33033.
The park is accessible from the north by both the Florida Turnpike and U.S. 1, and the south by U.S. 1.
Free admission to the park for all. Dante Fascell Visitor Center has restroom facilities, maps of the park, and a free park exhibit and accompanying short film. Snorkel tours leave twice a day from Convoy Point, ranging from $30 to $50. The walking trail is open during normal park hours. Convoy Point, which includes walking trail, opens from 7:30 a.m. to 5:30 p.m., while the Visitor Center stays open from 9 a.m. to 5 p.m.
Saltwater fishing allowed provided all park rules and regulations are met, including the necessary obtainment of the appropriate license. Licenses can be purchased.
Free parking and use of grills and picnic tables along the trail.