Zion trails provide scenic experiences
SPRINGDALE, Utah — Thousands of visitors head to Zion National Park each year and hiking is the most popular activity at the park. Every day hundreds head out into the canyons in search of beauty and adventure.
With 14 trails to choose from, everyone from seasoned hikers to beginners who rarely walk farther than from their front door to their mailboxes can find something to do.
The Weeping Rock trail is perfect for beginners This paved trail is a half mile round trip trek that takes hikers up a small incline to the "weeping rocks" – a dripping mountain spring. This trail is short, but it has a few minor drop-offs so those who are extremely afraid of heights should beware.

Other beginner-friendly trails include the lower Emerald Pools rail, the Pa'rus Trail, and the Riverside Walk. Both the Pa'rus Trail and the Riverside Walk are wheelchair accessible.
The most popular (and steep) trail in the park is the Angels Landing Trail. The trail is about five miles round trip and takes roughly four hours to complete. Its an extremely strenuous hike and not for the faint of heart.

| | | |
| --- | --- | --- |
| At right, a hiker negotiates the trail at Angel's Landing in Zion Canyon, Zion National Park (Photos by Jenna King). Below, Observation Point in Zion Canyon. | | |
The last half-mile is a narrow steep passageway where chains have been added for balance and support. The pay-off however is a breathtaking view of the canyon that can be taken to the next level by continuing up a ways to the highest spot in the park – Observation Point.
Individuals and families travel from all over to take part in the beauty of nature that is Zion. For instance, the Tracy family, Laura and her two daughters Roxanne and Joleigh, came over from Las Vegas (about a three-hour drive) for an afternoon hike day.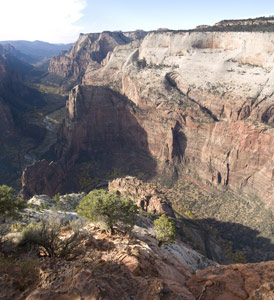 "There is a lot of good hiking around us. We like to come up here to see fall colors because we don't get them in Vegas," said Laura Tracy.
Others plan on staying at the lodge located inside the park and spending a number of days exploring the trails and seeing what Zion has to offer. Newly weds Steven and Kim Davis made the trek down from Paige, Ariz.

"We heard there was a national park here and we're big hikers, so we figured we'd come check it out," said Steven, "We're thinking we might come back again to do some camping."
Some people travel from much farther than the surrounding states. Kurt and Evette Luders traveled from France to visit Kurt's family that lives in the area.
Kurt moved to France to be with Evette (who only speaks French) and is now showing her the area where he grew up – which, of course, includes a little bit of hiking.

"Well, hiking's the thing to do here. I won't say you have no choice, but it it's really the way to get to know the place and I wanted to show it to [my wife]," said Kurt Luders.
When hiking, there are a few things you must always remember. First of all, always bring water. Even if you are going on a short hike and it's cold outside, you can still become dehydrated.

Wear proper shoes. A good sturdy pair of sneakers or hiking books will go a long way in keeping you comfortable and preventing injury.
| | | |
| --- | --- | --- |
| At right, a Zion National Park trail hiker walks through shallow water at the Canyon Narrows. Below, park visitors Kurt and Evette Luders walk down one of the walking trails in Zion Canyon on a fall day. Last, a visitor reads the information sign at Weeping Rock Trailhead in the canyon. | | |
Always stretch before you begin your hike. Simply throwing your pack onto your back can cause strain and minor injury if you aren't careful.
If it's hot outside, there are a few things you can do to stay cool. According to the Center for Disease Control, clothing is always an important way to keep yourself cool.

"Choose lightweight, light-colored, loose-fitting clothing. In the hot sun, a wide-brimmed hat will provide shade and keep the head cool," the CDC advises.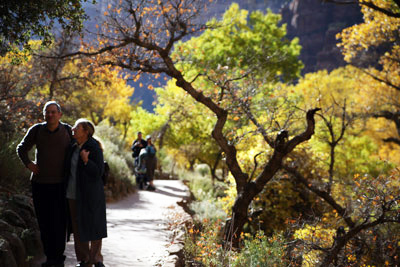 Wear a hat. It's nearly impossible to get sunscreen on your scalp and your scalp will burn.
Also, a hat helps prevent heat stroke by keeping the nerve endings in your head cool.

Take breaks, but don't stop long enough for your legs to get stiff.
Bring a walking stick. It doesn't make you look lazy or weak. They really can help lessen the load on your knees and ankles and give you better balance (safety first.)

Snacks are important to keep your blood sugar levels up to keep you from fainting. Fruit, nuts and crackers are all good ideas (hence the idea of "trail mix".)
Never step on something that you can step over, and never climb over something you can walk around.

Any hike to the top of a mountain must start early to avoid afternoon thunderstorms.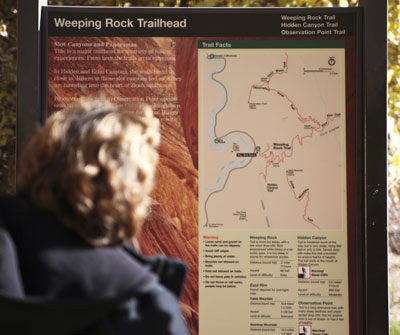 No matter how close you are to a high destination, you must turn away if lightning is seen or thunder heard.
These are just a few helpful tips if you plan on hiking on your trip to Zion, or anywhere else for that matter. Remember, safety first and have fun.

As Kurt Luder put it, hiking in the best way to really get to know the place and to experience the beautiful nature that is Zion National Park.
If You Go: