Lodge offers central location for Zion visit
SPRINGDALE, Utah — Imagine waking up and hearing silence. No honking cars, no sirens, not even the sound of a ringing cell phone. Then imagine stepping out onto your balcony and finding yourself surrounded by majestic sandstone mountains.
This is a reality for guests of Zion National Park Lodge, operated and managed by Xanterra.

| | | |
| --- | --- | --- |
| | | Click on the video at the left to view a slideshow about activities at Zion National Park photographed and prepared by Lindsay Brown. |
The lodge is tucked away inside of the giant park and is ideal for those who want an all-encompassing experience in Zion. The park, which spans 229 square miles, is ideal for anyone who enjoys hiking, rock climbing, or simply taking in the peace and beauty of the great outdoors. Zion Lodge is the only hotel located inside the park, and is perfect for someone who wants to be engulfed in nature.
"Literally, right across the street is some of the trail heads to some of the best trails in the park," said Jason Stovall, the lodge's operations manager. "Another reason why Zion Lodge is great is to be able to wake up and look up and see the canyon walls right from your room."
Visitors may be overwhelmed by the immense size of the park, but there is a simple way to get around that doesn't involve hiking the entire canyon.

| | | |
| --- | --- | --- |
| At right, the main building of Zion Lodge. The lodge is located in the center of Zion Canyon, offering close-up views of the park. (Photos by Zongchao Li). Below, a towering rock wall rises above the canyon floor across from the lodge. | | |
"There is a shuttle bus that you can take all over the park that runs from 6:30 in the morning to 10 o'clock at night," suggested Yula Carlson, a Russian exchange student who runs the front desk of the lodge at night.
The lodge has been a staple in Zion National Park since 1926. Gilbert Stanley Underwood designed the building to have a rustic feel, similar to the homes of the settlers that still inhabited the canyons at the time. The buildings featured less stone work than others at the time, focusing on large whole logs in a "studs-out" style. Sadly, the original lodge burned down in 1966.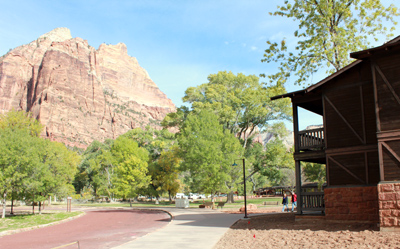 "So the story goes, the building was hastily rebuilt in 100 days, and has been remodeled a number of times since," said the hotel's Front Desk Manager Ronald Stenfors.
The most recent remodeling occurred in 1990, with the goal of restoring the appearance of the lodge to its original 1920s look. Have no fear, however – the structure of the building today is much sturdier than the original.

The lodge is comprised of three different types of rooms. There are standard hotel rooms with either a king or two queen beds, suites that have a king sized bed as well as a spacious living room area, and cabins that feature fireplaces as well as two double beds and full amenities. The entire lodge (including the main lobby) feature free wireless Internet – which is especially helpful because there is no cell phone service anywhere in the park, including the lodge. Vacationers should consider downloading a program like Skype.
"For food and beverage, we have the Red Rock Grill, which is upstairs in the main lobby, which is kind of a casual dining experience," said Stovall. "During the [Spring/Summer] season, we have the Castledome Café which serves pizza, hamburgers, hot dogs – fast service food. We also have a coffee bar and for retail, we have a gift shop."

| | | |
| --- | --- | --- |
| | | At left, Native American handicrafts are silhoutted in a window display in the Zion Lodge Gift Shop. Below, deer graze in a meadow near the lodge. Last, the lodge is outlined against the colors of trees in the fall. |
Something to remember about the Red Rock Grill is that you can order sack breakfasts and lunches to take with you as you hike the trails and explore the park. Also, the coffee bar features everything from typical coffee shop staples such as Café Americana and Lattes to Hot Chocolate and pastries.
In the gift shop there are a plethora of trinkets hand-crafted by Navajo Indians, as well as your standard t-shirts, candy, CDs and even walking sticks help support the weary hiker.
According to Stenfors, his favorite part of the lodge is the lobby where he spends most of his time.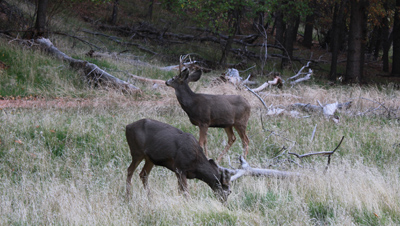 "It's just so interesting to be here and to see and meet people from I think just about every country on this planet," he said.
Some of those people have even been famous dignitaries and other notable celebrities, or what Stefors calls "those that would elicit a newspaper article." One such guest stuck out to him in the more recent years.

"A few years ago, when she was First Lady, Laura Bush vacationed here," said Stefors.
Anyone visiting the parks should consider joining the ranks of the former first lady and check out Zion Lodge. You won't be disappointed.

If You Go
Where: Zion National Park

When: Open year round

Website: http://www.zionlodge.com

Address: Zion Lodge, Zion National Park, Springdale, UT  84764
Directions:
From Lake Powell:
Take Highway 89 West to Kanab.

Proceed North on Highway 89 to Mt. Carmel.

Turn left on Highway 9 to Zion National Park.

Follow signs to the Lodge.

Approximately 2 hours 30 mins. / 117 miles.
From Salt Lake City:
I-15 South to exit 27 (Toquerville exit) which is SR 17.

Follow SR 17 to Highway 9.

Turn left to Zion National Park.

Approximately Five hours 45 minutes. / 320 miles.



From Grand Canyon North Rim:
Go North on Highway 67 to Jacob Lake.

Turn left to Highway 89A to Kanab.

Take Highway 89 to Mt. Carmel junction.

Turn left (West) on Highway 9 to Zion National Park.

Follow signs to the Lodge.

Approximately Two hours 30 minutes. / 119 miles.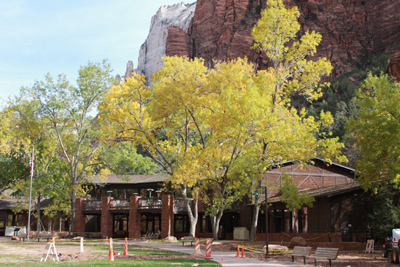 From Bryce Canyon Lodge:
Take Highway 63 to Highway 12

Highway 12 to Highway 89.

Highway 89 to Highway 9, West to Zion Lodge.

Approximately Two hours / 73 miles
From Grand Canyon South Rim:
Go East on Highway 64 to the junction with Highway 89.

Take Highway 89 North to Highway 9.

Go West on Highway 9 to Zion Lodge.

Approximately Five hours / 230 miles.
From Las Vegas:
Take I-15 North to UT Highway 9 (exit 16 off of I-15).

Highway 9 comes into the park – follow signs to the Lodge.

Approximately Three hours / 153 miles.
Reservations: Open 7 a.m. – 7 p.m., Mountain time, daily. Closed on Thanksgiving, Christmas Day and New Year's Day. For same day reservations or to reach a Lodge guest call 435.772.7700.