Local pioneer, family called island home
HOMESTEAD, Fla. — As the largest marine park in the National Park Service system, Biscayne National Park is prominently known for protecting a portion of the world's third-largest coral reef.
Many tourists, however, don't know that the park was actually home to the one of greatest African-American pioneers and entrepreneurs in Miami-Dade County history.
Israel Lafayette Jones was born a slave in 1858 in Raleigh, N.C. After gaining his freedom in 1892, he moved to South Florida in search of work. Before settling in Key Biscayne, he lived in Coconut Grove, where he married Mozelle Albury and had two sons whom he named regally King Arthur and Sir Lancelot. Both sons are believed to be the first black Americans born on Key Biscayne.
| | | |
| --- | --- | --- |
| A young Jones family poses in front of their home on their Porgy Key home (Photos courtesy of Ranger Gary Bremen of Biscayne National Park). | | |
Following nine years of success as a caretaker and foreman of a Coconut Grove plantation, Israel saved enough money to purchase a small island called Porgy Key (which is now known as the southern end of Biscayne National Park) where he moved his young family in 1897.
"This is particularly remarkable because of the racial atmosphere in Dade County between 1896 and 1926. While there was an increase in the presence of black institutions and possibility for upward mobility; economic and political exploitation, racial segregation and lynching constrained the efforts of black families working to improve their quality of life," wrote Carolyn Finney, from her narrative, Historic Context Study: Israel Lafayette Jones Site, Biscayne National Park.
Essentially, not only was Israel Jones an established business figure in Miami-Dade County real estate, but he also served as a renowned spiritual figure in his community, noted as a philosopher and minister, preaching on Sundays at the local Mt. Zion Baptist Church.
In 1898, Israel and his brother Samuel built a two-story, four-bedroom dwelling where his youngest son Lancelot would spend most of the rest of his life.
| | | |
| --- | --- | --- |
| | | At left, Israel Jones and his wife Mozelle Jones pose nearby their Porgy Key home. Next, Patriarch Israel Jones and an older King Arthur and Sir Lancelot and his young family pose on the porch of their Porgy Key home. Last, the Jones Family bronze plaque placed by friends after Lancelot's death on the ruins of the structure which was once their home. |
"They grew pineapples, they grew key limes, they sold pineapples and key limes and by doing so they were able to get enough money to acquire more land; they bought the island next to that and the island next to that, until they pretty much owned all of the land of what is today known as Jones Lagoon," said Gary Bremen, Biscayne National Park spokesperson and interpretive ranger.
"Adding to his landholdings, Israel Jones purchased Totten Key from Frank T. Budge in 1911. This land had previously been home to an approximately 250-acre pineapple plantation. This purchase would prove to be quite an investment – he bought the island for $1 an acre and eventually sold 212 acres for $250,000," said Finney.
In 1929, Israel gave ownership of Totten Key over to his sons, Arthur and Lancelot. A few years later both Israel and his wife Mozelle passed away. Israel Lafayette Jones died at the age of 73 and his funeral was held at Mt. Zion Baptist Church.  Beloved and respected, his funeral was well-attended by both black and white mourners and received honorable coverage from Miami-Dade County public officials and The Miami Herald.
King Arthur and Lancelot continued to live on the land they grew up on and though the pineapple and key lime farming businesses were no longer booming, the two sons decided to get into the fishing market and became guides and distributers for the tourists and locals.
During the 1940s and 1950s Lancelot fished with many notable men, including President Herbert Hoover, President Lyndon Johnson; and Miami banker Charles "Bebe" Rebozo and his friend President Richard Nixon. These men would visit the Coco Lobo Club, a private club built in 1921 on Caesar's Creek on Elliott Key Island, which eventually became the Coco Lobo Fishing Club.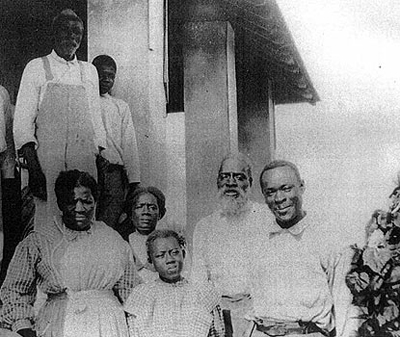 "Since they [Lancelot and Arthur] were right across from the Coco-Lobo club where all the rich folks socialized, they started by providing them with lobsters and fish for their meals and restaurants, basically fishmongers is what they were essentially, and as people got to know them they realized 'hey these guys know where all the fish are, so why don't I go out fishing with them,' so as Lancelot became known as the 'Sage of Caesar Creek' people really sought them out including U.S presidents and lots of famous people of that time," said Bremen.
During the 1940s, Arthur served as a technical sergeant in the Army in World War II and lived until 1966.
In his later years, as the fishing guide work subsided and Lancelot grew older, he spent most of his time harvesting sponges.
"The sponge industry was a subject particularly close to Lancelot's heart and important to the environmental history of the region. Sometimes Lancelot would share his ecological knowledge, particularly about sponges, with all who would listen, including school children who visited the nearby Adams Key Ranger Station's Environmental Education Center," said Finney.
"Lancelot would come over and bring garbage bags full of sponges and he'd sit down and talk to groups of kids about sponges and they would listen and listen to this old guy talk about sponges and they were genuinely interested. And then he would later sell them the sponges—he was always the entrepreneur," added Bremen.
Hurricane Andrew approached Miami in 1992, and though Lancelot was hesitant to leave his home, he trusted the park rangers enough to leave for safety and, unfortunately in the aftermath everything he owned was destroyed, so he lived out the rest of his years with family friends.
"Long before he died, Lancelot sold his property to the United States to be a part of the national park. He really liked the idea of it being called our original name Biscayne National Monument because he said that indicated permanence and that things wouldn't change because he had seen enough change in his life; so the idea of protecting and preserving something for the long haul was something that appealed to him very much," said Bremen.
He went on to sell his remaining land to the United States for $1.2 million with the right to live there for the rest of his life.
Lancelot Garfield Jones died on Dec. 22, 1997, at the age of 99. There are no living relatives currently in South Florida as far as BNP officials know.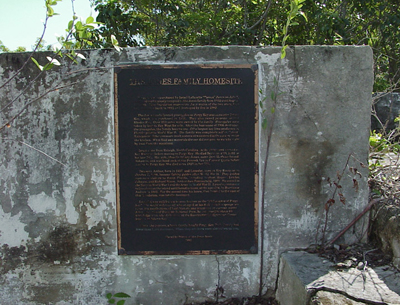 According to officials of Biscayne National Park, the Jones home-site on Porgy Key is accessible only via shallow-draft vessel. The site is in the process of being nominated to the National Register of Historic Places, and is developing opportunities for visitors to experience the site without causing additional damage.
A bronze plaque was placed on the ruins of the structure by friends after Lancelot's death.
The reputation of the Jones family runs deeper than it's successful business ventures, it's historical associations, and even it's triumphant success through social and ecological adversities; the legacy of the Jones' lies in the notability and ownership of it's land.
"While the Jones family's physical legacy is in much of the land we know as the southernmost part of Biscayne National Park, most importantly, the real legacy is the story of someone [Israel Jones] who had all these odds against him, particularly his race and economic status, and he became a successful farmer, a successful land owner and a real entrepreneur and beat those odds," said Bremen.
If  You Go
Address: 9700 SW 328th St., Homestead, Fla. 33033.
Directions: From Miami, take Florida's Turnpike south to Speedway Boulevard, and turn left (south). Continue four miles on Speedway Boulevard to North Canal Drive and turn left (east). Follow Canal Drive another four miles to the park entrance. From Homestead (about nine miles), take SW 328th Street (North Canal Drive) to the park entrance at Convoy Point.
Hours: Convoy Point: daily from 7 a.m. to 5:30 p.m., The Dante Fascell Visitor Center: daily from 9 a.m. to 5.p.m., Water portion: 24 hours a day.
Visitor Information: 305-230-PARK (305-230-7275).
Tours: Boat Tours, Snorkeling and Island Tours: 305-230-1100.
If you are interested in becoming a field inventory participant, visit  http://www.nationalgeographic.com/field/projects/bioblitz.html for more information.