Convoy Point scenery ideal for picnicking
HOMESTEAD, Fla.— To escape the busy Miami bustle for a leisurely afternoon, many South Floridians and tourists enjoy peaceful picnics at Biscayne National Park.
"It's a beautiful place," said Interpretive Supervisor Bob Showler. "The picnic areas are located on the edge of Biscayne Bay, which is beautiful, clear water, with nice a nice lawn on the grounds, picnic tables, mahogany and palm trees."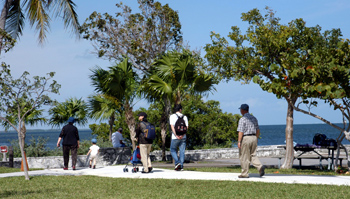 Picnickers and others enjoy the view of Biscayne Bay from Convoy Point (Photos by Bruce Garrison).
While almost the entire park is underwater, there are three areas of land on which visitors may picnic.
The most popular location is Convoy Point, simply because it is accessible by car.
At this location there are several picnic tables, a green lawn to lounge on and a Visitor Center with a small museum, and several other activities.
"It's very quiet most of the time, apart from Sundays when families come," said Paul Goulder from England, who returned to picnic at the park with his wife, Diane, for the second time in five months.
The other picnicking spots are Boca Chita Key and Elliott Key, which also offer campgrounds for a small fee. To reach these keys, however, visitors must use a boat.
"There is a private concession that can be arranged, but it is difficult. It is easier to stay at Convoy Point or go to the Keys on your own boat," Showler said.
One factor that attracts many visitors to picnic at the park is the peace and quiet.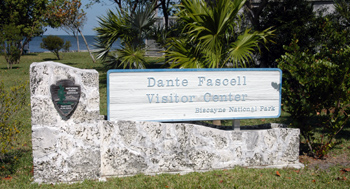 The picnic area is outside the Dante Fascell Visitor Center.
"I like how quiet the park is and it's not crowded," said New Yorker Joel Keehn, who visited the park on a Friday afternoon with his wife, Joan Combellick.
"We went kayaking, walked around, laid in the shade and saw the movie. It was a nice, peaceful day," Combellick added.
The park is not always so quiet. Weekends in the wintertime are the busiest picnic days at the park, and the larger groups that come are occasionally disrespectful of the others there to enjoy the quiet solitude.
"Sometimes people listen to loud music and forget to respect the sense of quiet for their fellow picnickers," Showler said. "We want people to respect everyone and the preservation of the natural environment that is unique to the park."
Another problem with larger groups is littering. Visitors to the park are expected to take with them everything they brought— including garbage— but occasionally people leave things behind.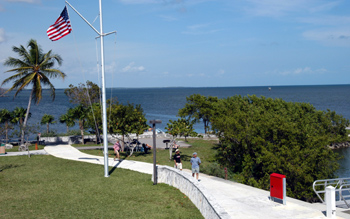 The picnic area includes scenic walkways.
"If there is a really big group, we may have a lot of trash to pick up afterwards," Showler said. "We encourage people to pick up after themselves to leave the park nice for everyone."
Lina Lolli, a park connoisseur from Italy who comes to the United States solely to visit parks and has been to all of the national parks except for two, was pleased with Biscayne National Park.
"There were not many people and it is well conserved and very nice inside. The promenade was pleasing, the location is good and there are many birds to watch because there are not many people to scare them away," she said.
Lolli has also visited the Keys and the Everglades, but prefers to picnic at Biscayne National Park.
"This is the best—it is beautiful and interesting, very well structured and I can understand inside the museum because everything is written in Spanish, which is a lot like Italian," she said.
Before coming to picnic at the park, visitors should be well prepared and know the rules.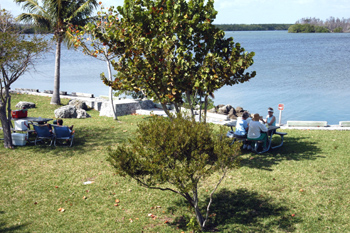 Many picnic locations are shaded and at the water's edge.
Convoy Point and Elliott Key have fresh drinking water, but Boca Chita does not.
Pets are only allowed in the developed areas of Convoy Point and Elliott Key, and their owners must pick up after them.
Weather is another factor to consider.
"In the summer, be prepared for afternoon storms and insects. Some days there are lots of no-see-ums and mosquitoes, but other days there are none, and sometimes they come out in the winter," Showler said.
Picnickers should bring their own food with them, since there is not anything for sale on the keys, and Convoy Point offers little more than ice cream.
For very large groups, a special permit may be necessary, which can be obtained by calling 305-240-1144, ext. 3074.
To arrange for private concession to picnic on the Keys, available from November to May with advanced reservation, call 305-230-1100.
The Visitor Center at Convoy Point is open year round (except Christmas Day) at 8:30 a.m., closing at 4:30 p.m. on weekdays and 5 p.m. on weekends.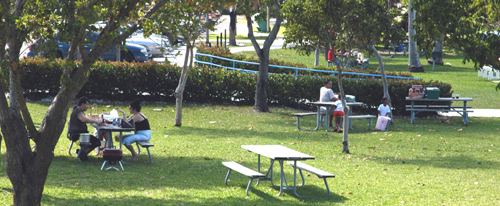 Ample picnic space at Convoy Point includes tables and grills.