Bay offers scenic, unusual picnic sites
HOMESTEAD, Fla.— Winter in South Florida provides the absolute perfect picnic weather: crystal-clear blue skies, a cool, but not cold, ocean breeze, and humidity low enough to keep the mosquitoes away.
And this weather could only be accompanied by the perfect picnic spot: lush vegetation, a serene environment and breathtaking views.
"It's so refreshing down here," said Julie Tipton, one of these picnickers who traveled from Indiana with her husband, Rod. "This is much better than Indiana weather, we're down to the single digits in winter."
Combining all these elements is Biscayne National Park, located far enough away from Miami to escape the noise, buildings and traffic, but not far enough to discourage eager picnickers.
The reason the weather is ideal is primarily the time of year.
| | |
| --- | --- |
| | Picnic facilities are common at Biscayne National Park's visitor center at Convoy Point (Staff photos). |
Winter is Florida's drier season and the humidity and heat aren't at their peak until June, July and August.
"Winter is tourist season for the park," said Gary Bremen, a park ranger. "Winter months are definitely more for picnicking and spending time outside, partly because there are a lot more people in Florida and partly because it gets hot and muggy later in the year."
The park, located on 9710 S.W. 328th St., is composed of 173,000 acres of land, which are comprised of Dante Fascell Visitor Center, and the various islands offshore, namely Biscayne Bay's Elliot Key, Boca Chita Key and Adams Key.
It was established as a national monument in 1968 and a national park in 1980.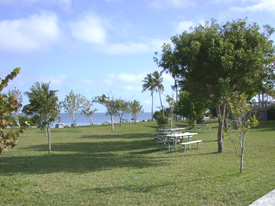 The picnic grounds near the Visitor Center.
"The visitor's center has plenty of areas for picnicking because the offshore islands are only accessible by boat, but Boca Chita is very popular for people who like to drive their boats up and have lunch on the island," said Gary.
Don Klein drove his truck down from Colorado and heard about the park from brochures, while Rod and Julie Tipton read about it in a Fodor's travel guide.
"We're taking a short picnic break before I go snorkeling, but it's really lovely out here," said Julie.
Don agreed. "I came down here for bike week, but for now I'm just enjoying the weather and relaxing at the picnic area."
Though Don and the Tiptons are from northern states, Gary said that many tourists also come from other regions of the world.
"During peak tourist season we of course get a lot of northerners or just about anyone from cold areas, but we also have plenty of visitors from South American and Latin American countries, as well as European visitation during the summer," said Gary.
The park is not limited to tourists, though. Many locals visit the park for a quiet retreat, particularly when it's not tourist season.
"During the weekends the park, especially out in the water, is really a locals place because those people coming from Minneapolis aren't exactly bringing down there boats here to the islands," said Gary.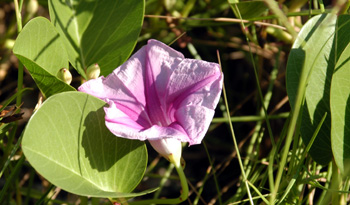 A wildflower at the edge of Biscayne Bay.
Nancy Flores, who lives and works in Miami, finds the park ideal for picnicking.
"I come here every now and then and bring my lunch out here," she said. "It's a bit of a drive from Miami, but it's definitely worth the trip."
The atmosphere and environment is what makes Biscayne National Park worth it for visitors. In the picnic area, grills and tables are interspersed with sea grapes, sable palms, mahogany and other native plants.
The bay provides a breathtaking view and crisp breeze, and a small marina allows boaters to simply drive up and dock.
Throughout the peak tourist season, January through March, the park provides numerous events, including boat trips around the islands and snorkeling and scuba diving.
Family Fun Fests are geared toward children and parents, and allow children to learn about and see the areas friendlier sea creatures, namely sea turtles. Many of these events attract picnickers either before or after.
"My only suggestion is that visitors bring their own food because we really don't have much here. The concessionaire does sell cold sandwiches, but other than that there isn't really much," said Gary.
A small price to pay for an incredible, and free, oasis.