Biscayne ranger lives childhood dream
HOMESTEAD, Fla. —As a kid, just about everyone has a dream to be something larger than life. As kids begin to grow up, the dream they once had slips away and slowly a new one forms.
That is not the case for Gary Bremen.
| | | |
| --- | --- | --- |
| Biscayne National Park Ranger Gary Bremen speaks to a journalism class at the University of Miami (Staff photo). | | |
As an interpretive park ranger at Biscayne National Park, Bremen feels that his childhood dream has come true. Since age seven, Bremen knew he wanted to work for at a national park and ever since has been working to make the dream come true.
"I've worked at seven or eight different parks, but Biscayne is in the backyard of the place I grew up, so it is particularly special to me," Bremen said.
| | | |
| --- | --- | --- |
| | | At left, Bremen meets with a UM student after one of his classroom sessions (Staff photo). Next, Boca Chita Island in Biscayne National Park from the top of the light house (Photo by Sasha Blaney). Last, Boca Chita Island, with the horizon and ocean in the distance (Photo by Sasha Blaney). |
Since beginning work at the park in 1989, Bremen has helped implement programs like Family Fun Fest and the Community Artist Program.
Family Fun Fest is a free public program that takes place on the second Sunday of every month between December and April. Each month one of the parks resources are highlighted at five stations around the Visitor Center. Those who complete all five stations receive a specially designed button to commemorate the day.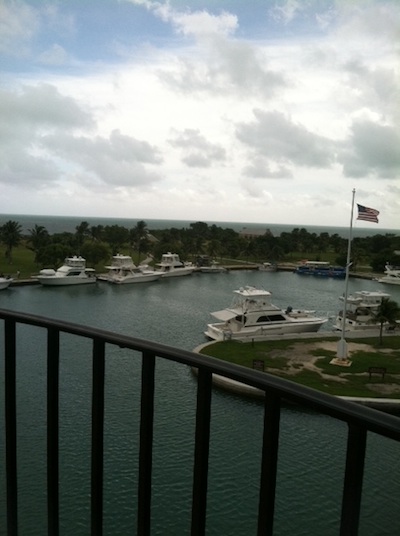 "Gary is one of the most imaginative and dynamic individuals with whom I've had the pleasure of working. Not only does Gary possess a mastery of the natural world and how it functions, Biscayne Bay in particular, but Gary is able to evoke an emotional and intellectual response in park visitors of all ages through the playful and creative educational activities he's developed," said Pamela Sweeney, manager of Biscayne Bay Aquatic Preserves, an office that is helping support Family Fun Fest.
Bremen has come up with many ideas to inspire visitors to want to know more about the park. He focuses on everyone of all ages to explore the park.
"I also present a program called "Gifts from the Sea" that has been presented to thousands of people over the years. This is a particular favorite of mine and often used as an example of an outstanding interpretive program," said Bremen.
Don Finefrock, executive director of South Florida National Parks Trust, a non-profit that works closely with Biscayne national park tributes the strong partnership to Bremen.
"Gary Bremen is very talented, he is the creative energy behind Biscayne National Park," Finefrock said, "It's hard because a Biscayne is overshadowed by the Everglades and some people don't know much about Biscayne."
Bremen enjoys turning people onto Biscayne, "There's really cool stuff that happens here. From amazing wildlife to evidence of natural processes to an intensely interest human story."
Pamela Sweeney adds, "Reactions from your visitors that cause them to think about and eventually care about the resource they're learning about is the essence of environmental interpretation and something that all of us try to do as well as Gary can. "
T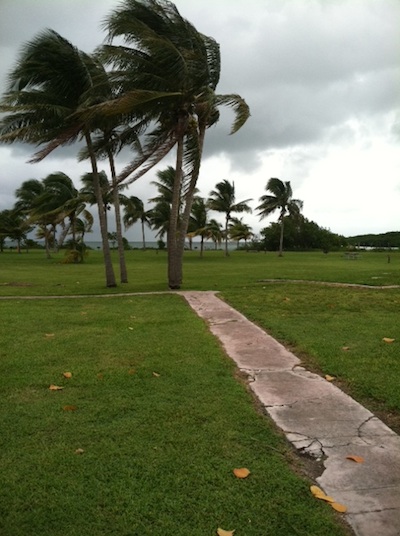 here must be something of a teacher lurking within Bremen. Not only does he lead interpretive tours on a regular basis at the park, he guest lectures at his alma mater, the University of Miami, from time to time.
Bremen has met with journalism and mass communication students in the School of Communication at UM on several occasions, discussing Biscayne Bay, the park, and even the park service.
"He's a natural teacher," said Dr. Bruce Garrison, a journalism professor who has invited Bremen to his classes at UM. "He is patient and thorough. He knows how to explain the complex natural systems of the bay in a meaningful and interesting manner. He is passionate about his work, Biscayne Bay and the park itself. He gives tirelessly over and over."
Yes, Bremen is much more than just a park ranger. He coordinates the art exhibit in Biscayne National Park, guides interpretive park tours, runs the park's website, handles news media contacts on behalf of the park, occasionally wears a teacher's hat and even finds time to update all of the park's social media pages on Facebook and Twitter.
"I'd say he loves what he does as much as he is good at what he does–and it shows in the world-class programs he creates and executes," said Pamela Sweeney.
He's a man of all trades.