Web cameras take growing role for parks
National parks throughout the United States have begun to make use of webcams to display the attractions they have to offer. It is part of the National Park Service's initiative to make use of new and developing technology and attract a new audience.
One of the parks that has successfully been using a webcam to make a connection with the public is Denali National Park in Alaska. Over the summer months of 2011 park officials have been running a webcam that allowed viewers to watch the activities and developments of four sled dog puppies in what has become known as "Puppy Cam."
| | | |
| --- | --- | --- |
| Click on the video at the right to view an audio slide show about the Denali National Park "Puppy Cam" narrated and prepared by writer Nathan Currie. Photos courtesy of the National Park Service. | | |
It has become extremely popular and has gotten a lot of positive feedback.
"People loved looking at the pictures online," Jennifer Raffaeli, Denali Kennels manager said. "We got an overwhelmingly positive response."
"We tend to receive a lot of positive feedback about that," Jason Reppert, staff member at Denali Kennels agreed, "It was a big hit."
People have become genuinely attached to the dogs, or a specific dog, by being able to watching them every day. It has led to increased interaction between parks and potential visitors.
"We have a lot of people that call to find out information about a particular dog," said Reppert.
"I think our overall website traffic was boosted 18 or 20 percent," Denali National Park Ranger Alex Lindeman said.
"There has been such a good following, especially through Facebook."
| | | |
| --- | --- | --- |
| Old Faithful is the main attraction at Yellowstone National Parkand park officials have a Web cam for virtual visits to see the geyser in action (Photos courtesy of the National Park Service). | | |
There is indeed quite a following for the dogs and appreciation for the webcam on Denali's Facebook page, indicating that the park is succeeding in its attempt to engage more young people and to utilize social media.
The decision to make use of webcams was made in the early part of this year and the puppies were considered to be the perfect faces to put in front of the camera.
"We have a litter of sled puppies pretty much every year so we thought they might be a nice, charismatic subject to focus the camera on," said Lindeman.
The fact there has been such a large and positive reaction means that the original aim has been satisfied.
"The main idea behind it was to try and get the public more involved," said Reppert.
Despite the fact the dogs were being viewed by people around the world on a daily basis did not affect the way they were handled or cared for.
"It did not affect the way the puppies were raised at all," said Reppert. "We knew that anytime we went in there we were being watched. If anything it had more of an effect on our presentation."
The inaugural "Puppy Cam" is now offline as the puppies have grown to an age where they are spending a lot of time outside the kennels and this means there is much less to view. Due to its success, however, there are plans to bring it back next year.
"We intend to bring the "Puppy Cam" back online next year when we have another litter of puppies," said Lindeman.
"There are people waiting for us to turn it back on as soon as possible," said Reppert.
Denali also has two other cameras that will be on all winter long in the hope they can monitor the extreme weather that will occur there.
One camera looks out over the Alaska Railroad Depot which serves as the main entry and exit point for people coming to the park. It also provides a good view to observe.
| | | |
| --- | --- | --- |
| | | From left, puppies Koven, Tatum and Carpe became Web celebrities because of their Web cam. |
"It also looks out towards the southeast… as we move deeper and deeper into the winter that is where the sunrise really is," said Lindeman.
The other camera points towards the courtyard of the visitor's center and the hope is to replicate the success at Glacier National Park, which has a similar project.
The most popular webcam the National Park Service has running, judging by viewer numbers, is one of the cameras that have been in operation the longest. The camera that films Yellowstone's geyser, Old Faithful, is responsible for one of the most visited web pages in the whole of the National Park Service website.
It was set up in understanding of the parks historic reputation and to try and include people who were unable to visit.
"We understand that Yellowstone is iconic and many people will never have the chance to come here," Craig Johnson, Web specialist for Yellowstone, said. "It is used to connect to the people."
It is also used by people who have been to Yellowstone and were impressed or touched by what they saw during their visit.
"When (the visitors) go back home they realize that Yellowstone has made such an important impact on their lives and they want to stay in touch," said Johnson.
The cameras are also used to show ranger-led programs to show and educate people about aspects of the park.
Johnson emphasizes the National Park Service's desire to connect to young people but suggests that this is being done by utilizing social media such as Facebook and that the webcams are being used to attract everybody.
Yellowstone is also working on capitalizing on the popularity of their webcams by using them as a way to entice people to visit the entire website.
"The cameras are, in a way, eye candy," said Johnson.
| | | |
| --- | --- | --- |
| At right, a picture of Long's Peak in Rocky Mountain National park, which people can view on a Webcam. At right below, a screen shot from Yosemite Conservancy's Turtleback Dome webcam (Photo courtesy of Yosemite Conservancy). | | |
They are part of an effort to turn the Yellowstone website into a multimedia experience and in that sense they are not the main part site, other content is.
The webcams are not to be thought of as a substitute for the real thing however, a point that Johnson and others are keen to emphasize.
"No, no, not at all a substitute," said Johnson.
One of the people who agree with Craig Johnson is Jerry Brown, who does media development at Rocky Mountain National Park in Colorado.
"It is absolutely not a substitution and I don't think it is viewed as a substitution," said Brown. "I think it is viewed as a pre-planning tool, an excitement tool and a curiosity."
Rocky Mountain has three webcams for people to view the scenery on offer at the park. They were established in response to feedback from visitors.
"We were just being responsive to our visitors," Katy Sykes, Information Office manager at Rocky Mountain National Park, stated.
There are practical issues to deal with, but viewers help out with them, too.
"Whenever our webcams are down, which happens for whatever reason, maybe they get covered in ice or snow in the winter time," said Sykes, "We do have people that contact us to say that our webcam is down."
The Yosemite Conservancy runs four webcams inside Yosemite National Park display the scenery it has to offer.
They also experienced occasional practical problems.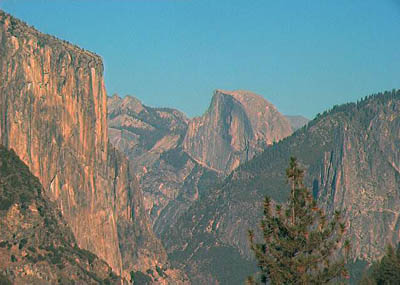 "We had a lot of connection issues and problems due to weather conditions," said Noel Morrison, Communication manager for Yosemite Conservancy.
Nevertheless they are considered successful and are liked by their audience.
"Generally," said Morrison, "people are really fond of them."
Sykes believes that, like other NPS webcams, the three at Rocky Mountain have increased the number of visitors to the website from the number it had been previously.
"I would imagine that that is the case given the feedback we have had," she said.
Again, these cameras are used to help attract young people who are unfamiliar with the park.
"One of the things we struggle with daily is meeting our target market," said Brown, "and that would be young people."
The embracing of new technology for a new generation has been successful and is positively viewed. Not only has it provided a way for people to view the parks without being there it has also helped establish emotional bonds, especially in the case of the "Puppy Cam."
It is not only for young people, it is for all people and helps include people in the Parks like never before.