Lionfish unwelcome visitor to coastal waters
In a country known for its free lands and open waters, it seems odd that not all visitors are welcomed.
This is not a reference to tourists with cameras around their necks, but rather the various types of plant and animal species posing a threat to various habitats as a result of invasions.
One of the most recent examples is the Southeast's unwelcomed guest, the lionfish.
| | | |
| --- | --- | --- |
| Click on the video at right to view an audio slideshow about invasive lionfish narrated and prepared by writer Alexandra Hurtado. Images courtesy of the National Park Service and The Associated Press archive. | | |
Non-indigenous species have different means of transplanting themselves in non-native areas. Some of these species enter through the exotic pet trade while others like the lionfish enter through the aquarium trade.
"In real estate, it's location, location, location. With invasive species, it is pathway, pathway, pathway," Lori Williams, executive director of the National Invasive Species Council, said in October 2011 at the Society of Environmental Journalists conference in Miami.
South Florida is a hot spot for these types of species.
Vanessa McDonough, Ph.D., a fishery and wildlife biologist at Biscayne National Park, explained, "the problem of exotic invasive species in general is a huge problem particularly in South Florida where the climate allows so many non-natives to thrive."
| | | |
| --- | --- | --- |
| | | Lionfish are growing at a large rate since they have no other predators than humans (Photo courtesy of James Morris Jr., U.S. Geological Survey). |
At the SEJ meeting, Lad Akins, director of Special Projects for Reef Environmental Education Foundation, said Florida has its share of these species.
"There are over 30 different non-native marine fish in Florida waters," he stated.
One of these invaders now abundant in South Florida's coastal waters is the lionfish, which is native to the Indian and Pacific oceans and the Red Sea.
"In some locations, their densities now are seven to 10 times what is known from the native range," Akins said. "They've established themselves across a very broad area in a relative small time period."
The most likely explanation for the introduction of the lionfish population into the Atlantic Ocean is through the aquarium trade, officials at the U.S. Geological Survey's program, the Non-indigenous Aquatic Species, seem to believe.
Gary Bremen, spokesperson and interpretive ranger at Biscayne National Park, agreed.
"The aquarium trade is gathering livestock for the purpose of keeping them in a home or commercial aquarium," he said.
Like Bremen, McDonough believes the most probable reason for the lionfish's arrival is a result of the aquarium trade, but also due to international ocean-bound shipping.
"Lionfish are most likely here in the Atlantic due to the aquarium trade, where people keep them in their saltwater tanks and then either deliberately or unintentionally released them," McDonough said.
"An additional possibility, although less likely, is that lionfish were introduced here through the exchange of ship ballast water, these two theories are not necessarily mutually exclusive, although there is much more to support the idea of aquarium releases than ballast water introductions."
According to a research paper published by James Morris, an ecologist at the National Centers for Coastal Ocean Science, "the first documented capture of a lionfish was in 1985 off Dania Beach, Fla."
| | | |
| --- | --- | --- |
| At right, lionfish are occupying waters in the southeast when they are  actually native to the Pacific Ocean and Red Sea (Photo courtesy of James Morris Jr., U.S. Geological Survey). Below, Biscayne National Park (Photo courtesy of the National Park Service). | | |
Bremen explained that it is the red lionfish that is occupying South Florida's waters, "but that does not mean other species have not been released, too."
"There are two species of lionfish currently thought to occupy in South Florida, although they are almost impossible to distinguish with the naked eye," McDonough said. "The species are the red lionfish, Pterois volitans, and the devil firefish, Pterois miles."
This species is growing at a fast rate, but it is its severe impact, which is a concern.
"Impacts are the key issue, they are eating a wide variety of prey," Akins said. "At some heavily invaded sites, there have been significant declines in native prey due to lionfish predation."
Several adverse effects have resulted from the lionfish invading areas like Biscayne National Park.
"Lionfish are voracious predators that can eat very large volumes of food relative to their body size," McDonough said. "They are competing for food with our native species, which are already threatened due to poor water quality, coral cover loss, overfishing, climate change, coral bleaching etcetera."
Dominique Lazarre, a University of Miami graduate student currently writing her dissertation on the lionfish invasion, explained that the lionfish are changing the landscape of the ecosystem.
"A major threat of the lionfish is that they are eating top predators like groupers which help manage the ecosystem," Lazarre said. "The grouper is a top predator that keeps fish in numbers and with the loss of diversity of fish it throws the ecosystem out of whack."
Like Lazarre, McDonough believes the lionfish pose an issue to the ecosystem.
"Our natural ecosystem already has so many challenges that the system may not be resilient enough to handle the lionfish invasion," McDonough added.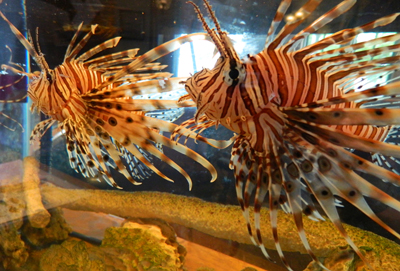 This endemic species is growing quickly for a number of reasons, one being that they lack controlling predators… except for humans.
"Lionfish have no natural predators in the Atlantic and they are capable at reproducing at much faster rates than our native species…thus their population is growing at an uncontrollable rate," McDonough said.
"Their [lionfish] densities on the reefs are increasing rapidly because there is no native species that can keep their numbers in check," McDonough said. "Our native fish are already in low numbers and now we have lionfish competing with and preying upon our native species…not good at all."
"It is going to come down to us to minimize the impacts of this invasion," Akins added.
In order to reduce the lionfish numbers people need to learn of the threats they pose.
"People need to know lionfish are a problem so we need to get the word out in order to reduce their numbers," Lazarre said.
Lionfish are an edible species so capturing them for food is one method of removing this invasive species.
"People have been trying to start a lionfish fishery so it is important to spread the word that they are edible," Lazarre explained.
A campaign called Habitatitude was established to protect the environment by not releasing unwanted fish or aquatic plants. The Pet Industry Joint Advisory Council, U.S. Fish and Wildlife Service, and the National Oceanic and Atmospheric Administration coordinate this campaign.
This national public awareness and partnership campaign targets aquarium hobbyists and backyard pond owners to promote invasive species issue awareness and responsible hobbyist behaviors.
"The aquarium trade is a big factor in the introduction of non-native species in our waters," McDonough said.  "While lionfish represent the first case of a species becoming well-established, dozens of Indo-Pacific reef fish species have been observed (in single or limited numbers) in waters off of Miami-Dade, Broward and Palm Beach counties."