Biscayne offers ultimate way to relax
HOMESTEAD, Fla. — As the winter months are approaching, floods of people are visiting South Florida to enjoy the warm weather, beaches, entertainment and nightlife, but what people may not know is that there is another relaxing destination just south of Miami Beach at Biscayne National Park.
If you are looking for a break from the high-paced city life, traffic, long lines and expensive souvenirs and want to enjoy a peaceful day outdoors exploring a rare combination of aquamarine waters, emerald islands and fish-embellished coral reefs, this park is the place for you.
| | | |
| --- | --- | --- |
| Click here to see a slideshow narrated by writer Sheena Morales about activities at Biscayne National Park. |   | |
Outdoor enthusiasts should rejoice. In addition to the expansive views of Biscayne Bay that are available from the park's Dante Fascell Visitor Center, the park offers picnic grounds, fishing, boating tours, walking trails, water sports such as snorkeling and kayaking, and camping sites — all the necessary elements for the ultimate day trip with a friend, significant other or family.
Biscayne National Park preserves and protects the mangrove forest-fringed shoreline, the aquamarine waters of Biscayne Bay, the northernmost Florida Keys and a portion of the world's third longest living coral reef.
"Ninety-five percent of the park is covered in water," said Gary Bremen, a park ranger at Biscayne National Park for the past 15 years. "The Florida reef track is more visited than any other in the world."
| | | |
| --- | --- | --- |
| | | At left, the Visitor Center balcony view. (Photos by Sheena Morales). Next, a family picnic by the water. Below, boats are docked ready for use. Next, visitors enjoy a stroll on the jetty walk. Below, visitors take pictures as they walk on the trail. Last, a windsurfer glides on the bay. |
VISITOR CENTER
Situated on Biscayne National Park's Convoy Point Headquarters area, The Dante Fascell Visitor Center offers breathtaking views of Biscayne Bay from its large glass windows and rocking chair-lined balconies.
Walk inside the center to enjoy exhibits, such as the current Abstract Photography by Brian Trainor, short films, a bookstore and educational sales items.
Open daily from 9 a.m. to 5 p.m., park rangers and volunteers in the visitor center are available to provide information about park activities and acquaint you with all Biscayne National Park has to offer.
"Although the visitor center doesn't usually see locals, people that do come are from all over the state and world," Bremen said.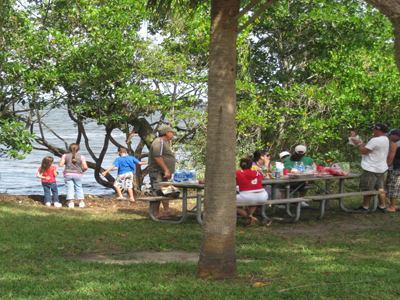 With the majority of visitors coming to Biscayne National Park by boat, the park sees about a 500,000 visitors a year.
"In fall we tend to see a lot of northeasterners, while families come with their kids from Europe in the winter months because they have around two weeks off of school," said Park Ranger Laurie Householder.
PICNIC AND GRILLING AREAS
After stopping by the visitor center, head outside for a day of leisure and fun with the family. Picnic tables and charcoal grills are available at Convoy Point on a first-come, first-served basis and are just the place to enjoy views of Biscayne Bay's sparkling, deep-blue water.
Picnic tables and pavilions are also available on Boca Chita Key, Elliott Key and Adams Key and can be reached by boat.
"Elliott Key and Adams and Boca Chita Keys offer picnic areas also, so those who come to the park by boat can dock at any of those locations," Bremen said. 
FISHING
Grab your fishing pole and head to the fishing areas at Convoy Point, which are plentiful and marked with signs for your convenience. Be sure to stop at the visitor center first for information on how to comply with all Florida fishing regulations relating to species, size and catch limits.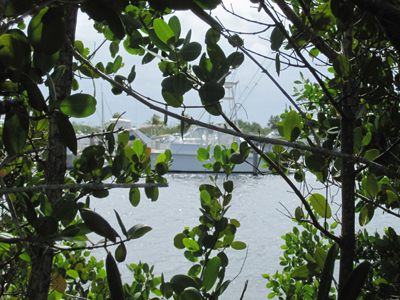 Cutting stations are available in several locations around Convoy Point, where visitors can be found setting out their tackle and gear on the boardwalk and rocky shorelines of Biscayne National Park as they prepare themselves for a tranquil day of fishing.
"I love coming out here to fish because it quiet and beautiful," said Danny Gonzalez, a Biscayne National Park visitor, "and I like to bring my kids out here because it's something fun we can do as a family."
BOATING TOURS
For visitors who want to get out on the water and get a closer look at the coral reefs and colorful aquamarine life, the park's concessioner—Biscayne National Underwater Park, Inc.—offers daily boat tours departing from Convoy Point. These trips include a glass bottom boat tour, island tours, snorkeling and SCUBA trips.  
Three-hour tours depart daily at both 10 a.m. and 1:30 p.m. as long as weather and visitor numbers permit.
A popular way to appreciate the beauty of the park and enjoy the emerald waters and bright-colored coral reefs is by hopping aboard a glass bottom boat. At $45 for adults, $20 for children under 12, and $35 for seniors over 62, a family or large group can spend part of their day on the water, relaxing on the calm seas and admiring the view through the bottom of their boat.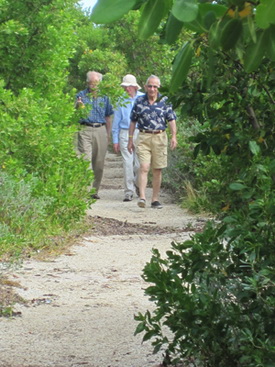 Island tours are also offered for visitors who want to explore the northernmost Florida Keys by foot. The fee is $35 for adults, $20 for children under 12, and $30 for seniors over 62.
If enjoying marine life from inside the water is what you're looking for, a snorkeling trip or SCUBA dive is a suitable adventure. The fee for snorkeling, which includes equipment rental, is $45 per person on the reef and $40 on the bay, while certified SCUBA divers can discover the beauty of South Florida's living coral reef on a two-tank dive for $99. SCUBA trips are offered on the weekends only.
In the current economy, staff members at Biscayne National Park and Biscayne National Underwater Park, Inc. are seeing an impact in the number of people signing up for their tours. Therefore, they have come up with a solution to get more people on the boats and give visitors a chance to enjoy the park's boat tours.
"If you add up the total to have yourself, your spouse and your kids go on trip, it could get to $200 or $300," Bremen said, "so less people are signing up for the trips and the concessioner can't take the boats out."
"What the concessioners has decided to do now is combine snorkel trips and island tours by taking the boats out and dropping the snorkelers off at their area and continue on to the island with the rest of the people."
WALKING AND HIKING TRAILS
Although only five percent of Biscayne National Park consists of land, there are walking and hiking trails available for visitors. At Convoy Point, there is a quarter-mile boardwalk and jetty walk where visitors can take pictures, observe birds, boats and, occasionally, marine animals.
"We see a lot of manatees and also see river otters, which people think is odd because it is salt water," Bremen said, "but the other day a pod of almost 20 dolphins came up into the channel. It was the largest pod I'd ever seen."
In addition to the trail at Convoy Point, both Adams and Boca Chita Keys offer short nature trails and Elliott Key offers a seven-mile trail, all of which can be reached by boat.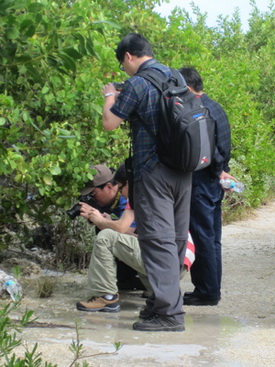 "I've made it out to Elliott Key before, but I enjoy the short trail at Convoy Point because I can stroll with my friends and enjoy the cool breeze by the water," said Arthur Lopez, a frequent visitor at Biscayne National Park.
WATER SPORTS
If you are looking for an active adventure, try exploring the park's mangrove-fringed shorelines via canoe, kayak or paddleboat.
Visitors can launch their own canoes, kayaks or paddleboats from Convoy Point or rent one from the park's concessioner. In addition, visitors can explore the calm waters of Biscayne Bay on guided canoe and kayak trips.
"For $15.95, you can take a three-hour, guided kayaking tour that is offered the second Saturday of every month," Bremen said.
Guests can also be seen just off the shoreline at Convoy Point preparing their equipment for windsurfing.
"This is the perfect place for windsurfing because it's calm and doesn't get very crowded," said Michael Wirt. "I definitely prefer it here rather than the beach."
CAMPING SITES
If an afternoon at Biscayne National Park seems to be too short of a visit, stay over night on Elliott Key or Boca Chita Key, both of which offer primitive campsites that can be reached by boat.
"Those who don't have a boat can drive to the park and get a free overnight guest pass from the visitor center," said Householder, "then the park's concessioner can provide access to the islands for a fee."
Camping at Biscayne National Park can be enjoyed on Elliott Key, the park's largest island that features both waterside and forested camping areas, or on Boca Chita Key, the park's most popular island, which features an open, waterside, grassy camping area with picnic tables and grills.
Both campgrounds have a 14-day limit and are open year-round on a first-come, first-served basis.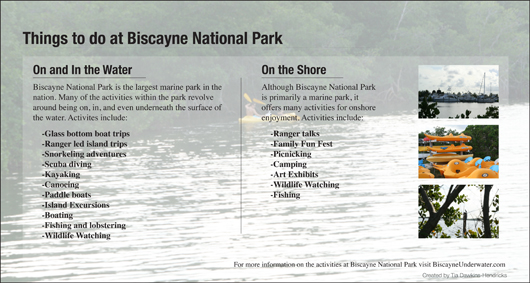 If You Go: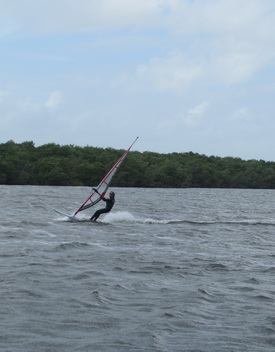 Location: 9700 S.W. 328th St., Homestead, Fla. 33033.
Headquarters Phone: 305- 230-1144.
Website: http://www.nps.gov/bisc
Directions: From Miami, take Florida's Turnpike south to Speedway Boulevard, and turn left (south). Continue four miles on Speedway Boulevard to North Canal Drive and turn left (east). Follow Canal Drive another four miles to the park entrance.
From Homestead (about nine miles), take SW 328th Street (N. Canal Drive) to the park entrance at Convoy Point.
Visitor Center hours: 9 a.m. to 5 p.m. daily.
Visitor Center phone: 305-230-7275.
Grounds hours: 7 a.m. to 5:30 p.m. daily.
Boat tours and rentals: For information and reservations contact the park's concessioner at (305) 230-1100.
Concessioner Web site: http://www.biscayneunderwater.com
Entrance Fee: None. $15 overnight docking fee for private boats at Elliott and Boca Chita Keys (free campsite included).
Parking: Free. Overnight passes available at visitor center.
Pets: Allowed on leashes in the developed areas of Convoy Point and Elliott Key. Not permitted on boat tours.
Fishing regulations: Information available at visitor center. Fisheries Awareness Class offered for free the third Wednesday of every month. Visit http://www.nps.gov/bisc for more information.
When to go: Year-round. The best time to visit the park's islands is from mid-December to mid-April, subtropical Florida's dry season.
Information graphic created by Tia Dawkins-Hendricks.