Park gives visitors best of nature near city
HOMESTEAD, Fla. — Everyone's idea of the perfect getaway is different. Whether it is an urban break where you can enjoy the hustle and bustle of an energetic city or a rural escape where you are at nature's doorstep, it is very rare to find both in the same place.

Biscayne National Park is one of the few places on the globe where a living tropical coal reef lies adjacent to a large urban area.
The northernmost boundary of Biscayne National Park lies within a few miles of the heart of downtown Miami, but a world away from the everyday rush of this large metropolis and the millions of people who live within a short drive of the park.  
| | | |
| --- | --- | --- |
| Click here to see a slideshow of Biscayne National Park by writer Misha Vaidya. |   | |
Each year, tourists flock in record numbers to experience this magical city and all that Miami has to offer. While most visitors are lured in by the colorful Art Deco buildings and pulsating clubs of the world famous party playground found on South Beach, there are also those who are interested in experiencing the clear aquamarine waters, quiet stillness, fish-bejeweled reefs and the threshold of a different world.
| | | |
| --- | --- | --- |
| | | A small stand-alone wooden bench at Convoy Point (Photos by Misha Vaidya). Below, in order, the Dante Fascell Visitor Center, a seascape of the mangrove shoreline from Convoy Point, one of the many fishing spots at the park, three visitors taking advantage of the limited trail system at Convoy Point, and last, a path to one of the many colonial bird protection areas. |
About an hour from the concrete buildings, screeching of cars in rush hour and strips of hotels and clubs, past the furthermost stretches of new developments and farms, you'll begin to feel any layers of stress melt away.
The vivacious seascape offers views both above and beneath the sea. It's a place where the blue of the bay liquefies into the blue of the sky, the seemingly tranquil water is teeming with life below, the emerald islands and mangrove shoreline sway with the wind and an occasional dolphin leaps in the distance, completing the picture.
"I spotted a pod of almost 20 dolphins last Saturday," said Park Ranger Gary Bremen, as he spoke to a large group of tourists in the Dante Fascell Visitor Center.
Biscayne is an underwater wonderland.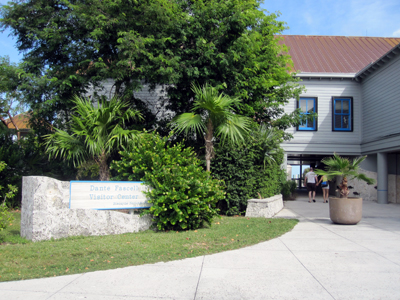 Unlike most parks, water and sky dominate the scene in every direction. Land, occupying only five percent of the park, is almost insignificant in this vista. With astonishingly clear waters, a Caribbean-like climate and generous rainfall, this subtropical setting provides an exceptional hideaway for relaxation and recreation.
Aboard a glass-bottom boat, explore the mangrove tidal creeks in a canoe or kayak, snorkel next to the stoplight parrot fish, dive to explore the mysteries or the underwater city or simply stay on shore and picnic, camp or fish. Whichever you choose, this tropical sanctuary will not disappoint.
SNORKELING/DIVING
Dive into the undersea kingdom of the coral reefs and you will discover perhaps the most energetic face of the park; the cities of the sea. Cascades of glittering parrotfish, vividly colored angelfish, flashes of blue neon gobies and the occasional green sea turtle punctuate a background of golden-brown elkhorn corals and vibrant violet tunicate. The kaleidoscopic colors and frenzied movements contradict the minimalism of the prehistoric, inconspicuous reef architects.
"This stretch of coral reef is North America's only living coral reef barrier and the third longest coral barrier reef in the world," said Bremen. The diverse ecosystem has become a magnet for snorkelers, divers and scientists alike.
Biscayne National Underwater Park offers snorkel trips as well as two-tank scuba diving trips inside Biscayne Bay and around the shortline of the barrier islands and the finger channels.
"I was fortunate enough to go on a day where the water was calm and the sun was bright. My friends and I were able to see lobster, sea turtles and even a shark. Thanks to my underwater camera I'm able to share the secrets of the bay with all of my friends and family," said Los Angeles local Hilary Cohen, on her third visit to the park.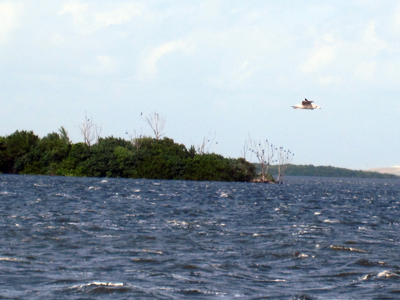 These trips are definitely one of the best ways to encounter the colors and motions of the reef, as well as more than 250 types of fish. However, if you're looking for another way to experience the fantastically shaped colonies and subsequent inhabitants, without getting wet, then step aboard the glass bottom boat.
GLASS BOTTOM BOAT TRIP
A field of wild flowers and a towering sub aqua mountain range, the rectangular viewing chamber in the center of the boat's deck provides the perfect viewing chamber for the continuously varying seascape.
Like shooting stars, fish dart past in schools of thousands. Beds of grass brush past the windows as onlookers gaze down, mystified by the underwater wilderness. The outer edges of the deck act as a platform for the stage of gliding boats, Zebra long-wing butterflies and brown pelicans fluttering by.
"I was very impressed by the professionalism of the staff. They were friendly and very willing to share their extensive knowledge with us. They passed around pieces of coral and described all our sightings in detail," said Tampa resident Guillermo DeWindt.
The glass bottom boat operates out of the Convoy Point complex and is roughly three-hours long. The journey is undeniably one that will bring you closer to the world-class watercolor canvas, but if you're looking for something a little more hands-on and you're ready for an adventure, then paddle your way through mangrove-fringed shorelines and don't forget your binoculars.
CANOEING / KAYAKING
Birds, plants, animals and sea life are Biscayne's four ecosystems. Canoes and kayaks are possibly the most effective way to see them all working alongside with one another.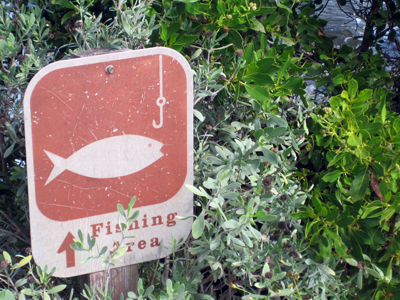 The soldiers of the bay create an almost impassable fortress, creating a barrier between the mainland and Biscayne Bay. They guard against erosion and pollution and help guide the route for venturesome kayakers.
As these red-rooted trees march into the seas, fish and other sea creatures huddle right beneath the surface and on rare occasions, the bald eagle and peregrine falcon mark their territory.
The mangrove waterways provide a great path for explorers, as well as a hideaway for bay animals who find food and shelter in the extensive forest. From the endangered gentle manatee to the Schaus swallowtail, birds and mammals share these remote mangrove fringed keys.
Biscayne National Park offers canoe and kayak rentals at the Convoy Point concession site and also hosts guided excursions and tours. Whether you choose to paddle the seven miles from Convoy Point to Elliott Key or the five-mile trip to Jones Lagoon from Elliott Key, you will be in for a treat.
"In the four years I've been coming here, I've Spotted exotic birds, Southern stingrays, sharks, jellyfish and even pods of dolphin," said Hugh Wester, a photography enthusiast and South Florida local, as he handed his Nikon D5000 case to his wife.
While snorkeling, diving, boat tours and kayaking are all wonderful ways to get around at the 95 percent water park, maybe you're more inclined to stay ashore. If that's the case, then get out your cucumber sandwiches, fishing rod and possibly your tent!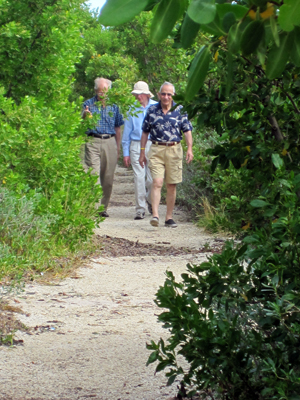 STAY ON SHORE
Although Biscayne is a water park, it does have fishing spots, picnic areas, a trail system, information sites and also camping facilities.
"Fishing is my favorite pastime and to be able to do it in such a beautiful setting is a real added bonus," explained park visitor and Miami-Dade resident Danny Gonzalez. "Even my seven year-old daughter loves coming with me."
Trumpetfish, queen angelfish, foureye butterflyfish and parrotfish, Biscayne is home to around 250 species of fish, many of which can be legally taken. Fishing can be seen in greenish waters of the bay as well as on the ocean side of the keys. Snapper, grouper and sea trout are among the most sought after species.
According to a recent National Park Service news release, National Park Service Director Jon Jarvis said "numerous studies conclude that time spent in outdoor settings decreases stress, inspires creativity, promotes social development, and encourages physical fitness," the picnic area with tables and grills at Convoy Point are almost always occupied with parents, laughing children and of course food.
Standalone wooden benches, unpaved roads, vines and flowers, beginning at Convoy Point and extending to the end of the jetty, Biscayne National Park has its own limited trail system. With additional paths on Boca Chita Key, Adams Key and Elliott Key, each footstep will take you further and further away from a world comprised of rules, noise, stress and objects.
If a day isn't enough to experience the park in its entirety, then perhaps camping might be of interest. Both Boca Chita Key and Elliott Key have designated campgrounds. Those wanting to camp on the islands can use their own boat or pay the park concessionaire for shuttle services from Convoy Point.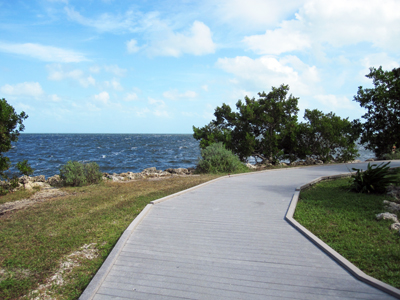 This, along with all the other activities offered, makes Biscayne National Park a true gem in South Florida's crown and the threshold of a different world.
If You Go:
The park's waters are open 24 hours. The visitor center is open daily and park personnel are available to answer questions, 9 a.m. – 5 p.m.
The address is 9700 SW 328th St., Homestead, Fla., 33033.
Directions: From Miami, take Florida's Turnpike south to Speedway Boulevard, and turn left (south). Continue four miles on Speedway Boulevard to North Canal Drive and turn left (east). Follow Canal Drive another four miles to the park entrance. From Homestead (about nine miles), take SW 328th Street (N. Canal Drive) to the park entrance at Convoy Point.
There is no entrance fee.
Reservations for boat tours and activities are recommended but not required. For more information contact the park at 305-230-7275 or http://www.nps.gov/bisc.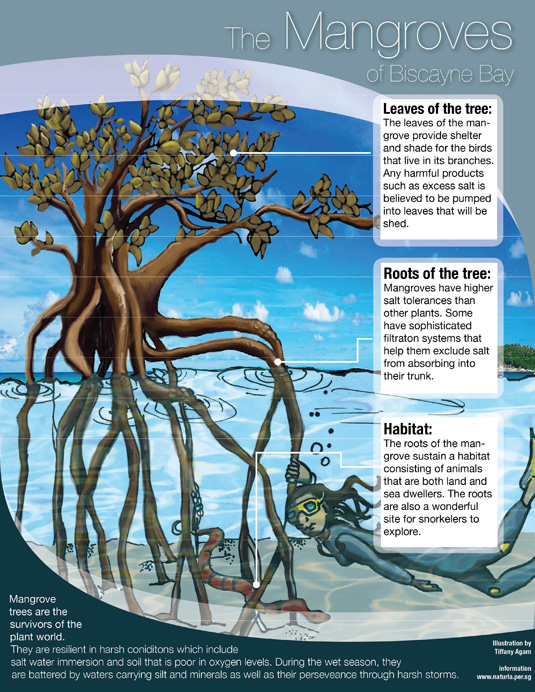 Information graphic designed and prepared by Tiffany Agam.