Boca Chita Key popular with park visitors
HOMESTEAD, Fla. — Boca Chita Key is the most popular and accessible island in Biscayne National Park that is closest to Miami.
It is located 12 miles south of the Cape Florida Lighthouse and Key Biscayne and consists of 32 acres. Its history is rich and telling of the era; however, many facts have been lost throughout the years and through second and third hand stories.
By piecing together these various sources and, with Biscayne National Park Ranger Gary Bremen's help, some the island's antique charm and happenings are relayed to the public.
| | | |
| --- | --- | --- |
| At right, the lighthouse on Boca Cita Key in Biscayne National Park (Photos courtesy of the National Park Service or courtesy of Kodak/NPS and Neal Montaus). Below next, two archive photographs of John LaGorce (top) and Mark Honeywell (below). Next, a view of the harbor at Boca Chita Key. Last, a cannon and the Boca Chita lighthouse. | | |
Mark Honeywell was an electronic industrialist from the early 1900s that founded Honeywell, Incorporated and was its CEO. He was raised in Indiana and spent his summers in Florida in what is now part of Biscayne National Park and owned Boca Chita Key from 1937-45. He bought it from Miami Beach pioneer and automotive giant Carl Fisher.
Honeywell has been an integral part of the island's recent history and subsequently, is a part of the history of Biscayne National Park.
"He built the rock structures around the back wall of the Boca Chita Estate, contributed the picnic tables on the island, collected cisterns for water for the pump house he helped create, built the "Chapel," the light house and the wishing bridge (which was destroyed during Hurricane Andrew in 1992)," Bremen explained.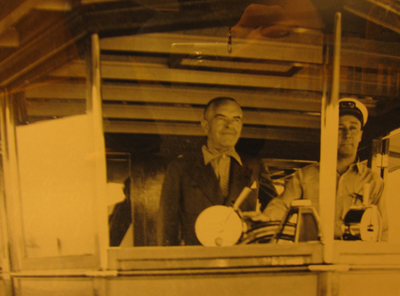 It is believed that the purpose of building the coral rock lighthouse, which stands 65 feet tall, was to create a landmark for Mark Honeywell's captain to be able to navigate in and out of Boca Chita effectively. However, the use of that lighthouse was prohibited because it was never chartered as a navigational aid, therefore considered hazardous and potentially disorienting for boaters.
Honeywell was a member and president of the Committee of 100, a group of influential wealthy investors and industrialists from all over the U.S., which no longer exists with the same purpose.
Bremen says that they "supposedly gathered together and discussed the problems of the day."
According to a St. Petersburg Times article from Dec. 12, 1943, it reflects just that, members of the committee would propose ideas that would "enlist retired captains of industry and commerce in a county-wide program for economic development."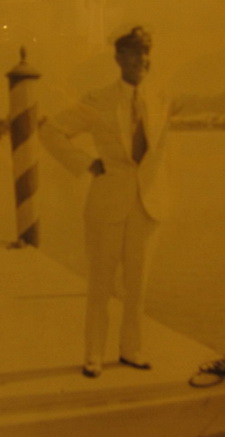 Members included Gar Wood, an American inventor, entrepreneur and motorboat builder, John LaGorce, editor of National Geographic and president of National Geographic Society, Carl Fisher, an entrepreneur and real estate developer and many other prestigious figures.
The committee would have an annual party that Honeywell hosted at Boca Chita Key. They would set up nautical tents, games and dinner tables to get everyone together for the celebration.
According to Bremen this party was such an extravagant ordeal that "a canon shot from the original 1742 H.S. Fowey would welcome each party that arrived by boat to Boca Chita."
Carl Fisher's famous pet elephant, Rosy, also attended the party on one occasion. After receiving national fame for being former President Herbert Hoover's golf caddy when he came to Miami, she was invited to the annual Committee of 100 social gathering.
A few years after Honeywell had owned the island,Olive Honeywell, his wife, passed away and Mark Honeywell sold Boca Chita. Online sources say the pain was too strong to be on the island without her and so he left.
"There is a false rumor circulating that Mr. Honeywell got into a fight with his wife and pushed her off of the lighthouse to meet her death. That is completely false. From what I've heard, she did fall off an edge and shortly after pass away, but Mr. Honeywell had nothing to do with it," Bremen explained.
Virginia Tannehill was a neighbor of the Honeywell couple and the last private resident of Elliott Key. Her nephew, Dick Townsend, a professor at Miami Dade College and member of the Tropical Audubon Society is currently piecing together a film and book projects that will be including aspects of Biscayne National Park and Boca Chita Key.
"I don't want to add to that body of misinformation and possible create an alternative mythology about events such as the death of Mrs. Honeywell. Good journalism should require credible, confirming sources as should good history," Townsend said. 
Bremen said that there is presently a team of consultants under contract with the National Park Service (NPS) called Jaeger Company. William Shealy owner of Jaeger Company, is spearheading the project and says that they are producing a Historic Structures Report and Cultural Landscape Inventory for Boca Chita Key.
"These are documents that are used by National Park Service staff to make informed decisions about the future management of history resources," he said. "It is set to be completed by the summer of 2010."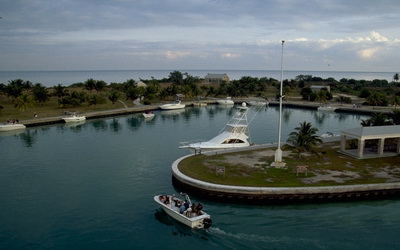 This enchanted island seems to offer on-going insight into an era that was not recorded as many have wished. However, for more than 60 years, it has still been a topic of discussion for people interested in Biscayne National Park and Miami's history.
Currently at Boca Chita Key, with the 2009 federal stimulus money received, the restrooms on the island now flush with fresh water instead of saltwater, prolonging the longevity of the toilets.
This green water system collects water from the rooftops of the Barn building on Boca Chita and then goes directly into two water tanks. Honeywell built the Barn and it is now considered to be adaptive reuse of a historic building used for storage.
When visiting the island, one can drop anchor and stay on the boat if desired. Or visitors can swim or even dock to go ashore to the south side of the harbor to use the barbeque grills and picnic tables.
The lighthouse is open when park rangers or staff is present. There is an observation deck, which gives a view of the Miami skyline and trails for hiking. They have a seven-mile trail on Elliott Key and quarter of a mile trail on the main island called the Jetty Walk.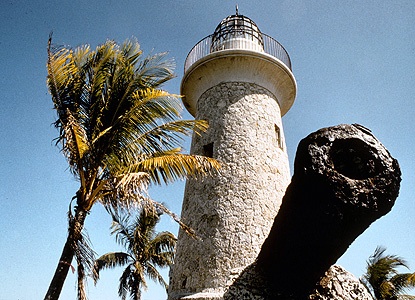 If You Go:
Biscayne National Park

9700 SW 328 St.

Homestead, Fla. 33033

No entrance fee is required.

For visitor information call 305-230-7275.

For boat tours and snorkeling call 305-230-1144.

The operating hours of the park vary. The water portion of Biscayne is open 24 hours a day. Adams Key is only used in the daytime.

The Dante Fascell Visitor Center on the mainland is open daily from 9 a.m. to 5 p.m.

The park's concessioner runs a gift shop with food and drinks Hours are 9 a.m. to 5 p.m. daily. 

Canoe and kayak rentals are available by calling 305-230-1100.

Camping is available on two of the islands that can only be reached by boat accessibility: Boca Chita Key and Elliott Key. The cost ranges between $15 to $30 a night.

To find out about the other services the park offers you can visit the website at

http://www.biscayneunderwater.com

Directions from the north: take the Florida Turnpike south to exit 6 (Speedway Boulevard). Turn left from the exit ramp and continue south to SW 328th Street (North Canal Drive). Turn left and continue to the end of the road. It is approximately five miles and the entrance is on the left.

From U.S. 1, drive south to Homestead. Turn left on SW 328th Street (North Canal Drive) and continue to the end of the road. It is aproximately nine miles and the entrance is on the left.

From the south, traveling on U.S. 1 (Overseas Highway), drive north to Homestead, Turn right on SW 328th Street (North Canal Drive, the first traffic signal), and continue to the end of the road. The entrance is approximately nine miles on the left.

The Convoy Point parking area is open from 8 a.m. to sunset.

No pets allowed.