Biscayne offers scenic picnic sites
HOMESTEAD, Fla.— Looking to explore something out of the ordinary? Biscayne National Park is a great day trip for South Florida locals and tourists alike. So pack your picnic basket and head down south to Homestead, Fla. for an enjoyable picnic lunch.
Less than a one hour drive from the heart of Miami, Biscayne National Park's Convoy Point is perfect for a picnic by the water. The park offers many picnic tables and charcoal grills for visitors to use. The tables are first-come, first-serve meaning no reservations can be made for either.  These tables are located around Convoy Point, with the heaviest concentration by the Dante Fascell Visitor Center.

"We've never been here before," said Julie Grabette, a Boynton Beach, Fla. resident, who came to the park with her sister and her golden retriever. "We just decided to check it out"
| | | |
| --- | --- | --- |
| Click on the video at right to view an audio slide show about picknicking at Biscayne National Park photographed and narrated by writer Nancy Oben. | | |
Many who visit the park use the grills and have a cookout with family and friends. There are numerous grills scattered all around Convoy Point. You can use the grills for an early morning meal before you explore the grounds or a late lunch after a day of water activities. Keep in mind that Convoy Point closes at 5:30 p.m.

Another thing to consider is that you do have to be careful with party decorations. Since Biscayne National Park is federally protected wildlife and historical preserve, balloons, streamers and hammocks are not allowed, to protect the natural landscape. The party can have music but it just cannot disturb the other guests' experience at the park. Also if you're going to have a large gathering, more than 20 people, then you will have to obtain a permit.
Overlooking this water, this is just one of the many picnic tables available at Convoy Point. Next,

this wildflower is just a sampling of what you can see on the one-quarter mile nature trail

(Photos by Nancy Oben).
A great way to work off a lunch feast is to explore the grounds around the visitor center. Since the park is 95 percent water, there is shoreline everywhere in Convoy Point. If you want to explore the shore, take the small one-quarter mile walking trail that skirts the coast near the visitor center. The trail meanders around the harbor and has many informational signs to educate visitors about the park.
If you want to be more active on your day trip, the park has a variety of water activities, with fishing being one of the most popular.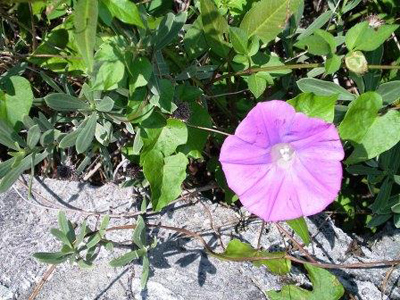 "Not much is caught here, because it's an estuary," said Astrid Rybeck, a Biscayne National Park ranger. "Fish are too small [to be legally kept] but people fish anyway.

Fishing is permitted in many areas of Convoy Point, but it is not allowed everywhere. There is no fishing in the harbor and there is also no fishing by the picnic tables and the visitor center, due to the high concentration of visitors by these areas.
 In order to fish you need to have a current Florida saltwater fishing license as well as follow all current Florida fishing regulations, including those on the size of the catch and the methods in which it was caught.

There is also a small, non-vehicle accessible, boat ramp near the main parking lot that is used mainly to drag small crafts into the water. The park offers two and four person paddle boats to rent as well as single and double canoes and kayaks.
The ramp is also used for many other small water craft like small sailboats and catamarans and even as a water entrance for windsurfers.

"I came here because I heard that this was a good place to windsurf," said Caleb Brown, a Sarasota, Fla. resident. "As a first time visitor, I love this park; it's great for a full day of windsurfing, and has ample spots to relax and have lunch."
Windsurfing is an adventurous way to make the most out of your visit to Biscayne National Park. Below,

nestled on the second floor of the visitor center, rocking chairs have a gorgeous view of the small harbor.
Before you leave the park after a long day of enjoying the outdoors, be sure to visit the visitor center. The center is great to take a break from the elements and is filled with some interesting history about the park. There is a variety of exhibits, including one about the wildlife in the park, as well as a theater, and a gallery.

After the last of your picnic is packed up and ready for transport, make one last trip to the visitor center. The National Park Service offers cancellation stamps at each of the national parks and, whether it's your first stamp or your 300th , the stamp is a great souvenir to end a beautiful day trip.
If You Go:

Biscayne National Park, 9700 SW 328 Street, Homestead, Fla. 33033.
Visitor information: 305-230-727
Biscayne National Park can be accessed from both the Turnpike and U.S. 1.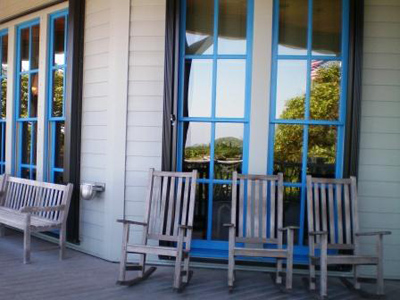 From the Florida Turnpike: Take the Florida Turnpike south, to Exit 6 (Speedway Blvd.). Turn left from exit ramp and continue south to S.W. 328th Street (North Canal Drive). Turn left and continue to the end of the road. It is approximately five miles, and the entrance is on the left.
From U.S. 1: Drive south to Homestead. Turn left on SW 328th Street (North Canal Drive), and continue to the end of the road. It is approximately nine miles, and the entrance is on the left.
Website, http://www.nps.gov/bisc)
Convoy Point opens its grounds at 7 a.m. and the gates close precisely at 5:30 p.m.
The Dante Fascell Visitor Center is open from 9 a.m. until 5 p.m. daily
Canoes and Kayaks can be rented at the park: $16 for singles and $25 for doubles. Paddleboats are $30 for two passengers and $40 for four passengers. All fees are charged per hour and a half. 
Parking is free and there are restrooms on the first floor of the visitor center, close to the picnic tables.