Biscayne Bay easy and relaxing for kayakers
FLORIDA CITY, Fla. — Most people believe that they are either good at land sports, water sports or sometimes no sports at all. But what if I were to tell you there is a sport out there that almost anyone can do. It's easy and relaxing, it can be done alone or with a friend, and it's done on water, but keeps you dry.
This enjoyable sport is known as kayaking and Biscayne National Park has one of the best venues for this.
Biscayne National Park has a number of parts to it: Convoy Point, Boca Chita Key, Elliott Key and Adams Key. Convoy Point is the center of Biscayne National Park. It contains the visitor center and is where kayaks can be rented.
| | | |
| --- | --- | --- |
| | | Click on the video at the left to view a slide show of kayaking at Biscayne National Park photographed by writer Sasha Blaney. |
This is where I first attempted kayaking in Florida with one of my friends. It takes about 45 minutes from Coral Gables but the drive is worth it. The paradise that you reach when you finally get there is incredibly different than what most people assume when visiting South Florida. Convoy Point offers a number of above and below water activities, but the most peaceful is that of kayaking.
Kayaking is easy for anyone to do. If it is your first time, there are a few key things to know before pushing off into the water. They consist mainly of knowing how to paddle, weight proportions, weather considerations and overall water safety. By the end of this article, you will have basic knowledge of what kayaking entails and what to expect.
The problem most beginning kayakers have is learning how to paddle correctly, if not done properly, you could end up going in circles. Both participants should have paddles that fit them and they should not be too long or too heavy.
At right,

some of the islands had waterways running through them that the kayak can pass through, but the water becomes more shallow.

Below,

drifting along the side of an island near the visitor center at Biscayne National Park, waves and current were non-existent (Photos by Sasha Blaney).
Biscayne has a good selection of varying paddles to choose one that works best for you. Once in the water, make sure the paddles are facing the correct direction. The paddles at Biscayne are not flat; instead, they are curved so make sure the indented side is facing backwards. It should work similarly to a shovel because essentially you are shoveling the water behind you.
Begin rowing once paddles are in position, first right then left or left than right. Make sure when rowing the paddles only go in the water about halfway. When switching sides, rotate only from your torso otherwise the kayak has a chance of tipping from side to side with each stroke. If you are kayaking with a partner make sure that they stroke opposite sides as you so that the kayak will move in a forward motion. If you would like to turn both people should paddle the same side until the turn is complete.
When kayaking with a partner, there is a science behind who should sit in the front and who should be in the back. When I last went kayaking in Biscayne Bay, there were waves, so my companion, a 22-year-old male, sat in the back, and this kept me from getting wet from the waves splashing against the kayak because he weighed more than me.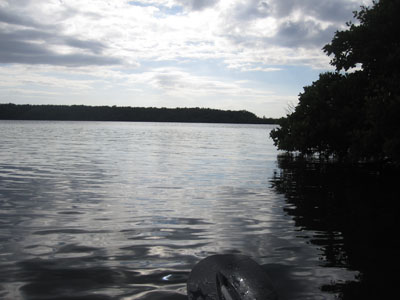 In general, it is better to put the heavier person in the back, they tend to also be the stronger person so their strokes will help move the kayak forward faster.
Biscayne National Park's location is absolutely beautiful. However, it is very wide open and bad weather seems to roll in fast. The day that I went out into the bay, a storm came in about halfway through the trip, so planning ahead is always a good idea.
Days where it is windy are not always ideal for kayaking because the water gets choppy and harder for the kayak to glide along the top of the water.
My companion, Brendan McNaboe pointed out, "When the water is choppy you are more likely to get wet from the water splashing up against the kayak. This is why it is a good idea to wear a bathing suit or clothes you don't mind getting wet."

The area where kayakers push off from Biscayne is very open, but there are two larger islands straight ahead. If the waves are rough and you have pushed off and are farther out, head towards the islands they help block the current and are surrounded by smoother water.
Not every place you go will require you to wear a life vest, Biscayne National Park is very safety conscious and requires all participants to wear vests. They are provided at no additional cost at the visitor center. The shed that contains the vests is rather large and there are many different sizes so find one that fits correctly.

At left, a storm started to roll in while out on the water, but the waves were still bearable. Below,

birds come and rest on the trees of the islands and they are very calm and tend to mind their own business as kayakers glide past.
It is never comfortable to have a vest that is too tight around your neck or too small and barely covers you. Try to find a life vest that fits comfortably around your neck and is able to drop just below your chest area.
At some point during the trip, stop paddling and just glide or float. This is when you will appreciate all the beauty that Biscayne offers. The park is so peaceful and the sound of the waves slapping the kayak is rather calming.

"Kayaking in Biscayne National Park is a huge contrast from the city of Miami. It's a very quiet out on the water, a very calming experience," commented McNaboe.
With the few islands in the distance, there is nothing out there but you and the water. The most rewarding part of the experience is when you are a few hundred feet away from land with the visitor center in the distance.

"You realize how much work you just did but the world is completely calm and the experience was definitely worth the effort," said McNaboe.
If You Go:

Address: Biscayne National Park is located at 9700 SW 328 St., Homestead, FL 33033.
Contact Information: The visitor information center phone number of Biscayne National Park is 305-230-7275. If you would like to inquire about boat tours, snorkeling, scuba diving or general gift shop information the phone number for that is 305-230-1100. To find out more information it is helpful to visit Biscayne National Park's website at http://www.nps.gov/bisc.

Par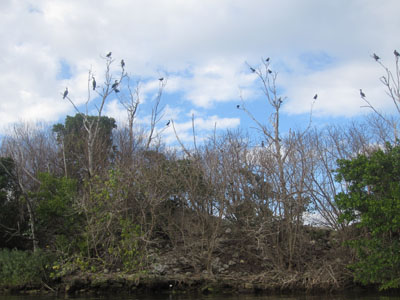 k Hours: Convoy Point, where kayaks can be rented, is open from 7 a.m. to 5:30 p.m.
Kayaking Information: To rent a kayak visitors should head towards the gift shop. Kayaking costs are quite low. For a double kayak, it is $25 and a single is $15. Life jackets, paddle and boat are all included with the price. Full refunds are done due to inclement weather. There are bathrooms on site underneath the gift shop that can be used as changing facilities. When renting kayaks the gift shop worker will first make sure you are experienced and are capable of kayaking on your own. If so, you are welcome to go ahead and find paddles, life jackets and a kayak. Kayaks are rented on a first come first serve basis, but reservations can be made when calling 305-230-1100.

To Bring: Sunscreen, towel for after the trip because the kayak can sometimes have water in it already or water can splash in, wear a bathing suit or clothing you don't mind getting wet, a change of clothes, sandals are recommended, sunglasses, and possibly a snack for after however the gift shop does have a variety of food that can be purchased.