Junior Rangers learn about area's diversity
THOUSAND OAKS, Calif. — The Santa Monica Mountains National Recreation Area offers numerous ways for kids to explore the park and learn more about the diversity of the area.
In particular, programs like the Junior Rangers serve as a way for youth to see what makes the different park areas fun while learning about its history and experiencing first-hand the wonders of nature.
To become a junior ranger, children must be between the ages of 6 and 13. Not to be confused with Boy Scouts or Girl Scouts, the program includes a system of rankings for kids that attend park events and show dedication to the National Park Service motto to explore, learn about and protect the park area.
The idea for the program at all parks is based on the science of interpretation so that students cannot only learn but develop a passion.
Participants learn a range of things from exotic animals to how they can help save the environment.
Kids begin their journeys as junior rangers by completing the Weaving Cultures program, which is based on the history and culture of past and present Chumash Native American tribe living in the Santa Monica Mountains. In the cultural comparison, kids learn more about the Chumash language, technology and family life.
Park Ranger Sheila Braden assists with Weaving Cultures and says that it "serves a good purpose because it gets people thinking about how cultures that different from their own. There's always a fairly large turnout."
The workbook is based on a program seen at another museum. Certain park areas, like the Satwiwa Native American Indian Culture Center and Natural Area for example, hold sessions where rangers conduct learning activities and tell cultural stories accompanied by a workbook with three sections to complete.
| | | |
| --- | --- | --- |
| At right, a display at Satwiwa Native American Indian Culture Center in the Santa Monica Mountains National Recreation Area highlights the Junior Ranger Program for kids. Next below, a badge is displayed. Last, a Junior Ranger journal devoted to weaving cultures is on display (Photos by Jasmine Henderson). | | |
Actual artifacts made by Native American artisans are available for families to observe as they learn along the way.
When the three sections of the workbook are complete, kids are rewarded a Junior Rangers patch or badge, depending on preference, proclaiming them to be rangers exclusive to the Santa Monica Mountains and a part of the National Park Service family.
"The boys enjoy the idea of the badge more than the patch because it looks just likes the ones we wear," said Braden.

The ranger patch is just the beginning. Kids with even more interest who want to explore on their own can earn pins for different areas like the ocean, valley and mountain. Each pin represents an activity unique to a certain area of the Santa Monica Mountains. Once the junior ranger earns the three pins, he or she is awarded the title of a Mountain Junior Ranger that is the highest-ranking Junior Ranger in the Santa Monica Mountains.
The newest program offered to kids and those that have obtained junior ranger status is the Let's Move Outside Junior Ranger Program.

The National Park Service, which is a part of the United States Department of Interior, partnered with the Department of Agriculture's Let's Move Outside initiative mainly being promoted by Michelle Obama to get youth to be more involved in outside activities to fight childhood obesity.
Kids are able to earn new Junior Ranger designation just for going outside and having fun. They're able to go out with real park rangers and hike several park areas to learn about the natural area and history.

Anela Iamos is one of the two coordinators of the Let's Move Outside Junior Rangers Program for the Santa Monica Mountains and is excited for the kids who are involved.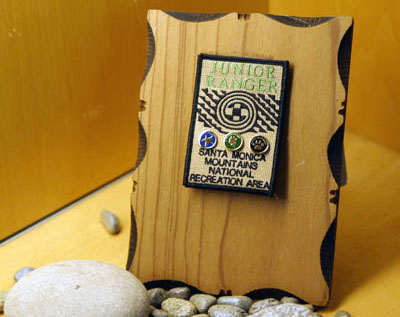 "It's a good experience for some kids that may have never been to a [national] park before," Iamos stated.

Not only do kids become interested, but parents as well.  Entire families may become involved excited about the park area and all there is to learn.
The activities are able to provide family fun during their visit so they can go home and share the experience with others.
While there are junior rangers at other national parks, the Santa Monica Mountains' wide range with more than 1,000 archeological sites of significance and various parks within the area, kids are able to learn more about many different animals and their habitats at one of the largest national urban recreation areas.

The lasting and rewarding experiences of the Junior Rangers Program are seen most by the park rangers that they have been affected by the experiences.
Mike Theune, who was once himself a junior ranger, is now a National Park Service ranger and has been at the Santa Monica Mountains since 2007. Now 26, Theune grew up in the Los Angeles area and his mom still teases him and brags about his accomplishments as a junior ranger and what he's grown to be.

"It's cool because you get to walk around and see things people have dreamed they're entire life," Theune enthusiastically explained.
Theune knows how it feels to be a kid and feel proud to be a junior ranger allowing them not only to learn about the park but to appreciate it as well. For those kids that haven't had a chance to complete the workbook or any activities,

Theune looks out for kids that show interest by picking up trash that they see or simply showing enthusiasm about the environment. In such cases that child would be rewarded with a junior ranger's badge.
"Sometimes we'll take extra badges [on hikes] with us in case we see a kid doing something really good."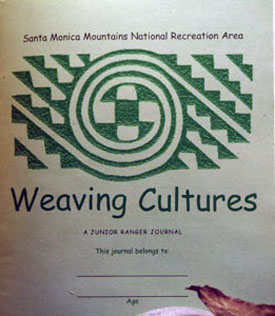 Theune recalls one time in particular where he witnessed a young girl taking time to pick up trash she'd seen in the park area.
"She said 'I picked up this trash Ranger Mike. Did I do good?' I gave her a badge for that. She was helping without being told to because she cared and that's what the Junior Ranger program is all about.

Getting kids interesting and not just handing them information allows them to acquire a passion and create memories and possibly affect their decisions. Theune believes it to be a great way to inspire another generation to care.
"If you care about a place, you'll protect it," Theune said.

Witnessing first-hand the lasting effects that the program has on children inspires the spirited park ranger to be able to enthusiastically teach kids, both inside and outside, about the history and unique environment whether they are visiting from another area or live in the area.  This is not only for the fun of it but so youth know the importance of preserving our past so that it may be appreciated by future generations.
"Ten or 20 years from now, when these kids become voters or parents themselves, it brings back a memory," Theune added.

If You Go:

For workbooks and to get involved in other Junior Ranger park activities, visit Park Headquarters and Visitor Center at 401 West Hillcrest Dr., Thousand Oaks, Calif. 91360, 850-370-2301.