Biscayne keys offer campers chance to relax
HOMESTEAD, Fla. – Clear blue water, sunny skies, solitude and a reprieve from cell phone reception draw visitors to Biscayne National Park, where a typical camping experience is out of the ordinary for most.
Pitching your tent oceanfront is the norm, as is the adoption of a Jimmy Buffett "lay back and relax" attitude.
Visitors to Biscayne National Park may camp on either Boca Chita or Elliott Key, which are only accessible by boat. The trip takes about 20 minutes from the Dante Fascell Visitor Center, but most visitors pilot their own crafts to the islands. Those who don't have a boat of their own can make transportation arrangements through the park's concession operator, Biscayne National Underwater Park Inc.
| | | |
| --- | --- | --- |
| | | Click on the video at the left to view an audio slide show about camping at Biscayne National Park's Boca Chita Key and Elliott Key, narrated and photographed by writer Danielle Kaslow. |
"Camping at Biscayne appeals to a lot of people since it's on an island," explained Park Ranger Gary Bremen. "Depending on the type of camping you're used to, it is either very remote, which some people find appealing and pretend they're on 'Lost' or 'Survivor,' or not remote at all, since you can literally see the city of Miami from the shoreline."
Bremen recommends Boca Chita Key for those with larger boats, as it has deeper water access and is physically closer to Miami. There are saltwater toilets on the island, but no sinks, showers or drinking water, so visitors tend to camp in or near their boats. But steer clear of Boca Chita if you are looking for a quiet camping experience; it can get noisy on weekends with visitors blasting loud music from their boats and playing football along the shore.
"Elliott Key has a lot more to do if you like doing other things than just sitting there and drinking beer," Bremen added. "It has a nature trail and cold water showers."
Elliott Key also features freshwater toilets and drinking water. Visitors are strongly encouraged to bring a gallon or two of water per person in case the system fails to ensure they will have fresh water to drink.
| | | |
| --- | --- | --- |
| At right, Elliott Key features a harbor for smaller boats, restroom, showers, and drinking water. Below, Elliott Key offers self-guided tours such as this map of the 14-mile hiking route around the island (Photos by Danielle Kaslow). | | |
"You can snorkel on the side of the island, too, it is surrounded by coral reefs," added Richard Walkley, a park volunteer. "At night on Elliott Key you can watch satellites and stars in the sky since you're pretty far away from all the lights of the city. I would probably bring binoculars."
According to Maria Beotegui, the park's education coordinator who leads middle school camping trips, many different types of people enjoy camping at Biscayne National Park.
"There are the national park enthusiasts who enjoy being in the wilderness and nature; for them it is about going back to the basics and focusing on food, shelter and their own space," said Beotegui. "There is something relaxing about that, not having to worry about traffic, where you have to be or your cell phone. You can put the daily things you have to worry about aside and Biscayne is the perfect place to do that. Others appreciate the park as a place to come with their boats…they are enjoying the beauty of the park in their own way."
Sharon and Glenn Schutz of Evergreen, Colo. are examples of the former. In 1992, the couple decided to camp in every national park and Biscayne is stop number 46 on their list. They visit about two or three parks a year and will be following their time at Biscayne with a trip to the Dry Tortugas in the next few days.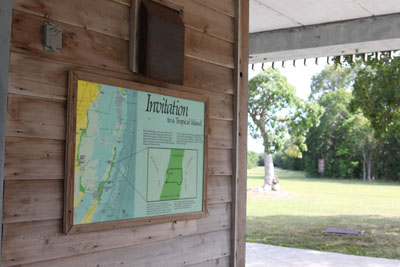 "I like the solitude and quietness of camping," explained Sharon. "My husband did a lot of camping with his family so that is how we got into it, but I love to be outside as much as I can, just being away from people and noise and pollution. There are not many places you can go to be alone and have solitude."
Schutz works as an accountant and enjoys camping as an escape from her busy life at home, and also as a way to reconnect with nature.
"There are no distractions; no TV, no obligations, no schedules. You don't have to look at your watch all the time," she said. "While camping, we like to hike, watch wildlife, and catch and release fish. On Elliott Key we plan to do the 14-mile hiking trail, snorkel, fish, relax and take in the sands."
As seasoned campers, Sharon and Glenn Schutz knew to research the park before their trip but, according to Beotegui, this is not always the case with visitors.
"During spring break we have a lot of kids come out in their bikinis and board shorts and get eaten alive by mosquitoes," explained Beotegui. "Things like that don't really show up in pictures on the Web site, so it's important to know before you go; know about the island and what you're getting yourself into."
Aside from a supply of bug spray to ward off mosquitoes and gnats, she also recommends matches, sunscreen and a hard-sided container for food or anything scented or flavored, like toothpaste or shampoo. There are many frisky raccoons on the island that will chew through soft-sided containers. Also be sure to place your container under a picnic table bench, to ward off critters that figure out the lock mechanism, as they will still be unable to get into the box.
Misty Gochenour, who was camping for the first time on Elliott Key with her husband and daughter for two days, emphasized the importance of a simple but often over-looked item.
| | | |
| --- | --- | --- |
| At right, the Gochenour family has pitched its tent to camp on Elliott Key for the first time. Below, campers must bring their own supplies to the island. This includes sunscreen, bug repellant, and ice. | | |
"Bring lots of ice," she said. "We actually freeze gallons of water, so at first it can act as ice to keep food and drinks cool, and then we can drink it as water later."
For first-time campers like Gochenour, Beotugui advises visitors to bring whatever items they need for a comfortable stay.
"Don't try to rough it if it's your first time camping," Beotugui said. "Make sure you bring things like a pillow to make yourself comfortable so you will have a good experience and want to camp again."
As the park's education coordinator, Beotegui greatly enjoys her ability to connect school children with nature and the life-changing experience of camping.
"I am one of the few lucky people that get to do for a living what they would do off the clock for fun," she said. "I like to go camping because it is going back to the basics. Like I don't know if you've ever been around a campfire at night, but there is something about it that's hypnotizing, and hits something internal and resonates."
"I like to step back and breathe, and stop all the daily rush of getting things done," she added. "I like to take time out and go back to what makes us all human."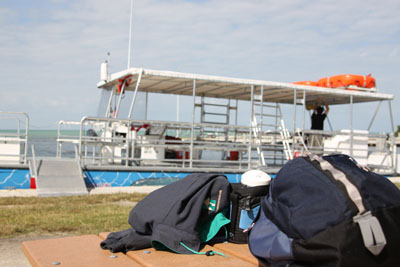 If You Go:
What: Camping at Biscayne National Park
When: Campsites are available seven days a week, year-round. Mid-December to mid-April are the most desirable months for camping, as there are less problems with mosquitoes and gnats.
Where: Boca Chita or Elliott keys at Biscayne National Park 9700 SW 328 St., Homestead, Fla.
Cost: $15 per campsite per night (includes a standard campsite, up to six people and two tents). Group campsites (up to 30 people and five tents) are available for $30 per night on Elliott Key. $20 per night if docking a boat. All camping and marina fees must be paid prior to 5 p.m., as anything after this time qualifies as an overnight stay. Fees can be paid at the specified booths on each island.
Island Transportation:
Personal powerboats and sailboats may be used to get to Boca Chita and Elliott Keys (approximately nine and seven miles respectively from Convoy Point at the visitor center area).
Biscayne National Underwater Park Inc., the park's concession operator, provides seasonal camping transportation service to Elliott Key. This service is only available by prior arrangement. Rates vary by day of the week and season. For more information on rates and reservations, call 305-230-1100.
Driving Directions to the Park:
From U.S. 1: Drive south on U.S. 1 and turn left on SW 328th Street (North Canal Street). Continue down the road and the entrance will be visible on your left.
From the Florida Turnpike: Take Exit 6 (Speedway Boulevard) and turn left off the exit. Turn left on SW 328th Street and continue down the road. The entrance will be visible on your left.
Parking: Free. There is a lot located adjacent to the visitor center.
General Information: For more information on camping at Biscayne National Park, check out http://www.nps.gov/bisc, or call the Dante Fascell Visitor Center at 305-230-7275.