Climbers drawn to steep canyon walls
SPRINGDALE, UTAH — If you look closely enough, you can see small, slowly moving dots lining the burnt red sandstone.
Those dots are people climbing the steep rock walls at Zion National Park.

Although most people visit the park for hiking, backpacking and canyoneering (propelling down a rock formation, rather than up), rock climbers and their gear can be seen driving, riding the bus or walking throughout the park to get to isolated trails with such names as Spaceshot and Moonlight Buttress.
"It's just kind of fun to see new terrain, get places where you don't see a lot of other people," said backcountry specialist Bradley Cooke, visitor use assistant lead of backcountry permits at the Zion Visitor's Center.
| | | |
| --- | --- | --- |
| Click on the video at the right, prepared by writer Alexandra Leon, to listen to climbers discussing their activities on the canyon walls of Zion National Park. | | |
Cooke, who has climbed at Zion in the past, issues permits for overnight climbs and monitors backcountry usage. While climbers that are in Zion just for the day are not issued permits, around 500 people a year do two-to-three day climbs that require a permit and a fee based on group size.
"They're self-sustaining, so they need three days worth of water and food and enough warm gear to sleep," Cooke said.
Overnight climbs are much like camping, only on the side of a massive rock formation. Most of Zion's climbing trails measure around 1,100 feet, on top of which climbers must sleep.

This may call for a "portaledge," a deployable hanging tent system designed for rock climbers who spend multiple days and nights on a big wall climb. An assembled portaledge is a fabric-covered platform surrounded by a metal frame that hangs from a single point and has adjustable suspension straps. However, a portaledge is not necessary if there is a natural rock ledge part of the way up a rock wall, where climbers can camp out.
At left, Darren Snipes, a Las Vegas teacher, climbs the Fails of Power Trail at Zion National Park (Photos by Alexandra Leon). Below,

Viktor Kamv, who traveled from Gothenberg, Sweden to climb at Zion National Park, packs up his gear after a day climb.
There are several types of rock-climbing trails all along Zion Canyon, yet most of the climbing occurs in the Main Canyon or in the Tunnel West region.

As Darren Snipes descended from his day climb on the Fails of Power trail by Big Bend, he described the experience at Zion as both frightful and exciting.
"It was fun, a little bit scary, there's always that element, but these trails are pretty safe," Snipes said. "You can put in as many camming units as you need to anchor the rope to the wall. If you fall they catch you."

Snipes, a teacher in Las Vegas has been climbing for 13 years.

"It's just nice to get there away from all the people bustling around. You just get a better view of what's going on. And it causes you to focus on the task at hand," he said. "You can enjoy the view but you always have in the back of your mind you have a task you have to attend to and be aware of the whole time you're there. So it's freeing, but causes you to focus all at the same time."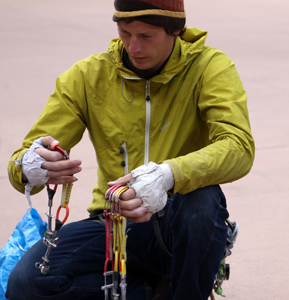 He went to Zion with his friend Jonathan O'Brien, also a Las Vegas teacher who has been climbing for nine years. The two have been climbing together for the past couple of years and agreed that Zion was an ideal location for their trip since it was so close to home. Yet they said that climbers have to go at the right time of the year.
"In the summer, you can head to higher elevations or more northern areas, during winter you come to these desert areas. It's a lot of chasing weather around to see what's good," Snipes said.

The pair moved to Las Vegas because of its proximity to places like Zion and Red Rock Canyon in Las Vegas, where they climb three to four times a week.
Yet the devotion to the sport does not come cheap. O'Brien said he spent around $2,600 on gear and equipment before arriving at Zion. However, he feels that the experience is worth the expense.

"I like everything about it: being outside, the partnership, being scared and overcoming it while being safe," O'Brien said.
According to Cooke, the majority of visitors like Snipes and O'Brien don't travel far to get there. Most people come from Utah, Nevada, Colorado and California.

However, Zion's sandstone canyons attract climbers from all over the world, like Arne Lagerkvist and Viktor Kamv who came from Gothenburg, Sweden. Since September, the two have driven their van full of rope, carabiners (the small metal clips that attach the climber's harness to the rope) and specialty shoes on a climbing trip around the United States.
According to Lagerkvist, who has been climbing for four years, the features on the rock formations and the scenery make Zion's trails some of the best for climbing. Kamv, who has been rock climbing since he was four, hiked at Zion in 2009, also prefers rock climbing at the park.

At left, Jonathan O'Brien, also a Las Vegas teacher, belays for Darren Snipes. Belaying is a support system where a person at the bottom of a rock wall is fastened to the rope as another person climbs. Below,

rock-climbing requires the proper gear, including carabiners (the metal fasteners shown) and appropriate footwear for a safe climb.
"The thing with Zion is there's only really long cracks, that are really good quality. You can climb a single feature for a really long time," Kamv said. "The combination of mental and physical challenge is great. It's almost like meditating; it connects your mind and your body."
Like any physical activity, rock climbing at Zion has its risks. The most common dangers for rock climbers are slips, trips and falls. However, unique to Zion are flash floods that will make the sandstone slick, and cause climbers to lose their footing.

Medical treatment is readily available for climbers. Zion has its own ambulances, paramedics, EMTs and wilderness first responders. For clinical care, there's the Springdale Clinic and the Hurricane Clinic. For emergencies, ambulances run patients to Dixie Regional Medical Center.
Zion's climbing trails are not appropriate for beginners.
"The climbing here is pretty tough," Cooke said. "For a lot of people that are getting into climbing, Zion is not a good place for that level of climbing. There's very little top roping and very little sport routes."

Since the steep rock does not have as many facial features, Cooke said a lot of new climbers will stick to places like Snow Canyon and Black Rocks in St. George, Utah.
"Just make sure your bag of tricks is pretty full at Zion, because it takes a lot of conscious thought and knowledge to do some of the anchoring and gear placement here in Zion, it's not as straightforward," Cooke said.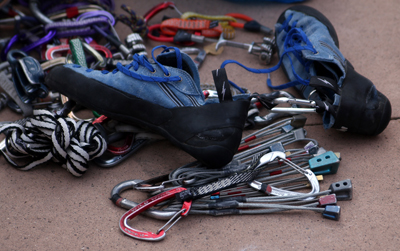 If You Go

Park address: Zion National Park, Springdale, Utah 84767.
For information about the backcountry, call: 435-772-0170.

Permit fees for backcountry use: 1-2 people, $10; 3-7 people, $15; 8-12 people $20.
Reservation fee for overnight climbs: $5.

What to bring: food, water, gear, portaledge, waste disposal container, sunscreen.