Bay island unique for park campers
HOMESTEAD, Fla.— Camping.
For many, that word conjures pictures of tents, sleeping bags, warming up from the cold around a fire and keeping your food safely stowed from bears. While some of these aspects of camping are not appropriate in South Florida, Biscayne National Park offers the wildlife adventurer a uniquely different camping experience.
"Every year for fall break my friends and I go camping at different places around South Florida and, this past year, we decided to go to Biscayne so we could snorkel in the coral reef," Christina Carr, 21, an avid camper and outdoor-girl, said. "Out of all our camping trips, that one was my favorite."
| | |
| --- | --- |
| | Campsites on Elliott Key offer incomparable vistas of the Atlantic Ocean and Biscayne Bay (Photos courtesy of the National Park Service). |
Upon arrival at the park's headquarters at Convoy Point, visitors wishing to camp should register with the park rangers at the Dante Fascell Visitor Center. At this time, you can pay your camping permit fee and receive a decal for your car.
A fee of $10 per campsite, per night is required to be paid upon arrival. The park stipulates that a single campsite must not have more than six people total or two tents. If the number in your party exceeds this quantity, then registration of an additional site will be necessary.
Another option is to register for a group campsite. This entitles you to have up to six tents and 25 people. The fee for this type of site is $25 per night.
After your sign-up fees have been paid, you will be issued a decal to be placed in your car. This alerts park staff that you are a camper and allowed to remain parked in the lot. Vehicles are allowed to park in the main parking lot outside the Visitor Center for a period of 24 hours without a decal. Following that allotment, any car remaining in the lot is subject to a fine.
In order to reach your designated campsite, you will need to take a boat out to either Elliott Key or Boca Chita Key; neither one is accessible by land. If you choose to take your own boat, an additional docking fee of $5 per night is required per campsite. All fees are to be paid by 6:00 p.m. each day or immediately upon arrival.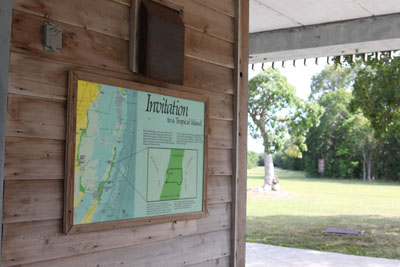 On the other hand, if you do not have nor wish to take your own boat over to the campsites, park vendor Biscayne National Underwater Park, Inc. provides transportation to the sites at Elliott Key.
The trip is $35 and reservations must be arranged prior to arrival at the park. However, it is important to note that the concession boat only serves Elliott Key. Boca Chita can only be reached by private boat.
Once you have set up your campsite, you may decide to participate in one of the many activities available at Biscayne National Park. On Elliott Key, for example, there are two trails accessible to visitors who wish to hike.
"Elliott Key offers a seven-mile-long trail along the island and also about a ¾-mile loop," Jorge Acevedo, a ranger at the park for eight years, said.
Following the hurricanes of the 2005 season, this trail was closed for a month in order to clean up the damage left in the wake of Rita, Katrina and Wilma. While this has left the vegetation less lush than it previously was, hiking in this beautiful area is still worthwhile to those who love the outdoors.
Before going on a hike, the park service recommends you always keep water with you to avoid heat exhaustion and dehydration.
"People must be prepared with water and cognoscente of our own physical limitations, which is one thing we tend to forget, " Acevedo added.
The park rangers at Biscayne also advise visitors not to forget bug spray. While traditional wildlife animals such as raccoons and snakes are present, mosquitoes and gnats are any camper's biggest enemies in South Florida. This is especially true during the summer months, so many visitors wait until the winter months, November through March, to go camp at the park.
As a result of increased foot traffic during winter, noise level regulations must be followed. The park stipulates that between the hours of 10 p.m. and 6 a.m. all visitors are expected to remain quiet so as not to disturb their fellow campers.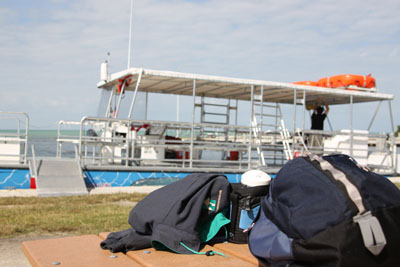 Other activities to partake in during your visit include glass bottom boat tours, snorkeling, sailing and scuba diving. Some of these activities require a fee or reservation, so call the park headquarters before arriving to check the schedule and availability.
All water sports and excursions are not always accessible or available. Since 90 percent of the park is underwater, South Florida's weather can affect the safety of excursions so it is wise to call beforehand.
Roasting marshmallows, grilling burgers and telling campfire stories are all synonymous with camping in the wilderness. Therefore it is necessary for you to be aware of the rules regarding open fires at the park.
No open fire pits are allowed on park grounds. Ground fires are only permitted in the Fire Ring on the ocean side of Elliott Key. Barbeque grills set up on stands are also available in this area. If you would prefer to bring your own grill, ensure that it is at least 12 inches above the ground in order to prevent radiating heat from starting a ground fire.
Besides barbeque grills, each of the islands has other amenities available to campers. On Elliott Key toilets, cold-water showers and drinking water are all available. On Boca Chita Key though, only toilets are accessible.
Showers and sinks are not present on this island. Additionally, freshwater is only present on Elliott Key as Boca Chita only provides saltwater.
"Even though we stayed on the island with showers, we all just said, 'Eh, we can shower when we get home. Let's just have fun'," Carr explained.
If You Go…
Operating Hours: The Dante Fascell Visitor Center is open daily from 9 a.m. to 5 p.m.
Convoy Point, location of the park's headquarters and visitor center, is open from 7 a.m. to 5:30 p.m. daily. The water portion of Biscayne National Park is open 24 hours a day. Adams Key (accessible only by boat) is a day use area only.
Directions
From the North:
The park entrance at Convoy Point can be reached from either the Florida Turnpike or U.S. 1.
From the Florida Turnpike: Take the Florida Turnpike South, to Exit 6 (Speedway Blvd.). Turn left from the exit ramp and continue south to SW 328th Street (North Canal Drive). *Note* There will be a brown sign on the right-hand side of the road pointing to SW 328th Street. Turn left and continue until the end of the road. It is approximately nine miles and the entrance to the park is on the left.
From U.S. 1: Drive south to Homestead. Turn left on SW 328th (North Canal Drive), and continue until the end of the road.
From the South:
Traveling on U.S. 1 (Overseas Highway), drive north to Homestead. Turn right on SW 328th Street (North Canal Drive) and continue to the end of the road. The entrance is approximately nine miles on the left.
Camping Information
Biscayne National Underwater Park, Inc. (park concessions operators)
305-230-1100
Call to reserve a group campsite: 305-230-1144, extension 074. Individual campsites are operated on a first-come, first-serve basis.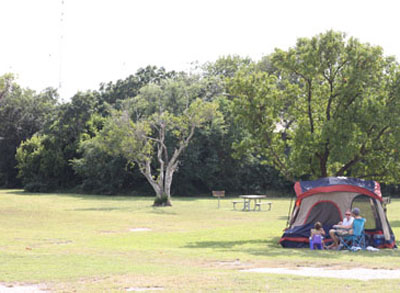 The marina at Boca Chita Key is part of Biscayne National Park.