Bay boat tour shows off marine life
HOMESTEAD, Fla.— I've lived in South Florida for 18 years and, like most locals, I don't take part in many tourist-type activities.
But when I heard about a glass bottom boat tour of the coral reefs within Biscayne National Park, I thought, "I wonder what a glass bottom boat looks like?"
That's when I knew I had to go see and find out.
I was making the trip from Fort Lauderdale, so I had to get up pretty early on a Saturday morning to get to the park on time. My family and I left at 8:30 a.m. and we arrived a little after 9:30.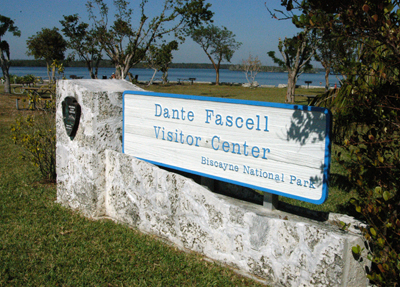 Visitors must take the turnpike south toward Key West, get off at exit 6 and make a left. At first you might think that the directions were wrong because you are surrounded by fields of produce and ornamental plants.
When you hit Canal Street, you make a left.
But you have to be careful. There are no upcoming signs and you could easily miss it. If you arrive in the parking lot of the motor race track, which is what I did, you've gone a little too far south.
The best thing to do is call the Biscayne National Park Visitor's Center for directions because, once I did, the entrance to the park appeared within minutes.  We parked and went upstairs to the second floor gift shop and asked for the boat ride.
We passed through the Visitor Center and went downstairs to the dock. We stepped aboard the Reef Rover IV, a small, rusty looking boat parked in green-colored water of the small marina. Inside there are white benches surrounding a giant square pit i n the center of the boat. Looking down into the pit we saw that there were rectangular glass windows numbered 1 to14. These one-inch thick windows were the only thing between us and the ocean.
We got a short safety lesson from Capt. Jack Kelsey, including a warning that the
bathroom "accepts liquids only" so, for the visitor that is prone to going to the bathroom often,
it's best to go at the Visitor Center.
We started in a small opening covered by trees and it was slow at first because of the possibility of manatees. We were told to look out for them because this was the only place on the trip where there was a possibility of seeing them. However, we didn't come upon any.
Sailing out we saw seagulls, pelicans and black, double crested cormorants sitting on groups of rocks that were in a trail, just above the water, near the shore. The boat sailed at a moderate speed so there was a nice breeze blowing.
It was a beautiful day with the sun bouncing off the blue ocean and light waves lapping against the side of the boat. If you want you can even sit on one of the benches in the back of the boat and sit facing the sea you're leaving behind and watch the white wake. Or you can sit in front of the boat in a little area with a bench and feel the breeze right in your face as the boat cruises by.
Our tour guide was Paul Kuentzel, who told me that Biscayne National Park is one of the Top Ten most threatened national parks in the United States.
"When cruise ships get rid of trash, it flows into the Gulf Stream and creates algae, blocks nutrients and prevents growth for the reefs and fish," Kuentzel said.
The park consists of 173,000 acres of bird sanctuary with over 190 species of birds, 512 species of fish and the third largest coral reef in the world. It is 200 miles of coral reef that starts in Biscayne National Park and ends in the Dry Tortugas west of Key West.
After about an hour and a half, we reached our first destination: a shipwreck. Like most people I'm sure, I was expecting something that looked like a ship had crashed there but I was surprised to find not much more than a pile of rocks at the bottom of the shore.
However, when we looked down through the glass bottom we were able to see the fish, the coral, jellyfish and stingrays very clearly. There were small, yellow sergeant fish swimming through and over the blue and orange reefs. We were able to see that the reefs varied in size and had blue sea fans attached to them as the boat passed over at a safe distance so as not to disturb the marine habitat.
White Moon Jellyfish with long tentacles, that were so thin they looked like strands of hair, drifted by the brain and yellow coral while brown stingrays darted between the swaying sea fans.
The ocean bottom was easy to see because the water is not that deep. Coral grows best in shallow water and does not survive in deep water. It also does not survive in cold water, but the Gulf Stream flows in close enough to bring in water that keeps coral about 85 degrees.
Other than my family, the only other people on the boat were an older couple from Oregon. Tom Maddock, who was accompanying his wife on a business trip, said he found the trip, "very interesting. I've never seen coral living. I've usually only seen rocks."
He loved the trip and the park and said he'd recommend it to friends.
"It's unlike anything we get to see on the West Coast," he said.
He noted that he found out about the park while he and his wife were nearby at the Big Cypress National Preserve.
Our trip to the reefs, unfortunately, was cut short by several funnel-shaped waterspouts spotted nearby. There was a possibility of tornadoes, but the captain was mostly worried about lightning since the boat was metal.
On the way back to port, our guide took dried starfish, sea fans and sponges out of a cooler and laid them out so we could get a closer look at them. It was interesting to see that they all have tiny holes throughout their bodies, all made by other ocean animals.
I found out later from the captain that the rusty looking Reef Rover IV is not only a surprisingly dependable boat, but she's also an old survivor. Her hull was laid in 1975 and last year she was flipped in dock by Hurricane Wilma. Yet she was fixed and gives rides to the reef whenever enough people show up.
I enjoyed the trip and would definitely recommend it to anyone coming to visit. If you don't like getting wet, but still want a chance to see marine animals and the sea, this is definitely an activity to put on the to do list.
If You Go
General
9700 SW 328th St., Homestead, Fla. 33033-5634; 305-230- 7275 or visit http://www.nps.gov/bisc.
Convoy Point is where most people begin their visit to Biscayne National Park. The park is open daily, 24 hours, but without a boat there is little access outside the hours of 7 a.m. to 5:30 p.m. Park personnel are available to answer questions and help you to plan your trip. A ranger station is located on Elliott Key.
From the west, park headquarters and the Dante Fascell Visitor Center are located south of Miami, nine miles east of the city of Homestead on North Canal Drive (SW 328th Street), adjacent to Homestead Bayfront Park. Follow signs on the highways and local streets.
There are no entrance fees to the park. The boat ride is $24.45 plus tax for adults, $16.45 for children under 12 years and $19.45 for seniors.
The boat tours are available on glass-bottom boats going to the coral reefs. Three-hour trips from Convoy Point (10 a.m.) are available daily. Reservations are recommended as the boat will not go out unless eight people are paid for.
Food and Lodging
There are no dining facilities in Biscayne National Park. Vending machines, picnic tables and grills are available at Dante Fascell Visitor Center. Picnic tables and grills are also available on Boca Chita, Elliott Key and Adams Key.
Lodging is available in nearby Homestead, Florida City and in the greater Miami area. Contact the Tropical Everglades Visitor Association at 800-388-9669 or the Homestead & Florida City Chamber of Commerce at 305-247-2332 for more information.
Services
A ramp to the boat and elevator to the second floor gift shop is available for handicapped citizens.
In case of an emergency: call 911. First aid is available from park rangers at the Dante Fascell Visitor Center. The nearest hospital is in Homestead, 10 miles from the main entrance.
Gasoline is not available in the park, but may be purchased in nearby Homestead or Florida City.
To report a lost or found item, go to a park visitor center or please call 305-230-7275.
The park maintains harbors at Elliott and Boca Chita keys, where boaters may spend the day or night. Docking is on a first-come, first-served basis and there is a $15-per-night fee. Ramps are available at Homestead Bayfront Park, Black Point Marina, Matheson Hammock Park, Dinner Key and at Crandon Park on Key Biscayne.