Cypress canoeing, kayaking trails popular
OCHOPEE, Fla.— Amidst the abundant wildlife and rare foliage of the Big Cypress National Preserve lies a recreational haven.
The preserve has two main canoeing and kayaking trails, the Halfway Creek Canoe Trail and the Turner River Canoe Trail, along with six smaller trails, that travel through the natural habitat located inside the preserve.
"I would encourage novices to do the smaller trails before tackling the two main trails," Bob DeGross, spokesperson for the Big Cypress National Preserve, stated.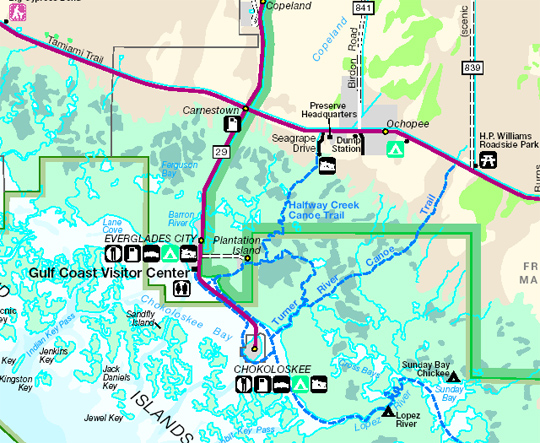 The Halfway Creek Canoe Trail and the Turner River Canoe Trail are located between U.S. 41 (Tamiami Trail) and Chockoloskee Bay in the Ten Thousand Islands area (Map courtesy of the National Park Service).
The Halfway Creek Canoe trail is located in the extreme southwest corner of the preserve. It takes approximately four hours to complete. However, canoers and kayakers should allow six hours for the Turner River Canoe Trail.
The trails, which are most populated from the months of January through March, are all marked with numbered markers. The markers are green when traveling towards the gulf and red when returning inland.
All of the trails offer unique opportunities for visitors to explore the mangroves, pines and prairies, as well as the wildlife such as white-tailed deer, bears and Florida panthers.
"The two main trails showcase different aspects of the natural habitat," DeeGross said. "The Halfway goes primarily through the mangroves and the Turner goes through a lot of upland habitat."
Visitors wishing to kayak and canoe should bring personal flotation devices, long sleeve shirts and insect repellent for protection against mosquitoes, sunscreen, food, plenty of water and a map.
"One of the most important things I had with me when I was kayaking, other then my water, was my map," Chris Barocas said, 24, a resident of Danville, Va. "I would have definitely been in trouble if I hadn't known how to read a map before coming out here."
Big Cypress does not provide equipment. However, there are several vendors located in Everglades City, about a half hour away by car.
The Big Cypress National Preserve Visitor's Center is open from 8:30 a.m. to 4:30 p.m. and is located on U.S. 41 (Tamiami Trail) approximately half way between Naples and Miami.