Pirate's Alley show highlights artists
NEW ORLEANS — "It's gotta be real art here, no crafts," said local artist Wade Langlois, during the spring 2004 Pirate's Alley Art Show.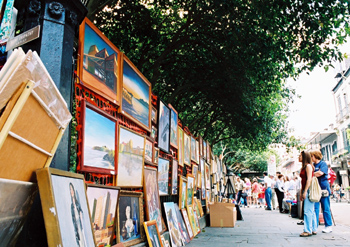 Art lovers flock to the art show (Photos by Rachael Henrichsen).
He was born and raised in "New Awlins" as he called it, and only competes among artwork on a flat surface— "real art."
It all may be flat, but the styles and subjects bring the surfaces the same vibrant life as this magical city.
In any art show, landscapes are expected and so are still lives.
People don't always expect to buy a color pencil portrait of a very patient St. Bernard.
Some of these odd choices were just as popular with the crowd.
Small paintings of oysters, crawfish, and beignets inspired by Café du Monde, filled the alley the first day, but were mostly snatched up by the next.
Somewhere along the uneven cobblestones one might notice the disappearing street-names on faded green tile. Pirate's Alley is difficult to read, and walking down it is even harder.
On one side is the original cobblestone, on the other cement, both split with a slight curb and collecting water from the incline. But like everything else, of course, it's charming.
| | |
| --- | --- |
| | Visitors enjoy the fun of looking at the displays on an old French Quarter wrought-iron fence. |
And since 1930 locals and visitors alike have invaded this street for artisan trade, much like its namesake the pirate Jean Lafitte.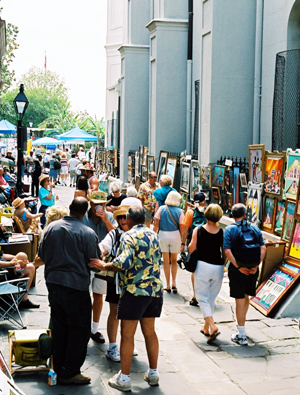 The festival highlights local artists, who use any available wall or fence space to display their work.
He was a famed smuggler who surprised everyone when he helped America gain the Louisiana Purchase in the War of 1812.
In Louisiana, he's a hero—so much in fact, that the Jean Lafitte National Park was created.
Every year the French Quarter holds yet another party, celebrating this colorful history through music, architecture, parks, and above all charm.
It kicks off just before the famed Jazz Fest that attracts more tourists than locals.
"This is our festival," local artist John Goodwyne said.
He spoke with every bit of the local accent one could ask for.
"Most people ya gonna see around here are from New Awlins." He displayed watercolors, which he just decided to take up.
The show made it easy for visitors to take a piece of the city home and for locals to build up their collections.
The event in 2004 just recorded the best year yet for Pirate's Alley with 102 artists who competed for 26 awards. Everybody had six feet of street space to work with, to fill with whatever they pleased.
The artists' showcase in a busy location swarming with street performers, palm-readers and horse-drawn buggies, pulled along by what looks like a cross between a Clydesdale and a donkey. The alley runs alongside the famed French Quarter icon, the St. Louis Cathedral, across from Jackson Square featuring music and a taste of the authentic Creole cuisine.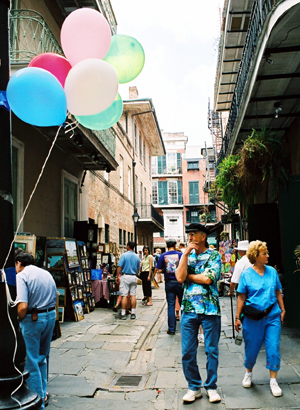 Art lovers and artists display their works.
This 74 year-old tradition holds loyal artists and visitors, but there is one person who is hasn't missed one show in the last twenty of those years.
Doris Cowan, also exhibitor and contestant, is the long-standing chairperson of the Pirate's Alley Committee.
She sits across from her display among the other artists, without so much as a sign. The understated artist is a teacher who comes down one weekend a year to see her friends and show her watercolors and oils.
"I like to paint fish, butterflies, angels and flowers," Cowan said with a slow southern drawl.
She thought for a moment and tried to describe her favorite tourists. "Well, art lovers!" she said excited, as she looked around.
To Doris and the other natives it's quite simple- good food, friendly people, great music, and like everything else, a New Awlins kind of art.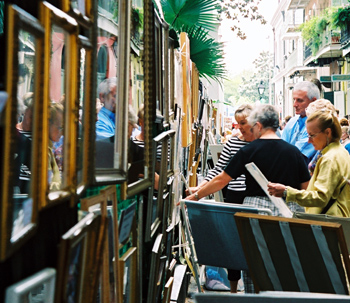 The French Quarter Festival is family friendly, cheering the great local pride. Music is of course an enormous part of that pride, and it fades in and out the side streets constantly, reminding everyone of the culture, and the many art forms booming in the spirits of such an old, but lively, town.
It has everything that a growing society requires, but somehow maintains the slightly grubby, yet appealing culture that brings visitors back, sometimes to stay.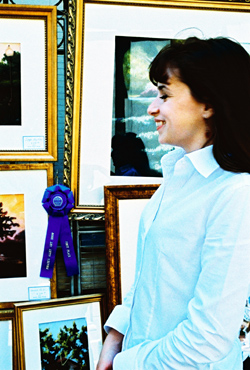 Artist Mary Monk from Covington, La., admires her first-place blue ribbon at the art show.