Jazz park singing blues over new center
NEW ORLEANS— A national park created to trumpet the history of jazz has been singing the blues lately here in New Orleans.
Congress passed a law in 1994 establishing the New Orleans Jazz National Historical Park. At that time, the park was to be spread throughout four structures already standing in Louis Armstrong Park to house exhibits, a resource center and administrative headquarters, and would feature a performance and education venue.
| | |
| --- | --- |
| | The main entrance to Louis Armstrong Park (Photo by Julie Major). |
Yet a decade after the park was created, efforts have stalled to relocate its visitor center from its French Quarter location to its new site in Armstrong Park on the northwestern edge of the Quarter on Rampart.
It isn't for lack of trying. Instead, it's more of a lack of funding, coupled with its questionable new location.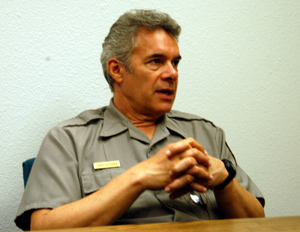 New Orleans Jazz National Historical Park Acting Superintendent Dave Herrera (Staff photo).
According to Dave Herrera, the jazz park's acting superintendent, renovating the buildings in Armstrong Park require funds the National Park Services has yet to commit.
And park officials have yet to seek out funding from private sources, which may eventually signal whether the park has a chance for long-term success.
"You've got to convince people to contribute if you want private dollars," Herrera said. But, on the subject of soliciting private funding, he said the NPS in New Orleans "has got a heads-down mentality."
It's important to note that the jazz park isn't part of the Jean Lafitte National Historical Park and Preserve, which maintains six national park or preserve properties in and around New Orleans.
However, Herrera said, the park does receive its funding from the same source — federal dollars.
As the needs and demands placed upon national parks grow, federal funds continue to shrink each year, leaving park staffs to do more with much less.
| | |
| --- | --- |
| | Armstrong Park is adjacent to the New Orleans Auditorium, a concert and arts performance venue (Staff photo). |
"This summer we'll contract to rehab two buildings, and we'll have to put more than $2 million into those two buildings alone," Herrera said. "We don't know what the total cost will be yet because we don't have a visitor center, which normally houses exhibits."
One of the buildings scheduled for renovation is Perseverance Hall, which, at a very cozy 20 feet by 30 feet, will have room for just an information desk and a few exhibits. That's a significant difference from the four buildings, concert space and resource center promised back in 1994.
Herrera has also questioned whether the move to its Armstrong location is the best plan for the fledging jazz park for several reasons. The neighborhoods surrounding Armstrong Park have been plagued with crime, which often spills into the park's boundaries. Even a casual observer walking inside the park will notice homeless people sleeping on benches and green spaces and very few tourists.
| | |
| --- | --- |
| | Quiet waterways and paths criss-cross Armstrong Park (Staff photo). |
There's also the issue of the Armstrong Park's physical location, which at seven blocks from the jazz park's current location on Peters Street is at the opposite end of the French Quarter.
Drawing tourists out of the heart of the Quarter and over to Armstrong Park may seriously hurt the park's chances for success. Annual attendance for the jazz park's location near Peters Street is around 50,000 to 60,000 visitors. Consider also that all six parks that make up the JLNHP&P attract roughly 475,000 visitors annually. The French Quarter, by contrast, attracts twice that many visitors on Mardi Gras' Fat Tuesday alone.
| | |
| --- | --- |
| | One of the buildings targeted for renovation to house the New Orleans Jazz National Historical Park Visitor Center and headquarters (Staff photo). |
"It will be a challenge to attract tourists and perhaps even local residents to our new facilities at Armstrong Park," Herrera admitted. "I believe our presence eventually will have a positive impact but that will depend on the programs we offer and the public's reception of them."
It's perhaps public opinion that will primarily dictate whether the jazz park succeeds or fails, even more so than its funding or its location. New Orleans is a hotbed for music — the city is largely credited as being the birthplace of jazz – and tourists seeking an authentic New Orleans music experience overwhelmingly flock to bars and restaurants in the French Quarter.
| | |
| --- | --- |
| | The home of WWOZ-FM, 90.7 radio, New Orleans Community Radio, is on the Armstrong Park grounds. The station provides jazz and heritage programming (Staff photo). |
A jazz park, regardless of its location, offers a somewhat ersatz sense of the jazz experience when compared to sitting on the floor of the historical Preservation Hall to hear live bands play.
"The important thing to understand is that the reason people come to the French Quarter and to New Orleans is not to visit a national park," said Dan Brown, chief of resource education for JLNHP&P.
"It's the music, the history, the food, the architecture, the ambiance. They can't experience that inside a building. They want to get out and see it and experience it."