Preservation Hall maintains jazz traditions
NEW ORLEANS— Ben Jaffe, the 33-year-old bass player and co-director of the New Orleans jazz venue Preservation Hall, has an affinity for making analogies to food (such as red beans and rice) – especially when he talks about his mission to perpetuate the city's traditional jazz sound.
This isn't too surprising since New Orleans maintains such wholesome pride when it comes to its pungent gastronomy.
| | |
| --- | --- |
| | Preservation Hall co-director Ben Jaffe (Photo by Shannon Brinkman, courtesy of Preservation Hall). |
"Our 95-year-old banjo player, Narvin Kimball, taught me how to make red beans and rice," he explained, "and he learned it from his granny in the 1850s. So I'm eating the same dish we've eaten for hundreds of years. The taste is the same, but the process has somewhat changed."
OK, it is true that people can just get the ingredients in a box now as opposed to engaging in an all-day grocery shopping affair – first at the dry goods store, then at the vegetable shop and finally at the butcher's for those savory hamhocks.
And, similarly, the musicians at the Hall are still cooking that same raw sound, but just in a different era and with an updated procedure.
"The Preservation Hall sound evolves with time," he continued. "[It's modernized], but still keeps that New Orleans flavor, beat and rhythm. You really gotta compare it to food: how different is the taste of rice and beans back then and now?"
Akin to several institutions in the Crescent City also rooted in tradition, Preservation Hall hasn't wavered much from its origins and strives to keep it that way. In 1961, Allan and Sandra Jaffe, Ben's parents, were concerned by a dearth of venues where local jazz musicians could play.
They discovered an art gallery space in the French Quarter and bought it, retained some of the paintings on the wall and turned it into a music hall. It can only pack about 70 people, who mostly stand or sit on the few benches or even on the floor. Year-round, nearly 75 different members perform, with 30 playing regular gigs for a mere $5 cover charge.
| | |
| --- | --- |
| | Veteran jazz musicians perform on the tiny Preservation Hall stage (Photo by Shannon Brinkman, courtesy of Preservation Hall). |
The Hall also works with the New Orleans Jazz National Historical Park in the city by providing the park with services such as live music and reference tools since, Jaffe mentioned, many people that work there aren't from New Orleans.
"I'm not making a killing," he said. "But my ambition isn't to drive a Porsche. It's to bring the experience I grew up with and the New Orleans spirit to audiences all over the world."
And this isn't white Dixieland either, which doesn't have ties to African-American culture. Jaffe distinguishes it from real New Orleans jazz, which he describes more as a cultural phenomenon, a bit like the Buena Vista Social Club in Cuba. This New Orleans sound is wholesome and dense like the town's gumbo, a thick medley of dialoguing horns, banjo, bass and piano, initiated by black musicians as dance and celebratory music intended to entertain people.
"It never ever lost that function," he said, "and if it does it won't be New Orleans music anymore.[I see] Dixieland as more like circus music with guys in straw hats. New Orleans jazz is about dignity, joy and respect. It's like going to a soul food restaurant as opposed to going to a generic chain like T.G.I. Fridays."
Starting in the 1960s
When the venue first started in the sixties, it was a room for older musicians to perform, several of which were born in the 1800s and played the clubs of Storyville, New Orleans' now obsolete red-light district. Now it's a dedicated family of musicians in love with the sound of New Orleans.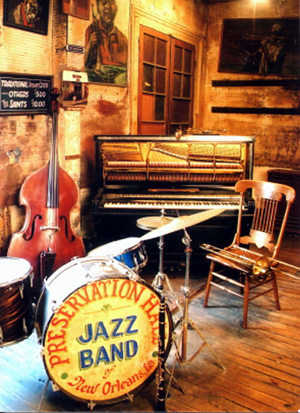 Preservation Hall space is intimate, affording visitors close-up experiences (Photo by Shannon Brinkman, courtesy of Preservation Hall).
It's strangely appeasing to be inside the old Preservation Hall building on 726 St. Peter's St., even though its charred façade and dilapidated structure are somewhat daunting, and also disarming. The show is so alive, full of vigor and communal pleasure.
Some of these guys are old, I'll tell you, but they invoke positive energy, still inviting people into movement, dance and hand claps – this for more than 30 years now. Every night, from eight through midnight, the Hall is celebrating.
Dissatisfied by the state of the music industry and how major labels have wronged consumers by selling poor product and packaging for inflated prices, Jaffe recently started Preservation Hall Recordings, which produces elegantly-packaged compilations and new material.
The first three albums were released last January: Shake That Thing, The Hot Four with vocals by Harold "Duke" Dejan and Preservation Jazz Band: Best of the Early Years.
He's also putting together some members of Preservation Hall to create a Creole band called Crillo.
And so the Hall lives on.
"Its success and longevity are partly due to its honesty and the simplicity of its mission," Jaffe said.
But there has to be something else, something about the sound and the taste. What ingredient would Preservation Hall be in chunky N'awlins broth?
"We'd be the cayenne," he said, smiling. "That's what music is to New Orleans, it's the spice of life. Individually, none of those ingredients sound good, but you put them all together and you've got one hell of a dish."