Jazz pianist keeps music alive at Center
NEW ORLEANS — I had just visited the Jean Lafitte National Historical Park and Preserve just outside this city of music and food. While walking down Decatur Street in the French Quarter, a mystical sound reached my ears and astonished my spirit.
This celestial music came from the Visitor Center of the New Orleans Jazz Historical Park near the French Market. Sitting at the piano was Willie Metcalf Jr. a living legend, a being dedicated to his music in body and soul. I grabbed a chair, listened a while to his performance on an old black upright piano, and waited patiently for an interview that was about to change my life forever.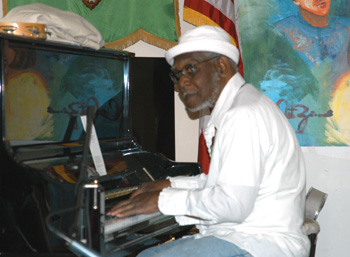 Jazz musician Willie Metcalf Jr. plays for visitors at the New Orleans Jazz National Historical Park (Staff photos).
Willie Metcalf Jr., is a 74-year-old pianist, composer, arranger, producer, director and music educator.
He was born in Highland Park near Detroit. He is a father of four sons, grandfather of six, and great grandfather of another six "marvellous" kids.
His music comes from an early era of jazz where musicians played in small dance bands or were solo pianists.
Metcalf is an instrumentalist who, according to the digital encyclopaedia Encarta, "emulates black vocal styles by smoothly changing the pitch" creating the effect of cotton-candy notes that dissolve in peoples´ ears. Metcalf's tone, like many jazz artists, is characterized by having virtuosity and a sophisticated harmonic sense: He uses repeated accents in unexpected places and adds several melodies to the original beats.
"When you play on the right distance, you get harmony and it just develops from there. I am continuing to develop," Metcalf explained.
Metcalf´s musical style is a blend of light-classical music and jazz, popular songs and jazz, or a mixture of blues and jazz. He is among the group of musicians who have admired classical music and who were responsible for "jazzing the classics." His repertoire includes jazzy symphonic pieces.
When mixing blues and jazz, like in his vivid-song, "J.P. Blues," he also falls into the boogie-woogie style of the 1920s.
His CD "Metcalf Moods" is a selection of works from great American composers, one French musician and a blues track of his own. The CD includes works from George Gershwin. A song by Miles Davis is also part of this repertoire. Notable popular-song writers Cole Porter and Richard Rodgers are also included and their songs are blended with jazz. Michael Legrand, Richie Greig, Ellen Max, and Shad A. Rober are the other artists on the CD. The disc reminds listeners to another era.
Playing the piano is only one of Willie Metcalf's talents since he is also an excellent teacher.
With his harmonic hands and thoughts that move smoothly like ephemeral clouds in a blue-sapphire classroom, he mentors his students about drama, music, and dance. But, most importantly, he teaches them how to preserve and develop their own ideas and personality.
"One of the things I do in my summer camps is (to) teach my students how to play chess. What that does is get them to think. The comparative nature of the game stimulates independent thinking. They say you are brainwashed when you think the way other people want you to think, and the key is for you to (think and) evaluate your own opinion," Metcalf said.
In the 1930s, he was a three-year-old child prodigy playing a piano that he found at a boy's home. By the mid 1940s, Metcalf was already an adolescent playing professionally in and close to Detroit, New York and Chicago. Today, thanks to his uninterrupted-hard work, he is a philanthropic-entrepreneur who founded and directs the concept of the Academy of Black Arts.
This performing company, due to lack of resources, does not have a permanent location. However, Metcalf has managed to keep the company alive for the last 29 years by donating his time and talent, as often as he could, in a series of workshops and performances at various colleges, universities, and high schools that have donated their space.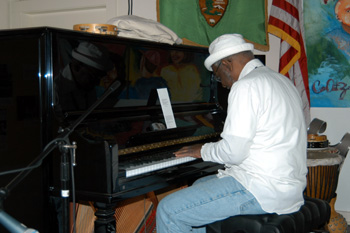 Willie Metcalf Jr. plays Visitor Center.
Its first location was on campus of Wayne State University in Michigan in 1972 and it was relocated to New Orleans in 1975.
The participants of the academy's workshops form a diverse cast of poets, musicians, models, actors, singers and dancers.
The academy offers to the public music that varies from a solo pianist, to trios, to quartets, to a 16-piece orchestra.
Numerous students, besides becoming working musicians, have also won Grammy's. The list includes Wynton Marsalis, Bradford Marsalis, Terrance Blanchard, Donald Harrison and Levern Butler.
The school originated to increase student's interest about jazz, and at the same time it encourages local-disadvantage children achieve (reach, attain) their greatest potential.
"I saw a need for cultural information to be passed on to the young people, and you pass it on through music which is one way, through dance that is another way, and drama which is another way. People need role models," Metcalf said.
Metcalf prepares children for musical performances, and gives them a healthy alternative to delinquency.
"With society struggling to save young black children, he created an avenue of intervention through the concept of The Academy of Black Arts," wrote Jerome Anderson from Studio Berkano who was in charge of the layout in Willie Metcalf´s CD.
Metcalf told the Housing Authority of New Orleans publication, the Hano News , "The thrust of the organization is crime and drug prevention."
The school has been very successful in contributing to a bigger cause: which is to preserve and interpret the cultural heritage of African-Americans in its purest form. "Society is done in a way to destroy information in order to control people and conquer people. Today's society is the result of a system that erased Black American culture," Metcalf said.
The city government has also occasionally contributed in several occasions, with a grant for a summer camp that lasts six weeks. The grant is used to rent a space, and to hire 20 to 30 high school or college students who help Metcalf with the 70 to 80, 7 to 14 year olds from all ethnic groups who enrol for free in this summer-workshop.
While he entertains and educates future generations, Metcalf is collaborating indirectly with the New Orleans Jazz Historical Park's purpose of conserving and interpreting the origins and early developments of jazz.
"He is a bed rock of information. He is a very interesting individual. His knowledge of jazz is great and goes back to the '30s. He has played with and mentored great individuals like Ray Charles," said Reginald Galley, a 56-year-old park guide at the jazz park's Visitor Center who is originally from Houston but has lived in New Orleans for many years.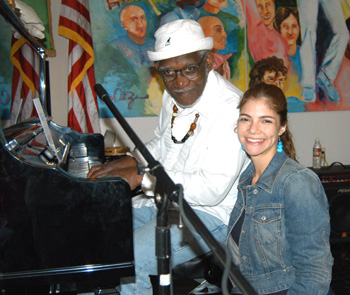 Willie Metcalf Jr. and writer Veronica Puello get acquainted on the jazz park stage.
At the same time, during the past three years, Metcalf has worked directly for the park in occasional ventures.
And starting this year in April, he is playing regularly Wednesdays and Fridays from 1 to 2:45 p.m. and, Saturdays from 11 a.m. to 1 p.m. at the Visitor Center.
He also works in the festivals sponsored by the Visitor Center: like the French Market Tomato Festival and the National Arts Festival.
"He has a large following of people; he reaches from 200 to 300 people per week, including his young students. He can't get away from his music, and even though he plays mostly from memory, he has an extensive repertoire," Galley said.
As if this was not enough, Metcalf has also participated in the internationally known New Orleans Jazz Festival each year since the middle of the 1970s. In 2004, the festival was dedicated to the history, culture and people of South Africa to celebrate the 10th anniversary of its freedom.
Metcalf was chosen as a special guest to play at Congo Square Stage with the other 80 renowned South African Musicians. This presentation, which also included arts and crafts, was America's most extensive tribute to the first decade of the new South Africa.
C. Ray Nagin, the mayor of New Orleans, and Kathleen Babineaux Blanco, governor of Louisiana, proclaimed Feb. 14, 2003, as Willie Metcalf Jr. Day in recognition to his work as a pianist, composer, educator and actor.
"Willie Metcalf is the type of artist you don't see anymore," said the National Park Service's Galley.
Despite all of his achievements, Willie Metcalf has not changed his modesty.
During the past 29 years, for example, both Metcalf and the Academy of Black Arts have kept offering non-stop assistance to prisoners in Orleans Parish, performing at hospitals, retirement homes, schools and churches just to promote cultural advancement in the community.
Metcalf is a vivid example of what real devotion is all about, and his music is the reflection of the internal beauty of his people and his culture.
For more information on the Academy of Black Arts, to donate time or resources, temporary space, an instrument, or to buy Willie Metcalf's CD, write to:
P.O. Box 850734
New Orleans , La. 70185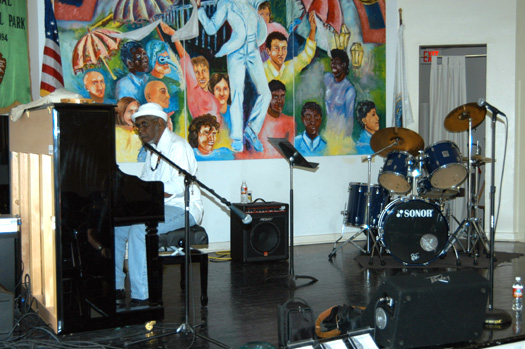 Willie Metcalf Jr. plays a solo selection for visitors on the small Visitor Center stage at the New Orleans Jazz National Historical Park.