Barataria offers rare up-close wildlife
MARRERO, La. — New Orleans is known more for its nightlife than its wildlife, but visitors who want a more natural Louisiana experience may want to spend a day at the Barataria Preserve.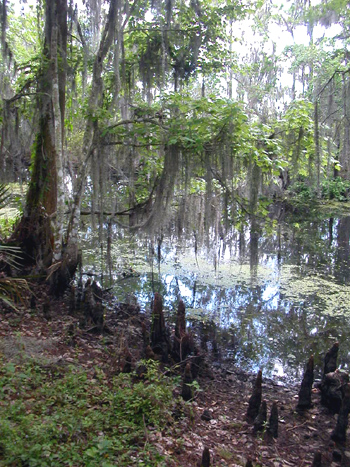 Cypress trees with Spanish moss hanging (Photo by Julie Major).
The preserve, just south of the French Quarter across the Mississippi River, is home to a veritable who's who of Louisiana critters, from alligators, snakes and turtles (lots of 'em) to herons, egrets, ibis and the state's unofficial state bird, the mosquito (lots of them, too; part of Barataria's 20,000 acres are swamps and marshes).
The preserve was particularly alive with signs of life because our trip coincided with two events that signal spring in the swamp: mating season — which explained the unusually high number of snake sightings — and Wild Iris Weekends.
Watching amorous snakes writhing in heaps is fascinating, but trekking through a swamp to see … a bunch of blooming flowers?
It's a bigger draw than you might think, according to Allyn Rodriguez, a park ranger with the National Park Service. Rodriguez estimates that park attendance is around 1,500 for each of the Wild Iris Weekends, which typically runs from the last weekend in March through the first three weekends in April each year.
During the annual wildflower bloom in March and April, visitors can see thousands of giant blue irises and spider lilies throughout the preserve.
Several trails through the preserve are paved or boardwalk planks, making a view of the wildflowers easily accessible both to handicapped visitors and to families with young children.
| | |
| --- | --- |
| | A wildflower in the preserve blooms in spring (Staff photo). |
"We get all kinds of visitors for Wild Iris Weekends, mostly from the city of New Orleans, but even locals from this area come out to show off the beautiful wildflowers to their visitors," she said. "The giant irises are truly magnificent when in bloom. Imagine looking over a field of deep purple flowers that stand over three feet tall."
The preserve is one of the six sites that comprise the Jean Lafitte National Historic Park and Preserve. It's actually located about 17 miles south of New Orleans, which means visitors must arrange their own transportation.
Admittedly, without a car it's not simple to get out of the Big Easy. The city of New Orleans did run bus service to the preserve on a trial basis, but the transfer process was confusing and lengthy and buses ran only once daily to the park, forcing visitors to spend an entire day at the preserve whether they had that much time to spend there or not.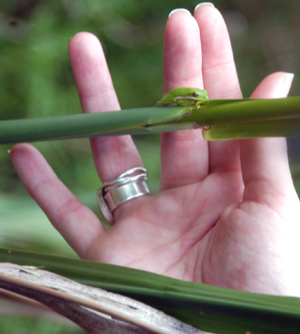 A tiny tree frog in the Barataria Preserve (Staff photo).
"We get a lot of local usage from people who live in the area," said Dan Brown, chief of resource education for JLNHP&P.
"Our location allows people in the greater New Orleans area to enjoy some of the natural resources in close proximity to the city. But we acknowledge that the majority of people who come to visit the French Quarter do not have transportation."
Getting to Barataria may be a bit difficult for tourists, but it's certainly a worthwhile endeavor.
In addition to various trails to hike, the preserve also offers nine miles of canoe trails to paddle.
Private canoe rentals are available just outside the preserve; park rangers leaded guided moonlight canoe treks and water tours throughout the year.
"A lot of people like to paddle through the park," Rodriguez said. " Being in the water is such a different experience — you're sharing the resource with the animals."
If You Go
• Since no public transportation runs to the preserve, you'll need a car to visit. The preserve is 17 miles south of New Orleans near Crown Point at 6588 Barataria Blvd (Louisiana Hwy. 45) in Marrero.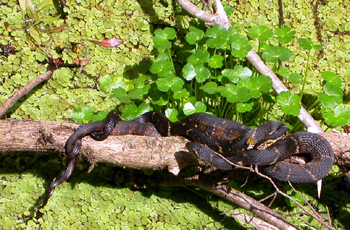 Snakes mate on a log in the Barataria Preserve (Photo by Julie Major).
• For information on daily events, contact the preserve at 504-589-2330 or visit the website at http://www.nps.gov/jela. The preserve is open daily from 9 a.m. to 5 p.m. and is closed on Christmas Day and Mardi Gras.
• Admission to the preserve is free; however, canoe rentals are handled through private firms outside the park, and rates vary.
• If you plan to walk the trails, pack along sufficiently strong insect repellent. The most effective products includes an ingredient called Deet. The mosquitoes are happy to make a meal out of you.
• The visitor center offers a 25-minute film about life in the Delta region and a few exhibits about the region's trapping history. There's also a bookstore in the center. Picnic tables and restrooms are on site, but no vending machines.
| | |
| --- | --- |
| | The boardwalk trail from the Visitor Center runs through thick wooded areas with abundant wildlife and wildflowers. Hikers will see snakes, frogs, wild birds, and countless small insects and animals along the way (Photo by Julie Major). |