Café du Monde keeps city's traditions alive
NEW ORLEANS— When you first become acquainted with Café du Monde, the historical coffee shop amidst the bustle of New Orleans' Jackson Square, it's easy to deprecate the place as a quaint old tourist trap.
Sure, given that it was founded in 1862, it has its legacy and fosters tradition, yet the large outdoor patio and aging interior aren't really distinctive, the menu (written on napkin dispensers) simply offers coffee and beignets and the kitchen and bathroom are worryingly grimy.
"My friends always told me, 'If you come to New Orleans, you have to have coffee and beignets at Café du Monde," said Jill, a tourist from New Jersey, tolerantly awaiting her turn to order.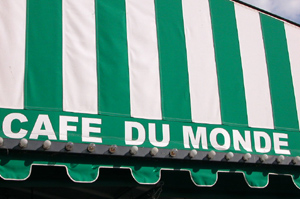 The Café's signature awning (Photo by Julie Major).
Well, notwithstanding its rather mundane look and whether or not travelers feel compelled to visit this landmark, the place still has nostalgic charm, which is perhaps one of the reasons locals and others consistently flock there, patiently waiting in line for an authentic taste of the city's signature snack.
"I hate to say that we're a tourist institution," insisted Jay Roma, whose family took over in the 1940s, "because that's not our goal. Our roots are very much established with locals."
"Café du Monde and New Orleans history are also very intertwined," he added. "You're not gonna have locals who don't remember coming here as a kid. We're still a tradition and we want people to be able to continue those memories."
Roma can't pinpoint who founded the establishment since the owners didn't keep many records besides the old photography hanging on the walls inside. Even so, since 1862, the place has been a culinary hotspot in the city's French Quarter, dishing out café au lait and beignets seven days a week, 24 hours a day. Years ago, it used to just be a coffee stand with a French marketplace in the back, where meat and other produce was processed.
| | |
| --- | --- |
| | A woman sweetens her chicory coffee before trying her order of beignets in an always-busy Cafe du Monde (Staff photo). |
Still today, crowds of people line up to get Café du Monde's singular blend of coffee beans and chicory. The latter ingredient, unique to New Orleans, is the root of the endive plant, offering a slight variation on coffee's flavor – a bit of a sweeter tang.
Their beignets, puffy French doughnuts in a flurry of soft white sugar, are the other popularity there, as one can observe dusts of powder on patrons' clothes and faces.
Like most "standout," reputed attractions in American urban centers, Café du Monde has lured in celebrities such as Sharon Stone, John Belushi and Nicholas Cage. Former President Bill Clinton made an appearance twice during his tenure to satisfy his sweet tooth. The place is a famous New Orleans attraction because of its history and can, in a way, be stigmatized as a touristy, must-see-just-for-the-sake-of-it café.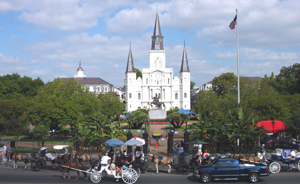 Cafe du Monde is only a few steps from Jackson Square (Staff photo).
"I wouldn't stand in line for fried dough," said Jeff Thiesen, the night head waiter, "though everyone does it to say, 'Been there, done that.' But it's also about tradition. Locals come here and bring their kids. Back in the day, they would come to drink chocolate milk after the prom."
Although the place isn't eye dazzling, it has character because you can almost feel how damn long it has been around.
Tourists come to indulge their taste buds and to run through their vacationer checklist, yet it's also where locals often start and end their days.
The whole city of New Orleans is underpinned in tradition and Café du Monde helps keep it alive. It is as significant to Jackson Square and the rest of the French Quarter as all the other delectable anachronisms that define this town.