Youth programs focus on history, nature
Every day children all across the country enjoy the opportunity to explore America's national parks through a multitude of youth programs.
These programs differ in style, but all have the same main focus: educating children about history and nature.
"Youth programs are key to children's education," said Rachelle Daigneault, chief of interpretation and education at Assateague Island National Seashore in Virginia. "They offer children of all ages full immersion in an outdoor experience."
| | | |
| --- | --- | --- |
| Click on the video at right to view a slideshow narrated and prepared by writer Stephen Klein. Photos courtesy of the National Park Service. | | |
Youth programs have become an essential part of the national parks, with most having resources dedicated to activities targeted at children. The flagship Junior Ranger Program is offered in more than 200 national parks. In addition, many parks offer their own unique programs for different youth groups.
The Junior Ranger Program offers children the opportunity to explore parks on their own as well as on ranger-guided tours. Upon the completion of the activity booklet kids can receive a patch or badge and a certificate saying that they have completed the program, and are given an oath saying they will protect and conserve the parks.
Each park offers unique experiences for Junior Rangers, ranging from programs dedicated to the historical significance of the park, to ones that focus on nature and conservation in parks. Activities can include games like connect-the-dots, to questions about specific features of the park that children need to answer.
Katie Lawhon, management assistant at Gettysburg National Military Park, hopes that the multitude of options makes their program more appealing to children.
| | | |
| --- | --- | --- |
| | | Children take part in a reenactment of Pickett's charge at Gettysburg National Military Park (Photo courtesy of Gettysburg National Military Park). |
"Children have choices on filling out their booklets by visiting different areas of the park."
Parks hope that by offering diverse choices in programming, they will increase child interest and get them to continue to have a lifelong interest in the national parks.
Another key program for the parks is dedicating time to bring school groups through the parks.
School groups provide the parks with a large group of children at once and allow them to spread the importance of the national parks to all of the children. By tailoring their programs to fit with the school's curriculum, parks enable teachers to utilize them as a resource to engage the children in the learning process.
"Our programs are based on building on previous activities that happened in the classroom," Lawhon  said.
The emphasis on programming for the youth can be directly linked to one of the biggest concerns for those who run them, which is that children will grow up and cease to be interested in the national parks when they become the taxpayers.
"It is vitally important to keep telling the story of why Gettysburg is important, it is the best way long-term to keep interest in the park. Young people are eventually going to pay the bills," stated Lawhon.
Jeffrey Collins, the Education Program manager at Independence National Historic Park in Philadelphia shares a similar view.
| | | |
| --- | --- | --- |
| At right, a school group arrives for their program at Independence National Historic Site. Below, a ranger shows a whelk egg capsule to children on a nature walk at Assateague Island National Seashore (Photos courtesy of the National Park Service). | | |
"If kids grow up and have no interest in the parks, how are we going to be funded?"
Parks hope that by combating this potential problem head-on, they can instill a love of the parks in children that will stay with them through adulthood.
"The Junior Ranger Program is one of our most well known resources for young people — the earlier a child has an opportunity to experience the outdoors, the more comfortable they are there," attested Daigneault.
In order to build love of nature in children, national parks offer additional programs designed to provide different experiences to visitors. These programs include: ranger-led activities, ties to local scout troops, and the WebRangers program.
Parks offering ranger-led programs give both children and adults the opportunity to learn in an environment where they are able to ask questions and participate in bringing history and nature to life. In addition, ranger-led programs are often a requirement for completion of a parks' Junior Ranger Program.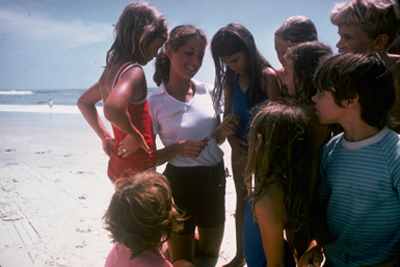 Local Boy Scout and Girl Scout troops often have ties with national parks as a place for camping and learning about nature. Some parks like Gettysburg actually get tied into the local councils program.
"The local Boy Scout council made a special badge for Gettysburg if boys do one of two hikes," said Lawhon.
The WebRangers program allows children to learn online about parks and provides another outlet for parks to get their message across.
"It adds an additional platform, an additional way of reaching people," explained Collins.
But no matter what else happens, the parks' goal for their youth programs is for kids of all ages to have fun.
Collins has a message for children: "This is your park, please come enjoy it."
Daigneault agrees but adds one more thing "Kids shouldn't be afraid to get dirty. Have fun in the outdoors."