Gas prices bring concern to parks officials
National park employees may cringe as gas prices keep rising, the economy still struggles to rebound, and the idea of the "staycation" becomes more common among American households.
As of April 2011, the national average for gasoline was $3.879 per gallon of regular unleaded fuel, according to the American Automobile Association. In comparison, the national average a year earlier was $2.858, meaning it has risen more than a dollar since then.
This issue, combined with the continuous ailments within the economy, has led to many concerns for the National Park Service.
Al Nash, chief of Public Affairs at Yellowstone National Park, agrees that this summer could bring a dip in attendance and revenue to Yellowstone and the National Park Service as a whole.
| | | |
| --- | --- | --- |
| Click on the video at right to view a slideshow about the impact of gas prices on national parks visitation prepared by writer Nicholas Moore. Photos courtesy of the National Park Service. | | |
"Because of the high gas prices and amount of driving it takes to experience a park of our size, it isn't really the best mix," Nash said.
According to the attendance numbers at Yellowstone, the park has broken its yearly attendance record three out of the past four years, the holdout being 2008, a year that saw summer gas prices soar above the $4 mark.
Because a significant amount of national parks are in the backcountry of the United States, it is sometimes impossible to reach them without piling the miles on your automobile.
This is particularly true for Crater Lake National Park in Oregon.
| | | |
| --- | --- | --- |
| | | Traffic is backed up at Yellowstone National Park. Visitors take a look at the wildlife the park has to offer. Below, a map displays the highways that go throughout Yellowstone (Photo and map courtesy of National Park Service). |
"We have several roads that lead into the park, but the nearest major airport is more than two hours away," said Park Ranger Dave Grimes, who is also the editor of the bi-annual newsletter for the park.
Both Crater Lake and Yellowstone are parks that are frequently driven through, as it can be the fully experience and access the park. Yellowstone has hundreds of miles of roads that are used by recreational vehicles, tour buses and more. Crater Lake has a 33-mile two-lane highway around the rim of the lake.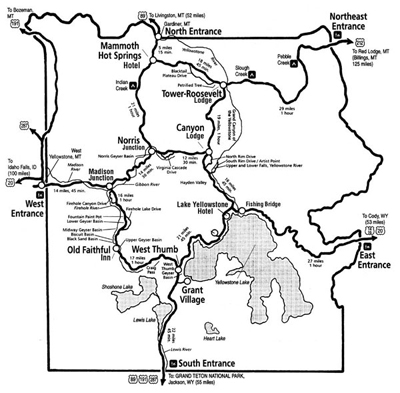 Officials at Zion National Park in Utah are optimistic about their attendance this summer although the park is located deep within the canyons of Utah and the closest city with an airport of substantial size (Las Vegas) is over about four hours away.
"It's true that we were worried about attendance in 2008 because of high gas prices but it ended up being a record breaking year for us," said Zion National Park spokesman Ronald Terry.
Norma and Gary Goldman, teachers in Davie, Fla. and recreational vehicle enthusiasts, are definitely feeling the effects of the higher travel costs this summer as they plan their annual road trip during the summer months.
"We definitely had to cut back on our travelling in 2008 when gas prices sky rocketing, and it's looking like this summer has the same vibe," said Norma Goldman.
The couple has visited dozens of national parks over the years by RV, which their current one gets eight to10 miles per gallon. This year however, a shorter trip up the East Coast is being planned and longer stays at campsites are being budgeted.
"With the cost of food, gas, and other travelling expenses, you have to draw the line somewhere. The economy is still not at the point where we feel okay with a cross-country trip while paying $4 a gallon," said Gary Goldman.
Like the Goldmans, a lot of families are getting smarter this summer and looking for ways to maximize their fun for a low cost.
| | | |
| --- | --- | --- |
| | | Crater Lake national park features many roads that enter into the park. The road around the rim of the lake is frequently travelled by visitors (Map courtesy of the National Park Service). Below, a cyclist decides gas prices are too much to handle and tries a different approach to travel. National park employees are fearful that high gas prices will lead to less attendance (Photo by Elaine Thompson). |
"Instead of taking the RV, take a fuel efficient car and load it up with camping supplies. Do more fishing and hiking and less sightseeing, really experience the outdoors," Nash said.
And while some take this advice, others perfect the art of the "staycation" and experience what home has to offer over the summer. State parks, recreation areas, and other attractions hope to capitalize off America's oil problem.
"We're still optimistic," said Grimes, "You can go virtually anywhere in Oregon and find a forest with a river running through it, there is only one Crater Lake."
Being a $13.3 billion industry, according to the National Park Service, the economy relies heavily on the summer tourism dollars produced by the national parks.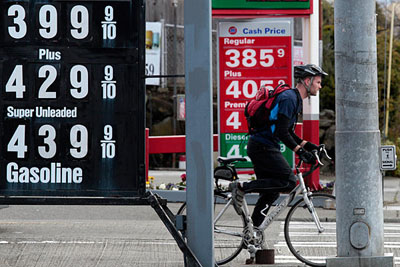 Unfortunately, current economic ailments could further hinder the revenue taken in by national parks.
What the NPS can hope for is a smart traveler that budget their trips and use the current economic turmoil as a reason to escape rather than a motivation to stay at home.
If You Go
Rent a fuel-efficient car to save money.
Pack tents and intend to utilize campsites rather than RVs or lodges, it makes for a better outdoors experience as well.
Plan your trip around a few parks you would like to spend a lot of time in to save on gas money.
Look for free shuttles and other services that will lessen the cost of driving.