Spotted owl population continues to decline
The spotted owl population at Olympic National Park in Washington state is at its lowest yet.
In the most recent "Olympic National Park: Spotted Owl Monitoring Report" conducted by biologist Scott Gremel, a total of 266,800 acres of old growth was split into 52 territories and monitored to assess how many spotted owls were in each territory.
The report revealed that only five of the 52 territories are home to a pair of spotted owls and single spotted owls occupied eight others.
| | | |
| --- | --- | --- |
| Click on the video at the right to view an audio slideshow about the Olympic National Park spotted owl prepared by writer Kerrie Heckel. | | |
Gremel says the numbers from the report are, "the lowest number of owls detected in any year of this study" and "we documented no signs of nesting."
The results from the monitoring report, while discouraging, do not necessarily come as a surprise.
Wildlife Defender's biologist Daniel Thorhill says the trend for the spotted owl population in the northwest has been declining sense the late 1800's when old growth logging destroyed much of the spotted owls' habitat.
However, close monitoring of spotted owls didn't start until 1992 and sense then the population has been declining exponentially even though the amount of old growth habitat has remained the same.
For this Thorhill, as well as other biologists, sight barred owls as a possible cause.
Gremel said "barred owls and spotted owls are cousins", but they haven't come in contact until recently, as barred owls originally took to eastern forests and spotted owls took to western ones.
This means the barred owl is an invasive species in Olympic National Park.
Until recently it was unknown how the two species would interact but recent observation has revealed that the two are unable to coexist.
"Barred owls are much more aggressive than spotted owls", says Thorhill, "both species hoot in each others faces but barred owls are more forceful; and if agitated barred owls are likely to attack the spotted owl."
| | | |
| --- | --- | --- |
| | | At left, a woman hugs tree in an old growth forest at Olympic National Park in Washington (Photo courtesy of Free Stock Images). Below, a Spotted Owl on Sign at Olympic National Park (Photo Courtesy of the Olympic National Park Media Management Team). |
The barred owl's aggressive nature has cause the spotted owl to seek out habitat away from barred owl populations.
Gremel reported in the Spotted Owl Monitoring Report that spotted owls appeared to be "moving to areas relative to barred owls." He supports this claim showing that spotted owls have left their original territory and in their place barred owls have moved in.
What is strange about this phenomenon is that spotted owls have moved into drier areas that are less favorable to their species, Gremel suggests that the spotted owl haven't chosen to move but have been forced to.
Thorhill explained the same phenomenon as Gremel saying, "the barred owls displace resident spotted owls."
To further support the relationship between barred and spotted owl populations monitoring reports show that barred owls have been flourishing in Olympic National Park while spotted owl population continues to decline.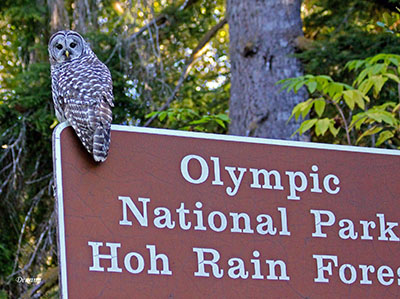 In 1992 the amount of barred and spotted owls inhabiting the park's old growth forest were relatively equal; but today there are nearly twice as many barred owls as there are spotted owls.
In addition to the threat of displacement, Thorhill says that barred owl and spotted owls sometimes mate and this has diluted spotted owl population.
Although there is much speculation on the barred owl threatening the spotted owl population and numbers fit within the trend of declining spotted owl population over the past two decades; Gremel noted, "low numbers (in the latest monitoring of spotted owls) could be a result of weather" and that "Rates of detection were similarly low in 1999 when there was a record snowfall."
Olympic National Park has attempted to capture and relocate barred owls to help regrow the spotted owl population however, this process is time consuming and expensive and with an already tight budget there has not been much success.
To donate or volunteer to help Olympic National Park save the spotted owl you can go to www.nps.gov/olym.