Oil drilling threatens Everglades region
The Florida Dept. of Environmental Protection has been under a lot of scrutiny lately after it was discovered that the Dan A. Hughes Company was conducting unauthorized drilling activities at the Collier-Hogan well.
The department finalized a Consent Order with the Dan A. Hughes Co., April 8 to make sure that its practices weren't too harmful after it received a workover notice proposing an extraction procedure not previously used in Florida. This was when the investigation began and the unauthorized activities were realized.
| | | |
| --- | --- | --- |
| Click on the video at the right to view an audio slideshow about Everglades region oil drilling prepared by writer Kyla Thorpe. | | |
Dee Ann Miller, deputy press secretary for the Florida Dept. of Environmental Protection, said regulation is an important job.
"The department takes its regulatory responsibility to carefully consider how any new proposed oil and gas operation could affect public safety and our environment seriously," she said.
"The department issues permits for the drilling of new wells, geophysical exploration, operational permits and permit renewals every five years. If issued," she added. "A permit and required inspection programs assure compliance with rules designed to prevent accidents."
| | | |
| --- | --- | --- |
| | | At left, this is what the proposed oil well will look like (Photo courtesy of Florida Department of Environmental Protection). Below, the location of a proposed oil well by the Dan A. Hughes Co. (Map courtesy of Florida Department of Environmental Protection). |
Miller said, "if a well is authorized to be retained under an Operating Permit, inspections continue indefinitely and wells must be repermitted at five-year intervals."
The Collier-Hogan well is located south of Lake Trafford in Collier County. The operating permit was issued on Aug. 9. 2013.
While the well is in Everglades National Preserve it is still fairly close to the Big Cypress National Preserve, an area that is no stranger to oil drilling.
Bob DeGross, chief of Interpretation and Public Affairs for Big Cypress National Preserve, said, "There is currently active oil and gas production."
"When the preserve was created, the sub-surface mineral estate ownership was severed from the surface estate. Rights to those sub-surface resources were retained by the original owner," he said.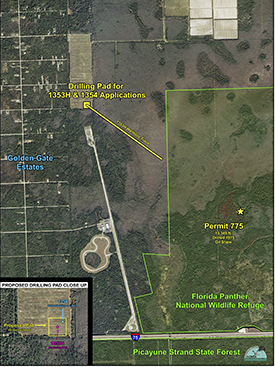 This means that the right to extract or exploit minerals lying underneath the surface belongs to the original owner and not the Big Cypress National Preserve.
The problem is that this is happening in the Everglades too, giving it less control over the oil drilling within the preserve.
"Oil & Gas inspection staff is on the drill rig day and night to witness key operations," said Miller. While the department appears to be taking the appropriate steps to protect the Everglades, other environmental organizations worried about the future of the Everglades have taken action.
One such organization is the South Florida Wildlands Association.
Matthew Schwartz, executive director of the association, described the organization's mission very simply.
"We do habitat protection," he said.
"We do it in every way possible. We send out e-mails, I send out action reports—and sometimes we sue people," he said with a laugh.
When asked about how he felt about the Consent Order given to the Dan A. Hughes Co., he didn't seem too relieved.
"There's 115,000 acres of land for oil drilling in the Everglades. That's two and one-half times the size of Washington, D.C. The order only affects one well, the fracking they did without permission."
Schwartz points out something that many people don't understand with this situation. While every opportunity to stop oil drilling, especially fracking, can be a little victory, this doesn't shut down the entire operation altogether. More wells are being proposed and could be coming soon.
He explained that fracking is "how you explore the oil. It's fracturing rock under hydraulic (water) pressure. Fracking can make the land unstable."
Schwartz also pointed out that "limestone underlays South Florida, it's impermeable. The big concern is that it can get into sources of drinking water."
"There are no reservoirs in South Florida," Schwartz said. "Your water is coming from a municipal aquifer, the Biscayne Aquifer," which is a shallow layer of highly permeable limestone underlying Broward County, Miami-Dade County, Monroe County and Palm Beach County.
"People are afraid the chemicals will come up," he said.
Aside from potentially ruining South Florida's water source, the act of drilling itself takes a toll on the Everglades' terrain. Schwartz emphasized the process that happens before companies start drilling.
| | | |
| --- | --- | --- |
| | | At left, a Florida Panther, an endangered species, is being threatened by the pending oil drilling. Below, an alligator makes its way across a manmade path within its habitat (Photos courtesy of the National Park Service). |
"Picture an undeveloped piece of land. First you have to build a road and then place down crushed limestone, then a pad. Then you bring in drilling equipment and oil wells and trucks. All wildlife is affected. It's a big industrial operation," he said.
Miller said that the department's, "Oil & Gas rules also require well surface locations to minimize impacts by: Encouraging use of existing roads, encouraging use of lands that have already been disturbed, and avoiding sensitive lands, surface water resources and endangered species." While these regulations are helpful, there is still irreversible damage being done.
The most unfortunate problem arising out of oil drilling in the Everglades is the potential extinction of the beloved Florida Panther. There's, at maximum, 150 left.
While they used to roam all of Florida, they are now confined to the Florida Panther National Wildlife Refuge, located fairly close to the proposed well.
Schwartz made it clear that the Florida Panther is more that just an endangered species.
"It's the keystone species for the entire ecology of South Florida. More importantly, their habitat is used by all the other animals. The Western Everglades is the most bio-diverse area, with the Florida Panther being the apex animal. If it can't support panthers, it can't support other animals," he said.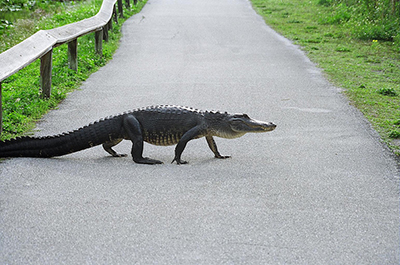 Even more interesting was the discovery of who leased the 115,000 acres of mineral rights to the Dan A. Hughes Co.
Collier Resources Co., based in Naples, and connected to the family after which Collier County is named, did.
Schwartz understands that, "they're drilling companies, that's all they do. This is they're business."
But as for Collier Resources, he urges the company to, "think about the community that's named after you! Once we lose the Western Everglades, we'll never get it back. Don't do it. Do something else."
It appears as though this will be a long process, whether the oil drilling companies, or the environmentalists and nearby residents win.
And while there may be an abundance of precious oil waiting to be drilled from the Everglades, the oil companies really need to understand that there might not be anything left after the drilling. This would ruin large areas of land or even take out a complete species such as the Florida Panther.
Organizations like the South Florida Wildlands Association are the only chance that the Everglades has, because the oil companies don't seem to be recognizing, or just don't care, about the permanent damage they impose wherever they go.