Parks offer wide range of extreme sports
A 31-year-old Miami native, Ivette Fernandez is addicted to the thrill of adrenalin.
"Whenever I go on a trip," she said, "I always try to look up what extreme activities I can do in that particular place."
Fernandez, however, has never experimented with the extreme in the United States.
| | | |
| --- | --- | --- |
| Click on the video at right to view an audio slide show about hang gliding in Yosemite National Park narrated and prepared by writer Stephanie Fleitas. | | |
"I feel like there's not many extreme sports one can experience in the U.S. due to the fact that everyone is always worried about having a lawsuit on their hands."
The "live on the edge" junkie and others who mirror her approach to life, could not be any more wrong.
The national parks of the United States provide a multitude of "hold on tight," exhilarating activities that can allow one to appreciate the great outdoors and experience life to the absolute extreme.
National parks are filled with more than picnic sites and camping grounds. They have become havens for those who try to push their stamina levels to dangerously new heights.
| | | |
| --- | --- | --- |
| | | Hang glider Erik Fair launches off Glacier Point in Yosemite National Park (Photo courtesy of Connie Work, Yosemite Hang Gliding Association). |
Sand-boarding, hang gliding, canyoneering, kayaking and canoeing on wild rivers, cross-country skiing, scuba diving, snowshoeing, rock climbing, and hiking across unfathomable landscapes are few of the atypical activities one can engage in when visiting selected national parks. Each has considerable risks if the right precautions are not taken, but for the most part, are enjoyed by many.
Sand-boarding is an unusual extreme sport. It began to gain popularity at Great Sand Dunes National Park in Colorado just around five years ago. It is a sport that combines element of snowboarding, surfing and skateboarding.
"Sand-boarding has a 'surfy'/'floaty' feel to it," said Marc Pastore a mechanic technician at Kristi Mountain Sports store in Colorado. "It's like going to the beach in the mountains," he said.
The name explains the sport. One straps his of herself to a board that is similar in composition to a skate board except there are no wheels. When one reaches the top of the sand dune, the fun begins on the ride down.
| | | |
| --- | --- | --- |
| Sandboarding at Great Sand Dunes National Park in Colorado (Photo courtesy of Chelsea Vittoria). | | |
"The sand dunes are extremely high," said Vialynn Vittoria, who works at the Oasis sport's Store near Sand Dunes.
Since there are no ski lifts or trucks that leave one at the top of the dunes, the exhaustion one feels while climbing them can be one of the main risks with participating in the sport.
"The climb up takes about 45 minutes to an hour," said Pastore.
Pastore explains the reasons why adding convenient means of transportation to the top of the dunes is not an option.
| | | |
| --- | --- | --- |
| | | At left top, hang glider Mike Meyer launches at Glacier Point in Yosemite National Park. At left bottom, hang glider Connie Work launches over Yosemite Valley (Photos courtesy of Connie Work). |
"Our park is a natural, peaceful place… Our dunes are pristine. We are very proud of them… We don't allow cars to get up to the sand dunes unlike other parks…We have native Indian tribes here that consider the sand to be very sacred," he said.
If one does not have experience with boarding and is not careful, as in any extreme sport, the injuries can be catastrophic and in the worst cases, fatal.
"Last year," said Vottoria, "a group of college guys came into the store carrying their friend because he hurt his neck really badly on the dunes."
For the most part, however, catastrophic injuries are not widely seen in sand-boarding.
"People suffer from broken bones, cracked hips and concussions," said Pastore.
However, these injuries and their likelihood of occurring are no greater in this extreme sport than in any other boarding activity.
Hang gliding is another extreme sport that is available in America's backyard. It involves an un-motorized device that is controlled by wind and shifts in the pilot's body weight.
| | | |
| --- | --- | --- |
| Hang gliders set up their gliders for flights over Yosemite Valley (Photo courtesy of Connie Work). | | |
Connie Work, president of the Yosemite Hang Gliding Association in California, talked about how she first got involved in the sport when pilots would land their hang gliders onto her property. Since then, she and the sport have become intertwined.
Unlike sand-boarding, one needs to be certified to hang glide since it is such a technical sport and, of course, the risk is much greater. One needs to be an advanced pilot certified through the USHPA- United States Hang Gliding and Paragliding Association.
According to Work, Yosemite issues specific permits to the association that allow pilots to glide over the park. One amendment to the permit is that the only take off site in Yosemite, for gliders is Glacier Point. The landing zone is in Leidig Meadow.
Information on the USHPA official website shows that hang gliding is not only a local Yosemite phenomenon. There are a multitude of chapters within 12 regions that the Association divided the United States into where people who enjoy the activity can share their passion with others.
The risks that used to taint the sport, such as crashing against trees and the breaking apart of the hang glider, are slowly diffusing. Work said that the equipment and technology involved with building the hang gliders has improved over the last years that the sport has developed, but there are still "inherent risks."
| | | |
| --- | --- | --- |
| | |  At left, one of the "extremely high" dune ridge at Great Sand Dunes National Park in Colorado (Photo courtesy of Marc Pastore). Below,  sandboarding in the park (Photo courtesy of Chelsea Vittoria). |
Canyoneering may be considered to be in the middle of the spectrum that involves sand-boarding on one end and hang gliding at the other.
It is a sport that, according to Paul Henderson, assistant superintendent at Arches National Park in Utah, "… involves repels and maneuvering through pretty tight slot canyons within the sandstone."
"People do it for the thrill, the experience and a sense of discovery," said Henderson.
At Arches National Park, the sport, itself, is not very popular because it is still relatively new and, as Henderson explained, it is "not the best way to explore the primary park resources because a lot of the park's beauty is above ground."
Not ignoring that participation in the sport has increased, however, Henderson said that the park administration is currently evaluating the routes and making sure all the resources are being protected.
"We are thinking of a permit system and contact system that allows us to get in contact with people out canyoneering," Henderson also stated. This is for the safety of those who participate in the extreme sport.
Hiking in Haleakala, the national park that stretches across Maui's southern and eastern coasts in Hawaii, is another extreme activity that does not involve as much skill as the other sports.
The entire 37-mile Haleakala Trail can either be walked or ridden on horseback.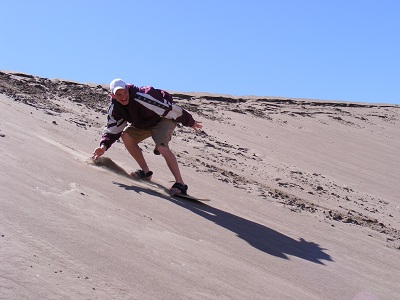 Leslie Young, administrative assist at the park, said these hikes are "extreme" because of  the weather and landscape variances.
"There are a lot of weather changes, there are strong winds and very cold temperatures at points," Young stated.
At the top of the peak, Young also said that one can be exposed to the sight of various lava flows from the volcano.
In order to protect oneself from the elements, Young advises visitors to bring rain gear, food, water and a first aid kit.
Resolutely, one can see that it is almost impossible to shy away from adventure in national parks.
Pastore takes up a very spiritual yet athletic point of view when he describes his park.
"I always base it on being a very sacred and natural place where you get endurance and exhilaration," he said.