Canalway offers more than just passage
ALBANY, N.Y.— In 1825, it was called the "Eighth Wonder of the World."
To hold such a title today, the Erie Canalway National Heritage Corridor would have to boast alien life.
But more than 500 miles of interconnected canals, rivers and lakes that at one point boosted our nation's economic growth is pretty wondrous.
"The real beauty is in the complexity of the project and how it managed to function so long ago before planes, trains and cars. It's truly amazing," said Derek Giddon , a visitor and student from Cornell University.
This remarkable manmade waterway has plenty of recreational resources to offer as well. From May 1 through Nov. 15 of every year, the canal is open for on-water activities, including boating, such as canoeing and kayaking, and fishing. There are beautiful trails open all year for hiking, bicycling, and in-line skating. During the winter, some areas offer cross-country skiing.
"Living near the canal naturally brings tradition into this town. They have been in use since the colonies were being formed," Hannah Blake, community planner at the Peebles Island Visitor Center, said.
"We are a fairly recent addition to the National Park Service," Blake said, "but the area has always attracted people."
This area, as in 524 miles of navigable waters, has numerous trails, tours and museums along the way. One of the biggest, yet not quite finished, projects is the Canalway Trail.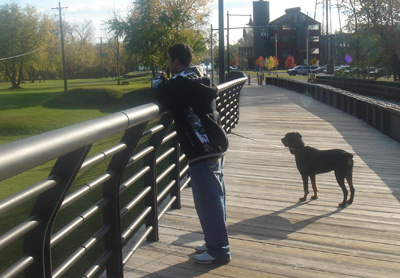 Once completed, Albany and Buffalo will be connected by a 350-mile long, off-road parallel, along the Erie Canal.
This is what you are looking for when truly seeking the scenic route.
Although, it is mostly the locals that get to enjoy the real beauty. On a crisp, sunny yet slightly windy day in October, children paint pumpkins and lick icing off their fingers at picnic tables along the canal. The trees burst red, yellow, and orange leaves.
Two people across the way are net fishing and listening to the radio. Another couple walks across the bridge, stopping to take a few photos.
"This isn't the first place people my age think of when you want to go somewhere scenic. You think Acapulco or Hawaii, but I enjoy the cold and watching the seasons change. There is something about the old, vintage feel you can't find just anywhere," Giddon said.
Charming is the only way to describe this scene.
And the canal is what brought them all together.
"I come here a lot to relax, get away from the city," Sammy Habibian said, a senior at the University of Albany, "and she loves making friends here."
The "she" is his dog Julie.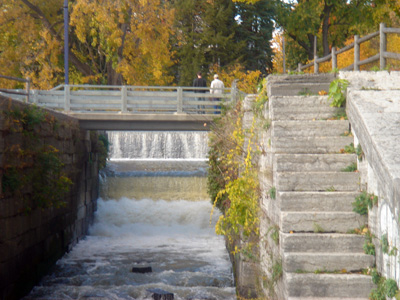 "You can come here any day of the week and you will find people with their dogs. There are so many places to let them explore."
Not native to this part of New York, Habibian is studying open-land planning and frequently visits this site as research for some of his classes.
During another season, summer, a unique opportunity for bikers arises: Cycling the Erie Canal.
This will be the ninth tour across New York. Participants cover about 40 to 60 miles per day. Some of the trail is on asphalt and some on the completed parts of the Canalway Trail. It is open to all levels and abilities. Some overnights take place in Buffalo, Medina, Pittsford, Waterloo / Seneca Falls, Syracuse, Rome, Canajoharie and Schenectady.
If you are more of a water person, there is no water activity the Erie Canal is lacking. Take a tour of a historic cargo or tug boat, kayak through barges built for 300-foot vessels, or enjoy an afternoon on a small rowboat. Fishing is very popular along the edges of the canals, or simply pull up a seat to watch the boats go by.
The development and purpose of the Erie Canal has drastically changed since its exaggerated recognition as a spectacle of the world. Now, the real magic is in the way this historic waterway contributes to a sense of community and tradition through recreation for those around it.
If You Go
Directions
Several interstate highways cross the Erie Canalway National Heritage Corridor. The New York State Thruway (Interstate 90) roughly parallels the Erie Canalway route from Albany to Buffalo.
The best way to explore canal country by car is along state and county roads that hug the water more closely and thread through the hamlets, villages, and cities that grew along the waterways. Some of these include: N.Y. Route 31 in western New York, N.Y. Route 5 and 5S in the east, and N.Y. Route 481 along the Oswego.
Facilities and Parking
There is a parking lot once you enter the park. There is no charge.
Fees
There are no admission fees to the Erie Canalway and most of the towpath sections. There are fees for boating through the locks and private and non-profit historic sites may charge admission or accept donations for special events and programs. Information on fees for boating through the locks may be found with the New York State Canal Corporation.
Hours and Days of Operation
Most towpath sections of the Erie Canalway are open year around from dawn until dusk. The canal is closed to boat traffic during the winter. For more information on lock hours of operation contact the New York State Canal Corporation. Peebles Island State Park is open 7:30 a.m. to dusk daily.
Services and Special Features
Make sure to check the weather before visiting. In this region of New York it can be very unpredictable.
For more information, contact:
Erie Canalway National Heritage Corridor
P.O. Box 219, Waterford, N.Y., 12188, 518-237-7000
http://www.eriecanalway.org
Cycling the Erie Canal
29 Elk St., Albany, N.Y., 12207, 518-434-1583
http://www.ptny.org/canaltour/