Erie Canalway history tells key story
It is a splendid project and may be executed a hundred years from now, but it is a little short of madness to think of it this day.
—President Thomas Jefferson (1809)
ALBANY, N.Y. — In 1809, means of traveling in the young and developing United States were slow and expensive. Shipping goods from place to place took weeks and there was rich land and resources west of the Appalachians, with no practical way to migrate there.
It was no wonder Jefferson, the nation's third president, scoffed at a plan that envisioned connecting all of upstate New York through a canal, from the major port in Manhattan all the way to the Great Lakes.
| | |
| --- | --- |
| | An old portion of the canal near Albany, N.Y., attracts visitors for recreational activities such as hiking (Photos by Sasha Grecco). |
The history of this grand plan, and its ultimate success, is not just a lesson to be read in a textbook. It represents a culture born around the construction, growth and community of this extraordinary waterway.
In 1817, New York Gov. DeWitt Clinton convinced the state legislator to approve a $7 million budget needed to build a canal 363 miles long, 40 feet wide and four feet deep.
Yet a few issues needed to be addressed:
First, there was not a single school of engineering established in all of the United States.
Next, the land was unoccupied and therefore more labor was needed so that roads could be built along the canal.
Lastly, upstate New York was anything but flat, causing the water levels to be different in various parts of the state. In turn, ships would not be able to pass through smoothly, along one path.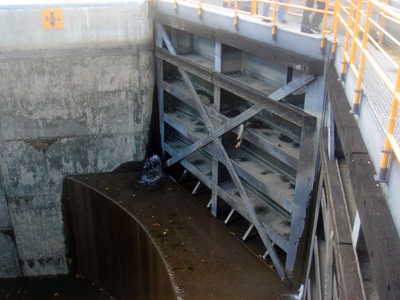 This final problem was solved with a lock system. What this does is provide boats with an "aquatic elevator" so that they can continue along the canal although the depth of water changes.
Despite gaining the nickname, "Clinton's Ditch" and receiving ridicule throughout the operation from critics, the Erie Canal was officially opened in 1825.
Immediately there were a series of economic and social changes in the new nation. The canal offered faster, cheaper and more reliable trade, which prompted a commercial boom. Compare freight rates from Buffalo to Manhattan at $100 per ton by road before the canal to $10 per ton by water.
These are the roots to how New York City became one of the trade capitals of the world.
Once completed, there was not only a new form of transportation, for both commerce and pleasure, but a new citizenry left as a by-product.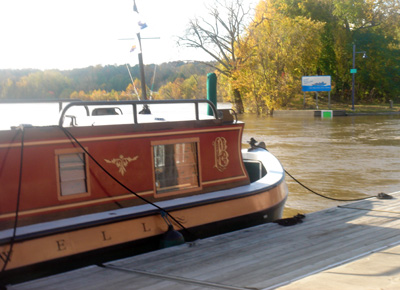 Approximately 75 percent of the state's population still lives within the corridors created by the waterways of the New York State Canal System and the Hudson River valley.
Many families make a living based around or linked to the canal.
One of the lockmasters, Frank Jones, has generations of family still living in the same town. He has had the same job since he was young man.
Everything about his lifestyle is about the way it was. Traditional. Even in the way he speaks about his job. When explaining about the motors that run the locks along the canal, he points out that power is converted from one mode to another, "because that is how they did it back then."
"That is one of our control panels, the same one from 1915. We rebuild a panel each year, and we pull two motors out, we're constantly rebuilding stuff," Jones stated. "But it is the same stuff that we're rebuilding."
If You Go
Directions
Several interstate highways cross the Erie Canalway National Heritage Corridor. The New York State Thruway (Interstate 90) roughly parallels the Erie Canalway route from Albany to Buffalo.
The best way to explore canal country by car is along state and county roads that hug the water more closely and thread through the hamlets, villages, and cities that grew along the waterways. Some of these include: N.Y. Route 31 in western New York, N.Y. Route 5 and 5S in the east, and N.Y. Route 481 along the Oswego.
Facilities and Parking
There is a parking lot once you enter the park. There is no charge.
Fees
There are no admission fees to the Erie Canalway and most of the towpath sections.
There are fees for boating through the locks and private and non-profit historic sites may charge admission or accept donations for special events and programs. Information on fees for boating through the locks may be found with the New York State Canal Corporation. (http://www.canals.state.ny.us)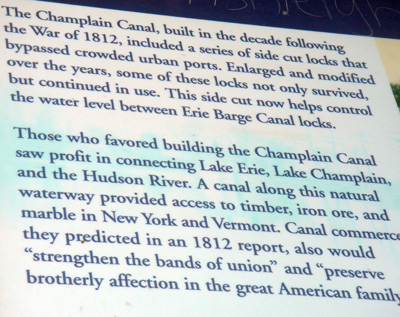 Hours and Days of Operation
Most towpath sections of the Erie Canalway are open year around from dawn until dusk.
The canal is closed to boat traffic during the winter.
For more information on lock hours of operation contact the New York State Canal Corporation. Peebles Island State Park is open 7:30 a.m. to dusk daily.
Contract Information
Erie Canalway National Heritage Corridor, P.O. Box 219, Waterford, N.Y., 12188, 518-237-7000, http://www.eriecanalway.org.