Delaware canal tour reveals regional history
NEW HOPE, Pa.— When you look into the water, it doesn't look like it would be past your knees if you stepped in, yet a canal boat sits in the middle of the tree-lined canal, yellow and orange leaves and branches float in the water while two mules stand on the shore, hooked to a long rope that ties to the back of the boat.
I must admit, I was a bit unsure at first. I had never heard about the Delaware River Canal Boat ride before I got to the small town of New Hope and started poking around.
But when I saw the sign, I went into the Visitor Center of the Delaware River Canal and spoke to an elder looking gentleman who told me he was a boat captain and that a ride would be starting in 30 minutes, a little later than the schedule said.
| | |
| --- | --- |
| | The Delaware River Canal Boat Co., offering local travel for visitors with a more relaxed 19th Century style, is open for business on a chilly fall day (Photos by Delia Arevalo). |
"We go out seven days a week but sometimes if there is a weather problem our schedule may vary and we may go out a half hour later or so," Dave Goodwin, a boat captain for the last seven years, said.
Goodwin told me to bring a sweater. It seemed like a nice day so I was a bit confused but all he said was "trust me."
When I saw the boat, the Isabelle Justice to be exact, I was surprised. There is no motor and there are two rows of green plastic seats covered by a white awning. We had to wait a few minutes while the captain, Don Macfarlan, cleaned off leaves, branches and water from the seats.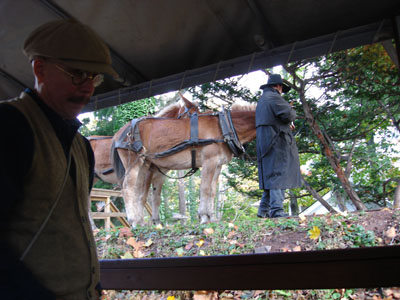 At this point, the mules still weren't there and I was worried that they would be made to go in the water.
I watched as the mule tender led them out of their barn and walked them to just in front of the boat.
They were tied to a rope and then started walking away. Just as I leaned over and whispered to my friend, "How are the mules going to pull us?" I felt a jolt and saw that the mules pull us while remaining on land as they are tied to a rope that leads to the back of the boat.
The ride itself is only about 45 minutes to an hour and takes you through New Hope and the Bucks County countryside. You get to see historic homes, inns, outdoor cafes all while tourists stop and wave and take pictures. There are swans and mallards floating by so close that if you reached out through the boards in the boat you would definitely be able to touch them.
At the end of a mile, we stop and Capt. Macfarlan explains some of the history of the ride.
"The Delaware River Canal Boat Ride is a part of the 60-mile long Delaware Canal State Park and before it became a tourist ride was once used to transport coal."
He also gave us some information about himself and how he came to work here.
"I like playing guitar and love the lyrics of Dylan. One day they needed a musician and I was working in the parking lot and volunteered."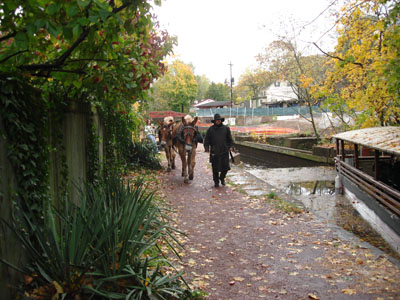 And lastly, he told us about his experience with the mules, Dolly and Doc.
"I've been stepped on and hit by these mules. They're very stubborn and will refuse to death if you try to push them."
He also answered the question I'd been getting ready to ask: How can two mules pull a boat that can hold up to 88 people with such ease?
"Two mules can pull up to 100 tons of coal," Macfarlan said. "Two mules pulled a boat up from the bottom of the canal when there was a hurricane before. This is a piece of cake for them."
Not only are these mules strong, but young as well. They are currently twelve years old and will probably live to the ripe old age of 40. And have been handy in times of boat crisis.
"Sometimes the trees are swishing and sometimes they lean and there is a concern for them falling. Once it happened that the tree fell across the boat path and the mule tender had mules pull the tree out of the canal. Otherwise people would've been stuck," Macfarlan said.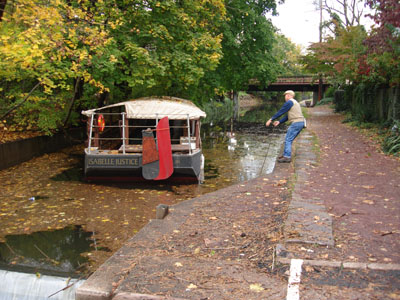 We had been sitting there for about 15 minutes when Capt. Macfarlan said it was time to head back.
To be honest when they said the boat would float down then turn around I was wondering how it would be turned around since the canal isn't very wide.
But as it turns out, it's not the boat that has to turn around. It's you! Since the seats are plastic, all you have to do is turn your chair around. The mules are also turned around and head back the same way they came. The boat stays as is.
Capt. Goodwin was right about the sweater. It may have been a light breeze but with the temperature just low enough and the wind just sharp enough, it got just cold enough that a sweater was necessary.
On the way back, Capt. Macfarlan entertained us with his renditions of old songs like "Oh Susannah" and canal songs like "Rusty Ole Canal."
Without having to ask twice, the passengers sang along as well.
Just before we arrived, Capt. Macfarlan blew on a conch shell to alert the arrival of our boat, making all of us jump in surprise.
Fellow passengers found the canal ride to be quite the experience.
"I loved it. I enjoyed the singing and the history," Scott McGowan, a professor at Long Island University in Yonkers, N.Y., who was there with his wife, said. "It's a piece of history and a beautiful trip. Even the mules were fun."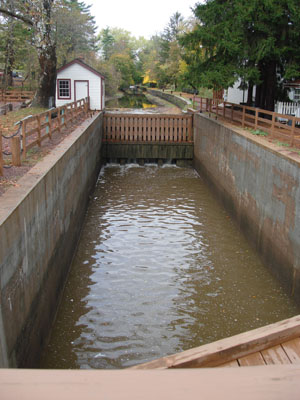 The beauty of the ride is in its simple quaintness. There is no motor, meaning no screaming at the top of your lungs to be heard by fellow passengers. The town of New Hope is a small tourist town so there is no hustle and bustle as the boat passes through it.
And the kindness and politeness with which the captains greet you and share stories add a level of hospitality that really makes the ride stand out.
The only obstacle presented to the boat rides is weather.
"Since it is an aluminum hull it is light and so the wind just takes it. But before deciding to go out we just try to judge the best we can. We use our own rules when it comes to wind," Macfarlan said.
But there is one instance in which the boats will not go out.
"We can't go out in thunder and lighting because it's an aluminum boat," Goodwin said.
Located a few minutes from New Jersey and in the small town of New Hope, The Delaware Canal Boat ride offers a peaceful look at nature and a picturesque town.
Not only can you enjoy a ride with stories, but it gives you a glimpse into history and a chance to experience it, if only for an hour.
"It's unique because there aren't many canal boats. There's only a handful in the U.S. and history. As far as New Hope is concerned it's part of history. It's a beautiful thing to come see," Macfarlan said.
If You Go
Delaware Canal State Park is located at 149 South Main St., New Hope, Pa., 18938, telephone: 215-862-0758.
During the month of April the tour operates on Saturday and Sunday, weather permitting, departing at 12:30 p.m. and 3 p.m. Between May 1 and Oct. 31 the tour operates daily and departs at 12 p.m., 1:30 p.m., 3 p.m. and 4:30 p.m.
Web sites to visit http://www.onthecanal.net and http://www.nps.gov/dele
Parking is available in front of the office and on the streets of New Hope. It is mainly parking meters so be sure to bring quarters.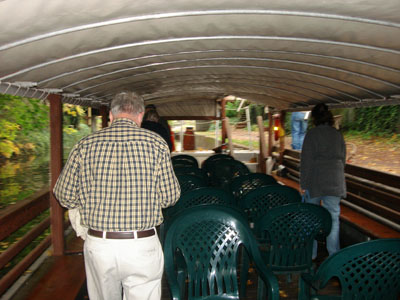 Children under 12 pay $6; Adults pay $10. Those eligible for AARP discount pay $8. Special rates are available for groups of 30 or more.
Custom-designed boat trips for birthdays, weddings, anniversaries, club outings and meetings can be arranged.
Trips of varying lengths are available for groups and private parties and may be arranged for any departure time between 10 a.m. and 8 p.m.
Trip lengths can also vary depending on request. Trips can range from one to three hours and longer ones can be arranged.
Boat Rental Fee: This fee includes the use of the boat and mule team and services of the boat captain and mule walker for larger parties
1 hour – $350 and each additional hour – $100
Catering for private parties and group canal boat trips is provided by restaurants in the New Hope – Lambertville area.
If you go in the winter months, be sure to bring a sweater. It is surprising how just a little bit of wind can make it chilly enough.