Lulu tour tells all about that lobster dinner
BAR HARBOR, Maine — As hungry tourists raise tender, buttery forkfuls of Maine lobster to their lips, they are probably unaware that it took about eight years to grow. They probably don't know the mechanics of how it swam and they probably don't examine the claws to determine which is the crusher and which is the shredder.
That is where John Nicolai, captain of the Lulu Lobster Boat, steps in.
Between May and October, Nicolai takes visitors out on his classic lobster boat up to four times a day, seven days a week, where he offers them an education — in all things lobster. The tours have become a popular attraction, drawing thousands of tourists each year.
"There aren't many chances to really see what lobstermen do," Nicolai said. "And people seem to have a genuine curiosity about fisheries."
In addition to offering scenic views of Frenchman Bay and the opportunity to see harbor seals and bald eagles up close, the tours are a glimpse into the life of a lobsterman in the state that produces the most lobster in America.
"I really wanted to go out in the harbor and have a real lobsterman experience," said Brosty McCrumb, who has been visiting Bar Harbor annually for 14 years.
| | | |
| --- | --- | --- |
| | | Visitors check in at the Lulu Lobster Boat stand before heading down to the dock (Photos by Rianna Hidalgo). |
Nicolai had been in the lobster industry for five years before he decided to start regular boat tours, but he has worked on and around boats for most of his life.
"Even as a kid, one of the biggest thrills for me was to watch the lobster boats going by," he said. "I enjoy every trip."
Nicolai's wife, Coreen Nicolai, takes care of tour logistics, including reservations and training deck hands. She said this is their 16th year offering tours and have taken more than 80,000 passengers.
Once visitors check in with her at the quaint booking window, they gather by the dock ramp to wait for departure.
"I guess this is the thing to do here," said Michael Harris, who was visiting from Arkansas with his wife, Josi Harris. "I'm not the biggest fan of lobster, but we looked online and this was number one."
Lulu Lobster Boat Rides has consistently ranked first or second place under Bar Harbor activities on www.tripadvior.com, a travel website where travelers give reviews and advice.
Coreen Nicolai eventually ushers visitors down the ramp and John Nicolai welcomes them aboard the Lulu, which has a shining coat of forest-green paint and gold cursive lettering.
| | | |
| --- | --- | --- |
| At left, the Lulu is a traditional-style lobster boat. Below next, Capt. John Nicolai gives passengers a lobster anatomy lesson. Last, lobstermen must measure each lobster to determine if it must be released. | | |
Roughly 30 passengers take their seats along the sides or in rows of benches on the open-air deck.
Sarah Kennedy, a visitor from Colorado, heard about the tour through her hotel.
"This seemed like a fun attraction – like it would be different than your average tour," she said. "I mean, it's a lobster boat. There's nothing better than the real thing."
John Nicolai embodies a New England fisherman: gruff voice, full beard, wide stance and quintessential orange rubber overalls. Once he took the helm and started his narration into the microphone, the laughs began.
"I bought it on eBay from the captain of the Costa Concordia," he said of the Lulu's life raft. "We only used it half a dozen times last year."
It was one of a relentless string of jokes that kept passengers chuckling throughout the tour.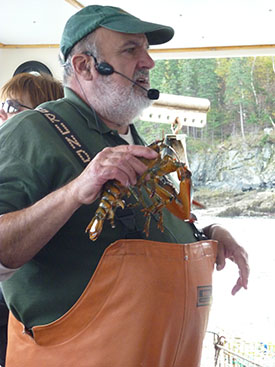 After a quick safety lecture and a rundown of the plan for the day, the hum of the engine picked up and Lulu set out into the bay.
Soon, John Nicolai was teaching passengers all about lobster fisheries, from the color-coded buoys that mark lobstermen's traps to Maine's strict regulations that have ensured lobster is a sustainable resource.
He explained that lobstermen can have a limited amount of traps, which must include a biodegradable "escape hatch" so wildlife can get out if the trap is lost. Females with notches in their tails must be released, as a notch indicates that they were previously carrying eggs. Any lobster that has an abdomen measuring longer than five inches also must be released.
For Nicolai, these rules are not a burden; they are necessary protections.
"The smart lobsterman knows that, without all these rules, you get nothing," he said. "When things aren't regulated and human greed sets in, you can wipe out a resource very quickly."
Although demand hasn't necessarily increased with supply, lobster production in Maine is booming. According to Maine's Department of Marine Resources, 126 million pounds of lobster were caught in 2012, compared to 28 million in 1990.
As the tour continued, John Nicolai offered a plethora of knowledge about wildlife biology, the history of the land and research at nearby laboratories.
At Egg Rock Lighthouse, built in 1875, a moss-covered rock formation was littered with seagulls, cormorants and harbor seals. They lounged calmly on the rocks, indifferent to the approaching vessel.
"They are lazy bums," Nicolai said. "They're used to lobster boats."
At the sight of a bald eagle sitting on a rock, passengers pointed and huddled on one side of the boat, armed with Canons, Nikons and iPhones.
The final stop on the two-hour tour was one of Nicolai's personal lobster traps and a demonstration of what lobstermen do day-to-day.
"Traps are like boxes of chocolate: You never know what you're gonna get," he said as he used a pulley to bring the trap up from the water. In this case, it was two lobsters, tails flapping.
Nicolai reached in and pulled one out, casually holding it in his right hand as he gave passengers a lobster anatomy lesson. He capped his demonstration by putting a miniature Santa hat on the lobster and asking "who am I?" It didn't take long for the kids on the tour to find the answer.
Soon, Santa Claws was back in the water, the trap was freshly baited with ripe-smelling herring, and the Lulu was on its way back to the dock.
As she left the boat, visitor Josi Harris said she was surprised at how much she learned.
"I thought it was just going to be one of these short little tours, but it was really fascinating," she said. "I didn't know anything about lobster. I would recommend it – you get a lot of bang for your buck and I don't think you would learn this stuff anywhere else."
McCrumb said out of all the boat rides he'd been on, this was his favorite.
"This guy was much more informative," he said. "He is like one of those people you'd like to have as a teacher."
John Nicolai plans on keeping his classroom small. Though his tours have been featured on a host of travel and lifestyle television shows, he said he thinks it is their intimate nature that sets them apart.
"We're not going any bigger than this," he said. "What makes this desirable is keeping it small."
With a successful business and a passion for what he does, John Nicolai will likely be educating passengers for a long time to come.
"You may think I'm simple minded, but I never get tired of it," he said. "Just look around you when you are out there. If I ever got tired of this landscape – the wildlife, the bald eagles, the sunsets, not to mention teaching people about lobster fishing, I would be in the wrong business."
If You Go
The Lulu Lobster Boat leaves from the Harborside Hotel and Marina, at 55 West St., in downtown Bar Harbor.
Tours are offered from May through October, seven days a week several times a day. Check www.lululobsterboat.com for the exact schedule. Each tour is two hours long. Tours may be cancelled due to weather conditions.
Reservations are recommended. Visitors can purchase tickets 24 hours before departure online, but they can reserve as far in advance as desired by emailing info@lululobsterboat.com or by calling 207-963-2341 or 866-235-2341.
Tours cost $30 for adults, $27 for seniors 65 and up or military, $17 for children ages 2 to 12, and children under 2 are free. Group rates are available, and the boat is also available for private charters and weddings.
Warm clothing is important, as it gets cold on the water and the cabin is open-air and unheated.