Rare Schaus Swallowtail butterfly found
HOMESTEAD, Fla. — Endemic to South Florida and found nowhere else in the world besides on the islands of Biscayne National Park and on northern Key Largo, the Schaus Swallowtail butterfly is among Biscayne's most celebrated insects.
Due to drastic population declines over the years however, it has also become one of the rarest.
| | | |
| --- | --- | --- |
| The Schaus Swallowtail butterfly is one of the most critically endangered species found in Biscayne National Park (Photo from the Dante Fascell Visitor Center Gallery and courtesy of Biscayne National Park). | | |
For the Schaus Swallowtail (Papilio aristodemus ponceanus), the threat of extinction has proven to be very real, as it has been on the list of threatened and endangered species for more than 20 years, said Biscayne Interpretive Park Ranger Gary Bremen.
It was first listed as a federally threatened species in 1976 and later became endangered in 1984.
Their numbers have been invariably dropping due to a long and not-so-easy-to-solve list of problems.
"The Schaus Swallowtail has a very small habitat where it can live that is also threatened," said Matt Johnson, Biscayne National Park's public information officer.
The butterfly depends on a few host plants like torchwood and wild lime to lay its eggs and feed, which have been widely removed through development and natural disasters, Johnson added.
With that said, the species is also a very easy target for exotic fire ants and moths.
"Here we have a butterfly that is only alive as an adult for about six weeks in a year and then hangs out as a caterpillar or pupa throughout the rest of the year," said Bremen. "The eggs and pupa are subject to being eaten by fire ants."
As Johnson added, drought and pesticide used to control mosquito populations outside of the park are also hazardous to the butterfly.
| | | |
| --- | --- | --- |
| | | At left, the Schaus depends on torchwood plants found in tropical hardwood hammock habitats to lay its eggs (Photo from the Dante Fascell Visitor Center Gallery). Below, though large and beautiful, the Schaus Swallowtail is extremely vulnerable to random changes within its environment (Photo by Rick Cech, courtesy of the National Park Service). |
Unfortunately, the Schaus, though strikingly beautiful with its large, blackish brown body and contrasting yellow border, already has a very short life span of one month to begin with, and has breeding habits that only produce one generation per year.
The consequences of such problems have been observable as the Schaus inches towards extinction. It seems however, that in the summer of 2012, surveys revealed some of the poorest results to date.
According to Bremen, researchers were only able to find about four individuals in the park (down from 41 documented during the previous year), and to add to the despair, all of them were male.
"We were actually thinking that they were possibly extinct," said Bremen.
A last ounce of hope for the species came this past May however, when University of Florida researchers netted a single female Schaus in the park, said Johnson.
This was the first such capture of a multi-agency effort with the University of Florida, the U.S Fish and Wildlife Service (USFWS), the National Park Service (NPS) and the Florida Fish and Wildlife Commission (FWC), to bring the species back from "the brink of extinction."
Currently, researchers at UF are preparing to launch a breeding program where they will collect and propagate the Schaus for subsequent rerelease into the park, said Bremen.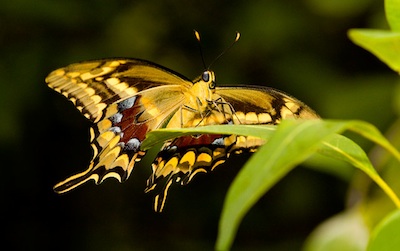 With that said, the fate of the species now rests within a single egg laid by the female butterfly, as it was to be added to other larvae collected on the island of Elliott Key this past summer.
As Prof. Jaret Daniels of UF's Dept. of Entomology and Nematology cautioned in a recent interview about the new program however, "intervention doesn't guarantee survival, but it does offer hope and puts us into a better position to save this species."
On another note, habitat improvement and protection of the Schaus' hardwood hammock habitats from development is also of particular importance to the park service, Johnson mentioned.
Working closely with the USFWS, the National Park Service has also set out on a habitat enhancement project to remove non-native plants and plant thousands of host plants in the area of Elliott Key.
Though there is not much that the general public can do at this point, both Johnson and Bremen noted the importance of public awareness of these issues.
"Any efforts to bring attention to the situation helps," said Johnson. "As long as it is in people's hearts, there is hope."
Though something as small as a butterfly may not seem to cause such an impact in the grand scheme of things, as Johnson pointed out, all you have to do is take an organism out of nature to see how it is hitched to everything else.
"Every little species is important and each component is critical to the functioning of the whole."
If You Go
Address: 9700 SW 328th St., Homestead, Fla. 33033
Phone: 305-230-7275
Hours: The water portion of Biscayne National Park is open 24 hours, seven days a week. Convoy Point, the park's headquarters, is also open seven days a week from 7 a.m. to 5:30 p.m. The Dante Fascell Visitor Center, likewise, is open daily from 9 a.m. to 4:30 p.m.
If You Come Across a Schaus Swallowtail Butterfly:
Being that the Schaus Swallowtail is extremely rare, if you are lucky enough to encounter it during your visit to Biscayne National Park, park officials urge you to not interfere with their natural behavior or activity.
Subsequently, taking, harming, harassing or interfering of any kind is strictly prohibited.
You are encouraged however, to document and report the sighting of any threatened or endangered species that you may encounter.
If you decide to document your sighting, please provide as much information as you can, including but not limited to, the date, specific location with GPS coordinates (if possible), the number and size of the observed species, as well as a picture. Pictures are highly recommended for the purpose of accurately identifying a species.
To report a sighting please visit:
http://www.nps.gov/bisc/naturescience/threatened-and-endangered-animals.htm
For the latest updates on the status of the Schaus Swallowtail Butterfly in Biscayne National Park go to:
http://www.nps.gov/bisc/parknews/schaus-swallowtail-emergency.htm
To see the list of threatened and endangered species in Biscayne National Park go to:
http://www.nps.gov/bisc/naturescience/threatened-and-endangered-animals.htm