Horseback riding, hiking mean Skyland fun
SHENANDOAH NATIONAL PARK, Va. —The Limberlost area by MM 41.7 on Skyline Drive in Shenandoah National Park is surrounded by a lush landscape of soaring ancient trees and vibrant green plant-life. The trail's floor is covered with granite rock that was formed billions of years ago from bursts of hot magma lava from an ancient, now extinct volcano. Two popular ways ot explore this unique region are horseback riding and hiking.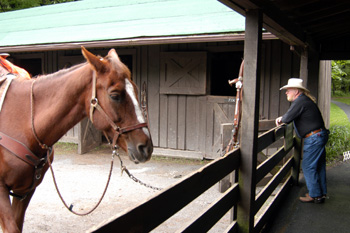 Richard Frasier rests for a moment on a fence at the Skyland Stables in Shenandoah National Park (Staff photos).
Horseback riding trails are marked with a yellow blaze, meaning it is maintained for horses and foot paths.
The Skyland Stables, located near Skyland Resort at MM 41.7 on Skyline Drive, takes you on a horseback riding adventure on Old Rag Fire Road and is an ideal place to experience the natural wonders of Shenandoah.
The trails surrounding Skyland Stables were created in 1936 by George Pollack, who was dedicated to maintaining and improving the trails of Shenandoah years before the area was even established as a national park.
The stables are managed by husband and wife team Richard and Judy Frasier. As you enter the stables area, the horses are lined up on two sides of a gravel courtyard. Their heads are hanging out in a curious manner as the employees get the horses ready and explain the rules and regulations of the trip. Each horse has a wooden plaque on his or her quarters revealing their name.
"The horses are a mixture of Quarter, Appaloosa and Paint horses," said Judy Frasier.
Judy Frasier has worked at the stables for almost four years. The excursions are narrated by husband Richard Frasier who has worked at the stables for the past three years, but his history with the area goes back even further.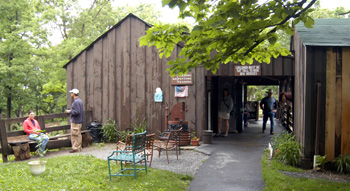 Two visitors wait for their horseback rides at the Skyland Stables.
"My ancestors were among a group of 400 people who were moved from the area many years ago," said Frasier.
Frasier is a knowledgeable individual whose love of the area seeps through in his guided explanation of Old Rag Fire Road's historical sites.
Skyland Stables offer a couple of excursions. A one hour trip, a two and a half hour trip, and a 15- minute pony ride for children under 4 feet 10 inches in height.
The same trail is offered on both horseback riding excursions but the difference between the two is the distance. The one hour trip is three miles and the two- and –one- half hour trip covers 10 miles. Experience is not required for any of the options.
The trail is a few feet wider than the horse you are riding on. It surrenders to vast hemlocks that flourish with the unsoiled air and the sun that gently makes its way through the trees.
Your eyes wonder through the dense surrounding area in hopes of catching a glimpse of a White-Tailed Dear or a Black Bear that you are likely to see. The horses have made this journey on many occasions and are well trained, so it makes wildlife and environmental viewing an effortless task. With one tug of the reins the horse ventures into the majestic wilderness of Shenandoah.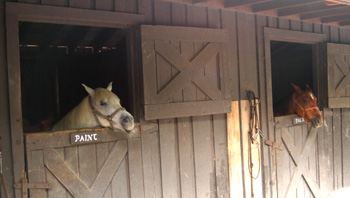 Two of the Skyland Stables residents, Paint and Buck, wait for their riders,
After a somewhat steep incline the trail marks significant changes in the area.
Along the path are two Civil War camp sites, New Market and Culpepper, where the union and confederate armies made history.
The trail also is marked by the infestation of the woolly adlegid, an insect that infected the trees in the surrounding area and forced a loss in the tree population.
The end of the trail encompasses a gentle stream of water that flows over granite and quartz rock. The stream originates in the waterfalls of Whiteoak Canyon by MM 42.6.
On the journey back to the stables, the horses become slightly more animated and occasionally break into a gallop.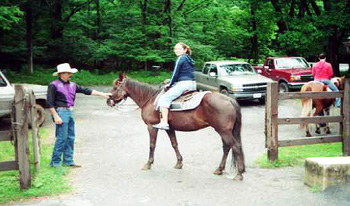 Writer Tenille Lively begins her ride (Photo by Ross Whitsett).
The two- and-one-half hour trip takes you through the historical Old Rag Fire Road that you will see on the one-hour adventure and beyond to Whiteoak Canyon Falls.
"The falls has a 90- foot drop where you tie off the horses and have a chance to take pictures," said Judy Frasier.
When your journey has come to an end, you will have experienced an eclectic mix of adventures that take you thorough billions of years of history as well as growth and innovation. You will be weak in the knees so the staff will assist you when exiting the horse.
The pony rides are only $3 and are held in an open lot with a gravel base. It is an exceptional way for children to be introduced to the Limberlost area.
Horseback riding at Skyland Stables is an extraordinary intimate method to experience the gifts of Shenandoah.
Old Rag Fire Road connects with the Limberlost foot path trail at MM 43.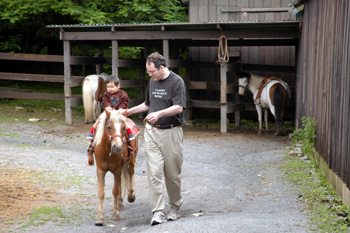 A father gives his son a pony ride at the Skyland Stables.
"It is a 1.3-mile circuit path with handicap access that is easy to hike," said Sharon Foster, visitor use assistant at Skyland Byrd Visitor Center. "There are benches along the way and an old growth forest of Hemlocks."
The journey takes approximately 1.25 hours.
Whiteoak Canyon may be hiked as well as ridden by horse. The hiking path is rocky and strenuous. It is 4.6 miles with a round trip time of 4.25 hours that leads you to six waterfalls.
Shenandoah offers approximately 500 miles of hiking trails that vary in their difficulty level. Each trail encompasses it own unique wonders. There are also over 50 horseback riding trails. but you must have your own horse or pack animal. You are encouraged to pick up trail maps and a list of the regulations available at Dickey Ridge Visitor Center by MM 4.6 or Byrd Visitor Center by MM 51.
If You Go
Phone: 540-999-2210
Rides are available throughout the day
Reservations are not accepted
Bathroom facilities
Cash and all major credit cards accepted
Dates for the 2004 season
Horseback riding at Skyland Stables (MM 41.7)
March 30 to April 22
Saturday and Sunday one hour only $22
April 23 to June 15
Monday through Friday one hour $ 20, Saturday and Sunday one hour $22
June 16 to Sept. 2 Monday through Friday two- and one-half hour $42, Monday through Friday one hour $20, Saturday and Sunday $22
Sept. 3 to Oct. 28
Monday through Friday one hour $20, Saturday and Sunday one hour $22
Oct. 29 to Nov. 24
Saturday and Sunday one hour $22
Pony Rides 15 minutes $3
Hiking: Limberlost Trail (MM.43), Whiteoak Canyon (MM 42.6)
Visitor Centers
Dickey Ridge Visitor Center (MM 4.6)
Byrd Visitor Center (MM 51)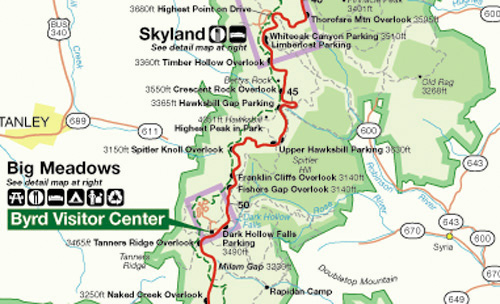 Skyland and Big Meadows are at the center of Shenandoah National Park. Horseback riding can be found at the stables near Skyland (Map courtesy of the National Park Service).