Challenge the elements on trail
SHENENDOAH NATIONAL PARK, Va. — Hiking the entire Appalachian Trail is an experience of discovery and test of will as thousands of hikers every year try to find out if they can survive the challenge.
The Appalachian National Scenic Trail is a public footpath across 2,144 miles of Appalachian Mountain Ridgelines from Katahdin Mountain in the Baxter State Park of Maine to Springer Mountain in Chattahoochee National Forest in Georgia.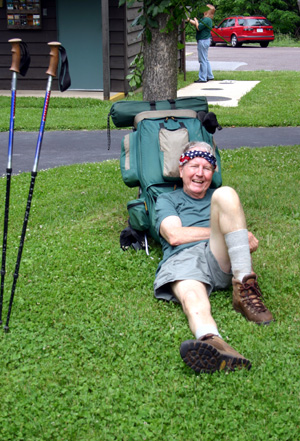 Appalachian Trail hiker Dan Hodges, from Milledgeville, Ga., rests against his backpack (Photo by Tenille Lively).
There are three different types of hikers that can be found on the trail: thru-hikers, sectional hikers, and day hikers.
While sectional hikers may take years to complete the entire trail, for thru-hikers attempting to hike the trail in one long walk it takes from four to eight months depending on how fast you hike.
The trail stretches over 14 different states and passes through more than 60 federal, state and local parks and forests.
"While hiking the trail I have learned everything I need in life I carry on my back," said Dan Hodges, 70, a retired Baptist minister from Milledgeville, Ga.
Hodges, who has been hiking for six years, is taking on the trail in sections with two of his friends. At the moment they were in the middle of a nine-day hike through the Shenandoah National Park section of the trail that includes about 116 miles.
So far they have hiked Georgia, North Carolina, Tennessee, and a small section of Maine together.
Hodges is hiking the trail with Bill Harrison, 62, an economic development director also from Milledgeville who is their trail guide. This is his second time hiking the Appalachian Trail in sections. Harrison said that the first time around it took him from 1982 to 1999.
"I first just started to hike the trail to see if I could do it or not," said Harrison.
There are many different reasons to hike the trail, but the main reason, which was the original purpose of the trail's designer Ben Mackaye, is to get away from the urban environment of the modern world and find a place of relaxation where you can gain a sense of restoration.
"The only thing you're thinking about on the trail is where to sleep that night, where am I going to get food to eat, and most importantly when will be the next spot that I can get water," said Harrison.
| | |
| --- | --- |
| | Hikers, loaded with their gear, move northward along the Appalachian Trail within Shenandoah National Park (Staff photo). |
The sense of community is very important on the trail as well. You may even meet people along the trail that you might have run across in years past.
"There is a tremendous amount of social interaction and you realize that we live in a very small world," said Harrison.
Gear is essential to the struggle of hiking the trail, with the underlining ethic of the trail being leave no trace, which the Appalachian Trail Conference has strictly laid out for the hikers.
This means quite simply that anything you have brought to the trail you need to take with you. Also, anything you find along the trail you need to leave behind. Washing dishes and depositing of human waste should be done at least 200 feet from water, camp and trails.Experience can help you get your pack to a weight that is at the same time reasonable to carry, but also contains everything you need to survive.
The Appalachian Trail is marked for hikers. This marker is above the clouds in Shenandoah National Park (Photo by Melissa Teich).
"The gear has changed in the past 20 years, getting lighter and more compact. I used to have a pack of 35 pounds and now it's at 22. You also figure out exactly what you need and what you don't," said Harrison.
Laurie Potteiger, information service coordinator for the Appalachian Trail Conference for 16 years, did a thru-hike in 1987.
She said that the trail, "Gave me self confidence didn't have before. But I also gained appreciation of natural world and the interconnection of human existence. Even though you are out on your own you realize you can't live with out society, materially and socially."
The Appalachian Trail was designed, constructed and marked in the 1920s and 1930s by volunteer hiking clubs joined together by the Appalachian Trail Conference (ATC). The ATC was formed in 1925 and is a nonprofit organization located in West Virginia consisting of a partnership of 31 trail clubs that deal with trail maintenance and information for there respective sections across the 14 states. The ATC is also connected with various federal, state, and local agencies that oversee the land management.
The trail is one of eight designated National Scenic Trails; this system was started in 1968 through the National Trails System Act that was prompted by Congress due to commercial-development threats to the Appalachian Trail. The designated trails are either recreational hiking trails or historic trails that are primarily roads.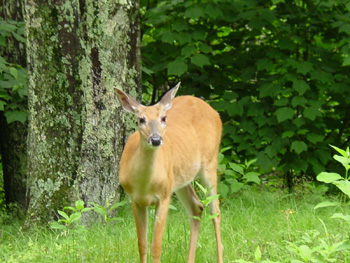 Trail hikers encounter much wildlife, including deer such as this one in Shenandoah National Park (Photo by Melissa Teich).
Other hiking trails include the Pacific Coast Trail, a hike of 2,600 miles from Washington to California; the Continental Divide Trail, a 3,100 miles trek from Mountain to New Mexico; the North Country Trail, which goes 3,200 miles from Vermont to North Dakota; The Ice Age Trail, a 1,000 miles walk across the state of Wisconsin; the Natchez Trace Trail, 700 miles from Alabama to Tennessee; and the Florida Trail, 1,300 miles from South Florida to the Panhandle.
While the ATC estimates that three to four million people hike sections of the trail every year, the organization also keeps statistics for yearly thru-hiking. As of June 11, 2004 there were a reported 1,261 people that started at Springer Mountain, Ga., with 864 reaching Fontana Dam, N.C., and 285 reported at Harpers Ferry, W. Va., there are no reports as of yet from Katahdin, Maine.
"The trail is exciting boring, gut-wrenching, tiresome, sometimes terrifying, and wonderful. You either get to a shelter or hut and everything in life is simplified while on the trail, said Hodges.
If You Go
The Appalachian Trail Conference provides detailed information on hiking the trail and will also refer you to their local club partners.
Visit the website at: http://www.appalachiantrail.org
You can also call or visit their office:
Regular business hours are 9 a.m.– 5 p.m. EST, Monday–Friday.
P. O. Box 807
799 Washington St.
Harpers Ferry, W.Va. 25425-0807
Phone: 304-535-6331
Fax: 304-535-2667
The National Park Service also provides information on its website: http://www.nps.gov/appa/
Or you could call their office at 304-535-6278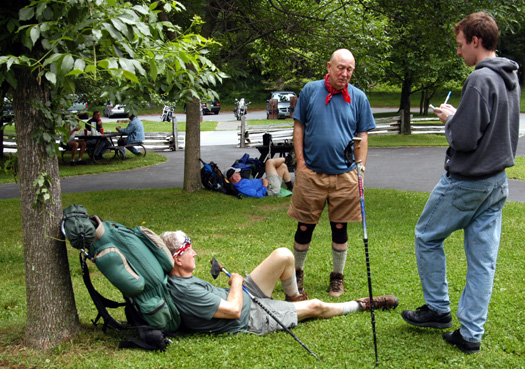 Reporter Ross Whitsett interviews Appalachian Trail hikers Bill Harrison, 62 (standing), Dan Hodges, 70 (sitting, front), and fellow hiker Fred van Horn, 66, rests in the background (Staff photo).