Kayaking Shenandoah River is ideal escape
LURAY, Va.— I was a little bit disappointed when I looked at my cell phone and noticed that four bars of service proudly showed themselves as I slipped into my unsteady kayak at the Inskeep Boat Landing of Shenandoah River's South Fork. I promptly turned it off, refusing to be disturbed by technologies that would ruin my plan to be humbled for just a few hours.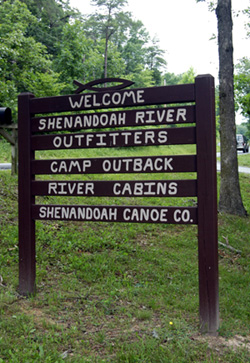 Shenandoah River Outfitters offers cabins, camping and river trips (Staff photo).
Though not officially part of Shenandoah National Park, the river is accessible from Luray (about 18 miles west of the Thornton Gap entrance to the park).
I was driven in a van with kayak in tow from Shenandoah River Outfitters to the site where I would put in, which was eight miles south of my final destination: Bealer's Ferry.
I'd opted for the easier, mostly flat water trip since it had been a while since I'd tried my hand at kayaking and I was eager to take in the scenery of the northwestern part of Virginia.
You see, John Denver was mistaken. His famous song "Take Me Home, Country Roads" begins: "Almost heaven, West Virginia. Blue Ridge Mountains, Shenandoah River."
It is the state of Virginia he meant to sing about, where the Shenandoah flows high and swift as the Blue Ridge range rises above it, dipping its peaks into the smoky white clouds.
It was late morning as the overcast haze and humidity joined hands to produce the less-than-ideal late spring air. I pushed off from the landing with my paddle and began to feel the rhythm of the blades in the water as my boat propelled me northbound through the valley.
In the past 24 years, the river has been home to canoe, kayak and rafting enthusiasts from the greater Washington, D.C. area and beyond. This is thanks to places like Shenandoah River Outfitters, the river's earliest rental company, who started with two canoes in 1970.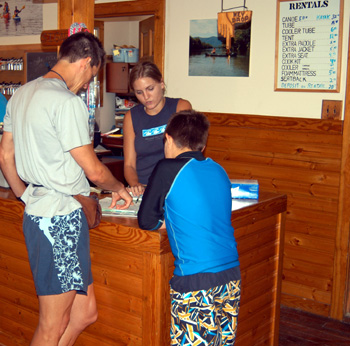 Two visitors check out the arrangements for a river trip in the Shenandoah River Outfitters headquarters (Staff photo).
The company now owns roughly 200 canoes, 400 inner tubes, six rafts, 45 kayaks and several cabins for rent along the river. The growth of the business came by way of a little jumpstart from a journalist and a couple of dueling banjos.
"[Somebody] had written an article about how beautiful it is out on the Shenandoah," said Nancy Goebel, co-founder and owner of Shenandoah River Outfitters.
"The article starting bringing in people unbelievably, just all of a sudden. So we went out and we bought 10 canoes. Then the movie 'Deliverance' came out, and then it really went boom. The movie 'Deliverance' is really what did it for the canoe industry," she said, laughing.
Luckily, the elements of "Deliverance's" eerie storyline were far away as my first glimpse of the Blue Ridge's tree-covered tops came into view.
The Sycamore, the Shenandoah's most popular tree, was in full bloom and hung its branches symmetrically over the somewhat steep banks on eastern and western sides of the river.
| | |
| --- | --- |
| | Top, cabins and camp sites line the South Fork of the Shenandoah River. Bottom, drifting downstream visitors can see Blue Ridge Mountain vistas across the valley (Photos by Melissa Teich). |
I realized that Denver's line "life is old there, older than the trees, younger than the mountains— growing like a breeze" was a correct observation, however, when I came up on some spots that proved the wilderness was nowhere to be found.
Within a stretch of about three miles, I'd encountered the buzz of chainsaws, the zooming of cars driving up South Page Valley Road, the hum of ride-on lawnmowers, and the site of a large RV campground.
I was able to regain my thoughts as the banks quieted down a bit.
Between experiencing a large-mouth bass trying to jump into my kayak and watching a turtle slowly creep back into the water after sunning himself on a small rock, I was able to concentrate on reflecting.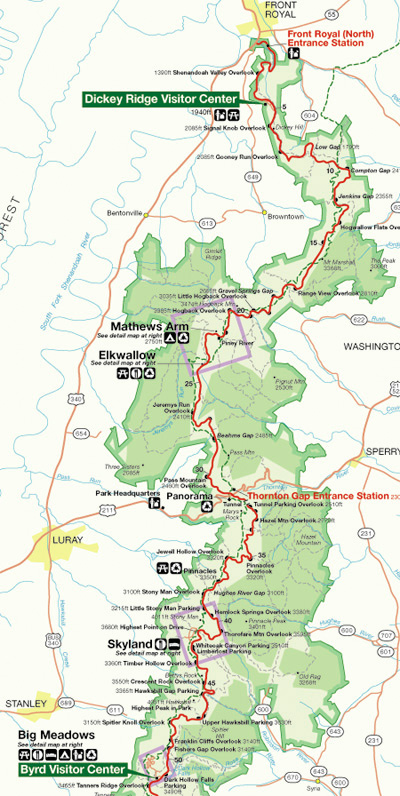 The kayaking and canoeing areas are found on the South Fork of the Shenandoah River. This portion of the river flows between Front Royal, Va., to the north and Luray, Va., to the south and is west of the Shenandoah National Park. It is only a short drive by automobile from key locations within the park (Map courtesy of the National Park Service).
I imagined how wonderfully soothing it would be to live in one of the modest homes that line the river and be rocked to sleep by the sound of rushing quickwater in the frequent spots where there are tiny rapids.
Just as I finished that thought, I came upon two amateur fishermen in canoes who were getting ready to experience that soothing sound later on.
"We're just trying to get away, you know?" said Craig Leavitt, a Washington, D.C. resident. "Get out of the city and have some fun."
Leavitt was on the river for a two-day camping trip with his cousin, Steve Chaplin, who is also from the greater D.C. area.
"We're celebrating the life of Ronald Reagan," added Chaplin, noting Reagan's death in June 2004. "And we brought extra food just in case we don't catch anything."
The two laughed at their so far fruitless attempts to reel in any bass or trout after several hours of limited effort.
I left them just as quickly as I'd found them, and I continued sifting through the swarm of gnats that took turns landing on and fleeing the top of the water.
The wind picked up slightly and the rain came, first lightly, then falling steadily. I wasn't disenchanted, though. It added to the fullness of a small stepping stone waterfall that snuck out of the tired green landscape and fell easily into the river from the east.
The guides at the outfitters had told me to expect a three-to-four hour paddle, so I began to hurry along, always conscious of the time and feeling hostage to the clock, as my life in the faster paced environments of Miami and New York require me to be. A mere two and a half hours had passed, and I snapped out of my tranquil trance just in time to paddle quickly over to the west side of the river.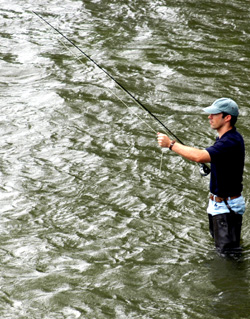 A fly-fisherman in the Shenandoah River tries his luck (Staff photo).
The take-out spot, Bealer's Ferry, came up on me faster than I thought it would, so I made my switch into the "left lane" of the Shenandoah in order to make my destination. The small, white wooden sign labeled "8" was nailed to a tree marking the boat landing.
I lifted myself out of the boat, feeling somewhat weak in the legs. It is difficult to stop along most parts of the river because the land is privately owned, though at some sites, I was told, campers will often be happy to wave a tired paddler ashore for a break.
I took my few belongings, which had been resting in the cockpit of the kayak next to me, and started up the road half a mile back to the outfitters with paddle and life jacket in hand.
As I turned to look one last time at the fallen tree trunks causing the sweet-sounding, gentle rapids, the two men I'd encountered earlier floated past. They waved, and I waved back, smiling. Next time, I thought, I am going to leave my watch at home. After all, the hours of operation sign posted on the door of the outfitters, in true Southern style, reads: "Open when I get here, closed when I leave."
| | |
| --- | --- |
| | Visitors begin their canoe trip down the Shenandoah River near Luray, Va. (Staff photo). |

General Information and Costs
Shenandoah River Outfitters, Inc. (not affiliated with Shenandoah National Park, though it is the closest outfitter to Big Meadows and Skyland Lodges within the park)
6502 South Page Valley Road
Luray, Va. 22835
800-6CANOE2 (622-6632)
http://www.shenandoahriver.com
Open daily approx. 8 a.m. to 5 p.m., April 1 through Nov. 1
Beginner white water or flat water:
Departs regularly from 8 a.m. to 1 p.m. daily
$48 per canoe, $30 per kayak
Two day white water trip: $75
Weekday 11 a.m. arrival flat water trip: $35 per canoe, $25 per kayak
Tube rentals and six person rafts (three person minimum for rafts):
Departs 10:30 a.m. and 12 p.m.
$14 per tube, $60 per raft
Camping (tent sites and showers): $8/person/night
Cookouts (riverside lunch plus steak dinner with music):
Advanced reservations required, groups only, price upon reservation
Log cabin rentals (all sleep six): $100 to $150 per night, $675 to $800 for seven nights
| | |
| --- | --- |
| | Ducks form a line as they cross the Shenandoah River (Photo by Melissa Teich). |
Other canoe outfitters on the Shenandoah River
Shenandoah River Trips
2047 Rocky Hollow Road
Bentonville, Va. 22610
800-727-4371
Downriver Canoe Company
884 Indian Hollow Road
Bentonville, Va. 22610
800-338-1963
http://www.downriver.com
Front Royal Canoe Company
P.O. Box 473
Front Royal, Va. 22630
800-270-8808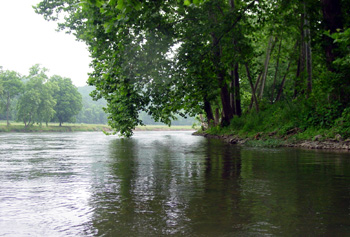 Trees line the Shenandoah River and offer welcome shade for kayakers (Photo by Melissa Teich).