Nation's first wildlife refuge at Pelican Island
SEBASTIAN, Fla. — Looking out from the 18-foot observation tower, visitors can get a clear view of the 5,375 acres that make up the nation's first national wildlife refuge –Pelican Island.
It sits on the Indian River Lagoon, east of A1A near Sebastian. The water is a greenish blue and mostly calm. Mangroves cling to the edge of the island and birds soar above. But the interesting thing is that no one it permitted to step foot on the actual island. This is to ensure that the endangered birds and wildlife remain safe and undisturbed.
| | |
| --- | --- |
| At right, pelicans at sunset on Pelican Island National Wildlife Refuge (Photos courtesy of U.S. Fish & Wildlife Service). Next, an aerial view of Pelican Island. Following, Paul Kroegel, Pelican Island's first manager from 1903-26. Last, a map of Pelican Island NWR. | |
As the nation's first wildlife refuge, Pelican Island has a long history. In1881 a German immigrant named Paul Kroegel arrived in Sebastian with his father and settled on the west bank of the Indian River Lagoon. From there, he could see brown pelicans nesting on the adjacent island.
Kroegel took interest in the birds and would even sail out to the island and stand guard with his gun to protect them from hunters who would kill the birds for their feathers. In the early 1900s, Kroegel garnered the attention of Frank Chapman, founder of Bird-Lore and prominent figure of the Audubon Society and the American Ornithologists' Union. Chapman worked with President Theodore Roosevelt to preserve the island.
On March 14,1903, Roosevelt signed an executive order that made Pelican Island the first federal bird reservation. He also created a network of 55 bird reservations and national game preserves for wildlife. Kroegel served as the first refuge manager at Pelican Island from 1903 until 1926.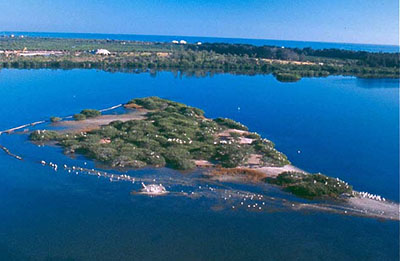 Pelican Island continues to protect the historic rookery and restore the lagoon habitat for 16 different species of birds that nest there. Some of these include the brown pelican, wood stork, great blue heron, white ibis, and great egret.
It also provides endangered animals such as wood storks, manatees and green sea turtles with a safe habitat.
Each year nearly 30,000 visitors people visit the island. These include locals and travelers from out of town who come to experience the undisturbed beauty of the site.
"Anytime I have family visiting from New York I take them to go see Pelican Island," said 21-year old Maureen Flanary, a resident of Sebastian. "We take a boat out to the lagoon and get really close to it. It's especially nice when the sun's setting. My family is always so surprised at how quite and peaceful it is out there."
Although visitors aren't permitted on the actual island, there are boat tours like the one Flanary mentioned that allow visitors to get close. Visitors can also see the island and its wildlife from the refuge's public facilities accessible from A1A. There are also several trails available for hiking, including the Centennial Trail. This is a half-mile of boardwalk where visitors can walk and learn about Pelican Island by reading the educational panels along the path.
The island has become a popular place for nature enthusiasts and photographers. 50-year old Manuel Fernando talked about how Pelican Island serves as an ideal place to shoot photos.
"The light here is just incredible. Breathtaking. The sunsets are red and orange and sometimes purple. And it's so peaceful. The perfect place for photographing birds and nature."
The public viewing facilities were added to the refuge during the centennial event in March of 2003. To commemorate 100 years of Pelican Island, the city of Sebastian hosted a day that consisted of boat and kayak tours, exhibits, live music, and more. Jack Hannah, popular zookeeper and television personality, also made an appearance at the event that brought together the community and nature enthusiasts.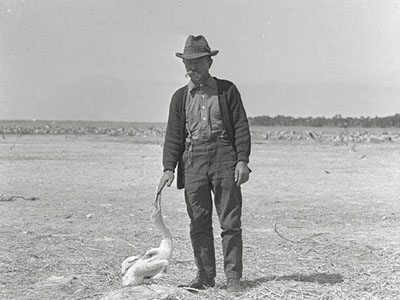 There are also other organizations that strive to teach the community about Pelican Island, such as the Environmental Learning Center, or ELC. This facility provides boat tours around the Indian River Lagoon along with other educational classes that teach guests about Pelican Island and the surrounding ecosystem.
Sarah Rhodes-Ondi is a Naturalist at the ELC. She explained that teaching the younger generation is key to maintaining the refuge.
"The creation of Pelican Island National Wildlife Refuge was due in large part to the foresight of one man, Paul Kroegel, a man who was disgusted with the slaughter of nesting birds. This is a great story of how one individual's convictions can make a difference. Passing stories like this one down to future generations will hopefully inspire our nation's children to stand up for what is right, even when faced with adversity. We as a species rely on the natural world for our survival; if we destroy this planet we destroy our future on this planet," she said.
Pelican Island is also a National Historic Landmark. This means that the National Park Service reports on Pelican Island's condition and provides periodic status updates.
The refuge is managed by the U.S. Fish and Wildlife Service, which is controlled by the U.S. Department of the Interior.
Pelican Island shares a permanent, full-time staff of six people with the Archie Carr and Lake Wales Ridge National Wildlife Refuges and Everglades Headwaters National Wildlife Refuge and Conservation Area.
Together with the help of volunteers and interns they protect the Pelican Island rookery, provide habitat for endangered species, coordinate outreach programs, conduct studies, and more.
Tim Glover, director of the Pelican Island Preservation Society (PIPS), explained how this Citizen Support Organization also helps the refuge.
"Being that the refuge is a governmental entity, there is no way for the public to contribute directly to it financially," Glover said.
"We are an all-volunteer organization and all funds collected go to support the refuge and educating the public about it and the National Wildlife Refuge System," he added.
"One of the major projects on the wish list for the refuge staff for the immediate future is building a visitor's center. That would require a fund raising campaign of well over $1 million. We are working to try and figure out how to accomplish that!" Glover said.
Glover added that PIPS holds public meetings four times a year where speakers talk about issues that refuges face. PIPS also co-hosts the Pelican Island Wildlife Festival every March to celebrate the National Wildlife Refuge System founding at Pelican Island in 1903.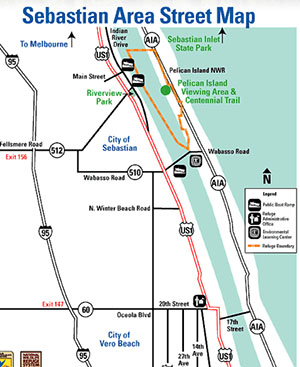 If You Go
Pelican Island National Wildlife Refuge
Located in Sebastian, Florida on A1A, south of Sebastian Inlet and north of Vero Beach.
Directions From I-95:
Take Exit 156 and continue on Fellsmere Road to U.S. 1 in Sebastian. Turn right onto U.S. 1 traveling south, turn left at the intersection of Wabasso Road, continue on over the Indian River Lagoon to the intersection of A1A, turn left on A1A traveling north and drive 3.7 miles and turn left onto Historic Jungle Trail.
Hours: 7:30 a.m. – sunset. Open Mondays – Sundays.
Parking fee and entrance fee: None
Disabled accessibility: Yes
Phone: 772-581-5557
Website: http://www.fws.gov/pelicanisland/
Pelican Island Preservation Society: http://firstrefuge.org/