NPS plans new Gettysburg Visitor Center
GETTYSBURG, Pa.— Student groups run excitedly through the halls looking at period swords and cannons. Moms point out maps and old uniforms to their children. An elder gentleman sits and observes Civil War-era medical instruments.
The site of Abraham Lincoln's world-famous Gettysburg Address and America's most revered Civil War battlefield, Gettysburg National Military Park welcomes hundreds of visitors to learn about the Civil War.
But pretty soon, visitors will have a much richer experience as construction is underway for the New Gettysburg Museum and Visitor Center, scheduled to open in early 2008.
In 1999 the National Park Service approved a partnership agreement for the fundraising, design and construction of a new $98 million museum and visitor center, including full restoration and display of the Cyclorama painting in a new, state-of-the-art gallery.
At 139,000 square feet, the new Visitor Center is bigger than both of the current museum facilities combined and will be located short distance from the current center.
"We want to create a sense of place that evokes the emotions of 1863, while also meeting visitors' expectations of a 21st-century museum experience," Robert C. Wilburn, Gettysburg Foundation President said in a press release. "The building is designed to showcase the battlefield, and encourage visitors to go outside and explore the historic landscape. Our goal is to help every visitor better appreciate the significance of what happened here."
The new center will focus on three major themes:
The unfinished work of the Declaration of Independence, the causes of the Civil War, and the War up to the end of June 1863
The Campaign and Battle of Gettysburg
The Gettysburg Address, the Civil War from Gettysburg to Appomattox, reconciliation, and the consequences of the War.
| | |
| --- | --- |
| An artist's conception of the new Visitor Center at Gettysburg National Military Park (Photo by Delia Arevalo). | |
One of the major projects is the restoration of the Gettysburg Cyclorama painting titled "The Battle of Gettysburg." Longer than a football field, it depicts the charge by the Confederate infantry on July 3, 1863, the last day of the three-day battle of Gettysburg, popularly known as "Pickett's Charge" and will be on display in a new Cyclorama Gallery.
For the first time in decades, visitors will be able to view the painting as the artist intended – with the original skyline, the canopy and the original three-dimensional diorama, all of which have been missing for more than 40 years due to decades of mistreatment such as multiple relocations, flawed hanging and fluctuations in humidity and temperature.
Currently, the painting is closed to visitors and has been since August of 2005. It has been open only from time to time since 2001.
Not only is the Cyclorama being restored but many displays— such as period guns and uniforms— already have artifacts being removed so as to begin their restoration as well. But while all artifacts will eventually go through a restoration process, not all will end up in the final display.
"We will probably have less than 20 percent of our artifacts out on display. The rifles and guns and artifacts like that are not very appealing right now. Those we will put in cases right by where groups are about to go see a diorama or a movie so they will be on display but not exactly part of the museum storyline," Katie Lawhon, public affairs specialist for the park, said.
| | |
| --- | --- |
| The new Visitor Center is taking shape in Gettysburg (Photo by Delia Arevalo). | |
Lawhon may have a point when it comes to the appeal of guns on display.
Alex Hoffonal, an eighth grader at St. Joseph School in Hanover, Pa., was visiting the center and said he would rather see action.
"I like demonstrations more than just showing," Hoffonal said. "Just seeing the guns and swords doesn't catch my eye much. But I'd still visit the new museum since it will be new."
He'll be in for a treat when he does because the new museum will include a feature film that will immerse the audience in the sights, sounds and emotions of the battle and its aftermath. Interactive stations will be located throughout and will give visitors access to information about the people, the battle, the collection and the monuments.
It's not necessary to be interactive to entertain however. Some visitors still like things simple.
"There aren't any statues. That's what I like," Brayden Orndorff, another St. Joseph's student, said.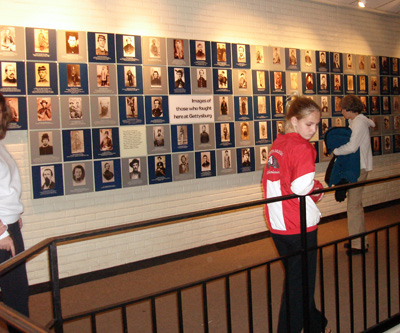 Other new additions will include a bigger book and museum store and food services along with 11 exhibit galleries where visitors will still be able to see the popular displays of weapons and uniforms.
Not only will there be new additions to the museum in terms of structure, but there will also be new artifacts on display.
But along with the changes, comes the removal of certain popular exhibits. Currently, the Gettysburg Visitor Center houses a map tour that shows the three days of the battle but there are no plans to move it to the new center.
"We will have new film and map presentations and we do have plans to borrow a number of artifacts to display," Greg Goodell, supervisor of Museum Services, said.
Visitors who have heard of the possible changes and are taking advantage of the time they have left.
"I heard that they were building a new center during the map tour. The lady working there told us that we should see it now because they might not put it in the new center so I took my kids because it explains the whole battle," Karen Cook, a museum visitor who brought her three children, said. "I saw it when I came on a sixth grade field trip and now I'm here with my kids because I thought they would find all of this interesting."
Then there are other visitors who have heard of the changes, yet don't think there will be much difference.
"I've been here twice before and it's pretty nice. I saw signs in the display windows about moving certain items but even if it is a new building it's still the same old stuff," Bruce Worsham, a visitor from Glenmoore, Pa., said. "I don't know I guess I'll have to see it once it's built."
Certain changes may remove certain artifacts and keep others but all will be properly cared for and made accessible to those who wish to study them.
"Right now we don't have the funding to acquire new artifacts but we are getting some on loan. Many of our current artifacts exhibited will be in storage in the new facility but the storage conditions will be much better than the ones they're currently in," Lawhon said. "We also are improving our research access to the items in storage. Right now we have no research facilities."
Why make a new center in the first place? One reason is the location.
"The current visitor center is on top of the Union battle line and the new center is in a privately owned field and not on a battlefield," Lawhon said.
The bottom line however, is the new center is a partnership between the Gettysburg Foundation and the National Park Service to restore, preserve and enhance the park.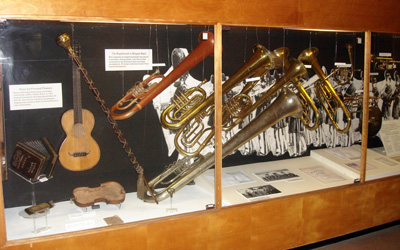 "I think the partnership is an ideal situation because it addresses serious conservation concerns and it will improve the visitor experience," Lawhon said. "People will better understand what happened here. The heart of the partnership is finding the funds to accomplish the core mission which was to preserve resources for future generations."
"It's gonna be big!" Bill Hewitt, park ranger for the National Park Service, said about the new museum.
Indeed the changes will be vast and most are happy about the move.
"The new place is needed and hopefully there will be good housing for the artifacts and better preservation even if they aren't on display," Sylvia Turner, a sales associate at the Gettysburg Visitor Center, said.
The new Gettysburg Museum and Visitor Center will hopefully be appealing and informative to future generations as well as retain its historical presence.
If You Go
The Gettysburg Visitor Center is located at 97 Teneytown Road, Gettysburg, Pa., 17325.
Phone number: 717-334-6274
Directions: It is about a two and a half hour drive from Philadelphia: Take Interstate Highway 76 West toward Valley Forge (Portions Toll). Merge onto U.S. 15 South via Exit 236 toward Gettysburg. Merge onto U.S. 30 West/Lincoln Highway toward Gettysburg. Take 3rd exit onto U.S. 15, Baltimore Street. Turn slight right onto Steinwehr Avenue / U.S. 15 Business Route. Turn slight left onto PA 134/Taneytown Road. The Visitor Center will be on your right.
Entrance to the Visitor Center and parking are free
Public Restrooms are located in the park Visitor Center and Downtown Gettysburg Parking Deck. Gift shop is located in the Visitor Center.
Restaurants are located in town.
Hotels and motels are located in the downtown Gettysburg area.
Web sites to visit: http://www.gettysburgfun.com and http://www.nps.gov/gett.
Beginning in 2008, the new Gettysburg Museum and Visitor Center will be located near the intersection of Hunt Avenue and Baltimore Pike, a short distance from the current center.
Currently there are no amenities available at this location.