Gettysburg readies for 150th anniversary
GETTYSBURG, Pa. – Seven score and 10 years ago Gen. George Pickett led his unsuccessful charge as the Union forces repelled the Confederacy in one of the bloodiest, yet most significant days in American history.
Now, the Gettysburg National Military Park prepares to celebrate the 150th anniversary of the Battle of Gettysburg.
The anniversary will be observed between June 29-July 7 and will feature a slew of activities that will be fun and informative for everyone. The activities range from historical talks to special ranger programs, to battle-reenactments.
| | | |
| --- | --- | --- |
| | | At left, the Stone Wall on Cemetery Ridge at Gettysburg National Military Park (Photos by John Heiser). Below, the Soldier's National Cemetery at Gettysburg. |
"In many ways, these are events that we do typically, but everything will be much bigger," said Carl Whitehill of the Gettysburg Convention and Visitors Bureau. "Visitors will remember this anniversary for a long time and the magnitude of events will be impressive.
A commemorative ceremony will headline the week's events on June 30. The ceremony is titled "Gettysburg: A New Birth of Freedom" and will include music, a keynote address, and "Voices of History," a dramatic reading of eyewitness accounts written by soldiers and citizens involved with the battle.
The ceremony will end with a procession to the Soldiers' National Cemetery to see luminaries marking each of the more than 3,500 graves of soldiers killed in the Battle of Gettysburg.
"It's not a celebration though," said Katie Lawhon, the management assistant at the Gettysburg Military Park. "It's a commemoration of a tragic event that defines who we all are as Americans today."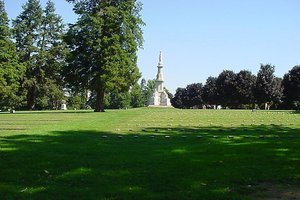 Not only is the anniversary a way to remember the past, but also to look into the future. The NPS hopes that visitors will embrace the legacy of the Civil War and the continued fight for civil rights. This theme will guide the week's events in order enhance visitor's knowledge and appreciation of the Battle of Gettysburg.
"We also hope that the experience will spark a continuing interest in this nation's history and the importance of preserving Gettysburg and other historic sites," said Lawhon.
On a similar note, Whitehill talked about the new visitors they hope to attract this summer.
"Gettysburg has a very high rate of repeat visitation, so it's our hope that we can turn these new visitors into returning visitors to sustain tourism for years to come."
Gettysburg has been gearing up for quite some time in preparation for the celebration. The National Park Service as well as the Gettysburg Convention and Visitors Bureau and other local organization have been working on improvements to the infrastructure for over two years, including a $12 million repaving project of the park's historic roads.
"This is Gettysburg's chance to shine," said Whitehill. "We are going to be in an international spotlight and it's a tremendous opportunity. Destinations would give anything to have this opportunity so it's important that we do this right."
Visitors can find more information about the events and festivities at the National Park Service website, http://www.nps.gov/gett/index.htm, or through the Convention and Visitors Bureau at http://www.gettysburgcivilwar150.com. Information about travel and lodging can be found at http://www.gettysburg150.travel.
| | | |
| --- | --- | --- |
| The Soldier's National Cemetery at Gettysburg National Military Park (Photo by Bill Dowling) | | |
150TH ANNIVERSARY CALENDAR
The Battle Anniversary: June 29–July 7, 2013:
June 29–30 Sacred Trust Talks and Book Signing Events.
June 30  "Gettysburg: A New Birth of Freedom" Commemorative Ceremony.
July 1–4  National Park Service Programs for 150th Anniversary of the Battle of Gettysburg – Special Ranger Programs.
Living History Camps
Key Moment Programs
Overview Hikes
Battlefield Experience Programs
Voices of the Battle
Special Junior Ranger Patch
"Kids and Family" Activities
Park Ranger Programs at the Museum and Visitor Center
July 5–7  Sacred Trust talks and book signing events.