Yosemite PR staff helps student reporters
YOSEMITE VALLEY, Calif.— We made it to Yosemite National Park. It took some effort. The trip involves flying for five hours from coast to coast, piling into an SUV, and driving 200+ miles east from San Francisco International Airport to our lodge in the middle of the famous Yosemite Valley.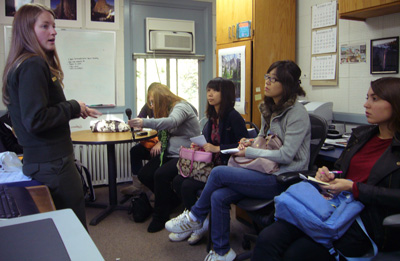 The highlight of our first morning at Yosemite was an extremely helpful meeting with Kari Cobb, a Yosemite park ranger and member of the park's public affairs office staff.
We met with her for more than an hour and she provided connections with experts throughout the park who could help our writers and photographers / graphic artists with their assignments.
Our meeting took place in the park administration building next door to the Visitor Center.
Cobb, who is a graduate student herself at Fresno State University, provided an overview of the park for our group and then everyone headed off to their destinations in the valley and elsewhere in the park.
Students making the trip to California were Elena Chiriboga, Jenna Farmer, Ramon Galiana, Zander Kean, Yiyun Luo, Lauren Sagaser, Kiersten Schmidt, and Dongran Sun. Visual Communication and Journalism Prof. Randy Stano also accompanied the group.
We had dry, cool weather under ideal blue skies and our session was a great start to our working trip to the park.
Bruce Garrison
University of Miami