Ranger talks to student journalists at UM
Gary Bremen, one of the park rangers working at Biscayne National Park in southeast Miami-Dade County, came to the School of Communication and his alma mater UM to talk to journalism and visual communication students working on the fall 2009 project.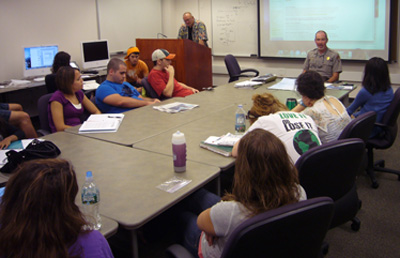 It was a fun discussion with some cool stories about the wildlife in Biscayne Bay. Bremen also shared some useful tips for finding the best sources in the huge National Park Service system.
Bremen, a biology major when he attended UM in the 1980s, has been at BNP for about 15 years, but also worked at Shark Valley in Everglades National Park and at Roger Williams National Memorial in Rhode Island. He answered questions and helped our writers and graphics specialists with ideas for their feature writing and informational graphics projects.
He provided an overview of the park system and talked a bit about the park system's mission of preserving and maintaining each site. His passion and deep interest in his work and career calling was revealed numerous times during the hour-plus discussion.
The discussion centered on BNP, a protected space of 172,000 acres, 95 percent of it under water. He also discussed Biscayne's coral reef system and other South Florida parks and problems with invasive species, the biology of the marine life of the bay, and the 500,000 or so visitors each year.
A number of the 23 students in the two classes will head to BNP later this month or in early November, while others are off to Everglades National Park, Dry Tortugas National Park, and Yosemite National Park in California.
Bruce Garrison
University of Miami