Taking ferry to Dry Tortugas National Park
KEY WEST, Fla. — Jon Moss and I were exhausted. We had left Miami for Key West at 3 a.m. that day, making the drive down to catch the 8 a.m. ferry for the Dry Tortugas National Park.
The ferry, or the "Yankee Freedom II" as it's called, was a large catamaran. It had a deck on top with a cocktail bar, a main level enclosure with a snack bar and bathrooms, and an outside deck lined with benches. It was early, but I mustered up as much excitement as I could. And when we were provided with a cereal-and-bagel breakfast spread, I truly was excited.
| | |
| --- | --- |
| | At left, the Yankee Freedom II at dock on Green Key. Below, in order, passengers enjoy the breakfast buffet. Next, a view of one side of Fort Jefferson (Photos by Nina Markowitz). |
As we departed from Key West, the captain talked to everyone over the loud speaker. He told us, several times, that today's ride was going to be bumpy. But chewing on my bagel and watching Key West slip away, I hardly noticed anything more than how tired I felt. I rolled my towel into a makeshift pillow, curled up into a ball, and let the then-gentle waves rock me to sleep. I was awoken with a thud. The boat felt as though it had fallen out of the sky, landing so hard it took me out of my seat."Just in case," they said.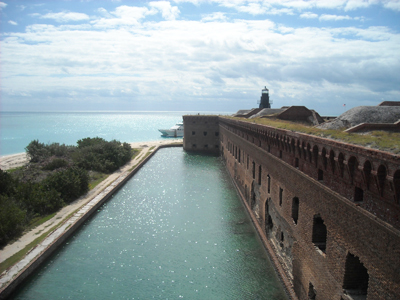 The crew began to walk around the cabin, distributing those sick bags you have in the seatback compartments of airplanes.

The threat of seasickness didn't scare me as much as the constant reminder of it did; and with every announcement warning of rough seas ahead, or to exit the side doors of the main cabin should you feel the "motion of the ocean," I felt my stomach knot tighter and tighter.

What didn't help was the large breakfast I had gorged on only about an hour or so before. I had never been seasick, but as I sat there— in the very front of the boat, smashed in an inside corner of the cabin — I started to feel my stomach twist and turn with every dip. 

A member of the crew came to my rescue, sitting next to me and handing me crucial supplies (ginger ale, sick bag) and even more crucial advice.

"Keep your eye on the horizon," he said, "to steady yourself."

He also told me about how much worse conditions were yesterday and to be thankful I wasn't on the boat then. But I couldn't imagine a worse situation.

I don't know how, but I got through that boat ride without losing my breakfast. In fact, after walking around the island a bit and taking a tour of Fort Jefferson, I even re-boarded the boat to make myself a huge sandwich from the lunch buffet provided. Jon and I reunited at docking and settled our differences. I consoled him for vomiting and he praised me for not doing so. In this way, we solidified our friendship.

My day at the Dry Tortugas was an incredible experience. I am sure I won't forget it. But what I will remember, most of all, is the boat ride that took me there.

Nina Markowitz
University of Miami '10