Fort draws visitors to Dry Tortugas park
DRY TORTUGAS, Fla. — The Western Hemisphere's largest masonry structure can be accessed only by boat.
What was once the United States' southernmost defense outpost is now a deceptively popular snorkeling destination.
What was once vehemently defended by dozens of weapons is now the focal point of a remote national park.
What one place could claim all of these accolades? Try Fort Jefferson at the Dry Tortugas National Park, located about 70 miles west of Key West, one vacation destination inside another.

"We came down here to Key West on vacation," said Shelly Dahlmeier, "but we heard about this place in passing and had to check it out."
| | | |
| --- | --- | --- |
| Click on the video to see photographs about Fort Jefferson narrated by writer Jon Moss. |   | |
Dahlmeier, a Georgia native, and the hundred or so people with whom she traveled to the fort aboard the Yankee Freedom II quickly learned that Fort Jefferson is an undeservingly overlooked artifact of Civil War history.
Nearly 350 years after Juan Ponce de Leon stumbled upon a group of islands home to many turtles—"tortuga" is the Spanish word for the animal—the United States erected the "Guardian of the Gulf" to monitor both foreign and domestic ships heading through the Gulf of Mexico.
Ships had to travel past Fort Jefferson in order to reach the Mississippi River, which was a hotbed of American commerce throughout the 19th century.
| | | |
| --- | --- | --- |
| An aerial view of Garden Key, home of the historic Fort Jefferson and one of the seven islands that make up the Dry Tortugas (Photo courtesy of the National Park Service). | | |

"It looks like it's out in the middle of nowhere, but if you wanted to get anywhere along the Gulf Coast you had to go through these islands," said Rebecca D'Alessio, part of the Yankee Freedom II crew and a Fort Jefferson tour guide.
In addition to its relevance to seafaring commerce, Fort Jefferson, as was its original purpose, also provided a strategic military purpose. Those purposes, however, changed over time.
"The Army originally built it to guard against invasion," said D'Alessio. "But during the Civil War, when the Union had control, they used it to cut off shipments of supplies to other southern forts."
In fact, the Civil War was such a factor in the fort's development that it shook the building down to its foundation. Literally.
Because of the war, the fort, whose construction began in 1846 with bricks imported from Pensacola, Fla., had to switch to those shipped from Maine. The differences give the fort's façade a contrast noticeable as soon as visitors get off the boat.
"It was something that I noticed right away and had to ask about the first time I came down here," said Raymond Butte, who said he had previously visited the fort "at least four or five times."
| | | |
| --- | --- | --- |
| At right, visitors must cross this moat to enter Fort Jefferson. Below, a row of brick jail cells on the second floor of Fort Jefferson. One such cell housed the infamous Dr. Samuel Mudd. Located atop Fort Jefferson, the Garden Key Lighthouse signals to sailors that they have arrived at the Dry Tortugas. The final photograph shows one of Fort Jefferson's light-sand beaches, providing visitors with a chance for some fun in the sun (Photos by Jon Moss). | | |
As Butte can attest, Fort Jefferson, and the rest of the seven-island Dry Tortugas, can be a welcome getaway, even for those on vacation in Key West.
"My wife has a good friend who spends a lot of time in Key West," said Butte. "We come down here every year for a week, and after a while her friend's husband and I need to take a break from them." 
Butte and his friend, John Coury, said that whenever they make the two hour and twenty minute trip to the islands they make sure to travel aboard the Yankee Freedom II.
"The Yankee Freedom is cheaper and more fun than other boats," said Coury. "And having a few drinks on the way back is always fun."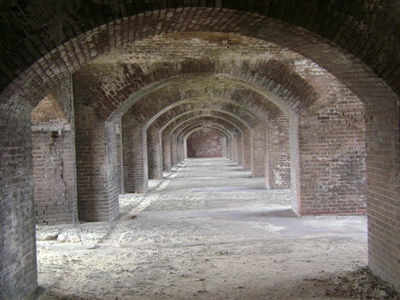 The Yankee Freedom II charges $160 per adult, although discounts for locals and military personnel do apply.
Like the other handful of vessels who ferry visitors to the park, it departs around 8 a.m. and returns between 5 and 6 p.m. It also comes equipped with snorkel gear for those interested in mixing mystery with history.
"There are hundreds of species of fish in these waters, and you don't know what you're going to see if you snorkel," said D'Alessio, who also mentioned that the area was known for its vibrant coral structures. 
In fact, coral was so abundant that it was mixed with sand to form the mortar used to fasten all 16 million bricks during the fort's construction. The construction was done by those who had no choice but to live on the island: slaves and prisoners.  
Included in that group was Dr. Samuel Mudd, a John Wilkes Booth conspirator who spent four years at Fort Jefferson until being pardoned in 1869. Mudd's prison cell is denoted with a plaque detailing his tenure as an inmate.
"My husband is a big Abe Lincoln buff, so when we heard about Dr. Mudd we had to take a look," said Dahlmeier. Dahlmeier does not claim to be an historian herself, and was instead fascinated by the fort's architecture, which consists of an abundance of arches designed for enhanced support.
"We like to say we have as many arches here as they do at Arches National Park," said D'Alessio, referencing the Utah landmark.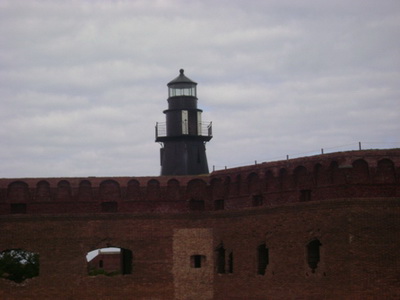 Like Arches, Fort Jefferson is today under the control of the Department of the Interior's, as it is considered part of the Dry Tortugas National Park. The government took control in 1992, and prior to that the Navy had been in charge. 
From its construction until being decommissioned by the United States military, Fort Jefferson never actually saw combat. This is good for any potential aggressors, seeing as it the 10-acre structure was heavily armed.
D'Alessio said that more than a dozen guns were ready to be fired out to sea at a given time, along with four Rodman smoothbore cannons that took four people to load and fire.
Unlike the guns, the cannons, each weighing 25 tons, are still on display atop the three-story fort and serve as both a photo opportunity and conversation starter.
"I don't care what they say on the tour," said Butte. "No matter how many times I come here, I can't figure out how they got these cannons up here."
All D'Alessio can do is smile and appreciate how the cannons add to the aura of Fort Jefferson.
"Much like these cannons," she said, "they wanted the fort to be as big and intimidating as it could be."
If You Go …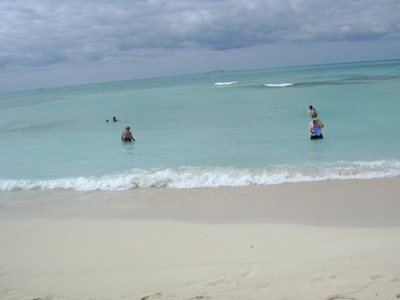 Cost (according to Yankee Freedom II): Adults $160; Students & active military with valid ID $150.
Cost includes transportation and two meals. A $5 park entrance fee is not included.
Vessels dock in Key West's Historic Seaport and depart around 8 a.m.
Visitors should bring walking shoes and a jacket to account for any wind on their boat. Snorkeling gear is provided, although bathing suits and towels are not.
To contact Dry Tortugas National Park, please call 305-242-7700 or visit http://www.nps.gov/drto/.