Square popular with chocolate lovers
SAN FRANCISCO— To any chocolate connoisseur, the name Ghirardelli sends a chill down the spine and a rush of water to the mouth.
The company known for its premium chocolate with a 150-year-old recipe has its original manufacturing factory right in the heart of San Francisco's Fisherman's Wharf.
Every year people flock from all over the world to find this glorious workshop. The 15-foot, glowing sign can be seen from miles away. It draws tourists in like laser beam, but once they get to the square, they are often sadly disappointed. There is no chocolate factory. Well, at least not anymore.
| | |
| --- | --- |
| | Ghirardelli Square is easily identified by the large  Ghirardelli Square sign. Below, top to bottom, a tea serving is ready for use at the Crown and Crumpet, the Ghirardelli Square chocolate shop, a cocoa bean grinder from the original Ghirardelli Square, some of the offerings at Elizabeth W (Photos by Kashae Foster). |
"They moved it in the 60s," said Sarah Ferguson native San Franciscan and concierge at the square. "I'm not sure why, though."
In 1962, the block where the factory was situated was purchased by San Franciscans William Matson Roth, and his mother, Mrs. William P. Roth, for fear of the area being made into apartment complexes.
They turned the block into a square complete with shops and restaurants. Ghirardelli Chocolate Company was purchased by The Golden Grain Macaroni Company in 1963. Then it was moved to San Leanardo, Calif., in 1967 in order to expand to cope with the growing demands for the chocolate.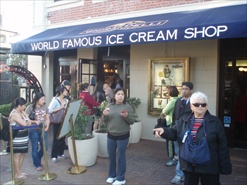 "The top three questions I get are: Where is the bathroom, where is somewhere good to eat, and where is the chocolate factory?" said Ferguson.
With such a demand for the chocolate factory experience one would think that there would be some kind of tour of the remains complete with a story of the history, and maybe a hand at the cocoa grinder, but this is not the case.
Even though there is no chocolate factory, there is a Ghirardelli chocolate shop where the chocolates and Ghirardelli memorabilia can be purchased and a Ghirardelli ice cream shop that has ice cream, shakes, and other delicious treats. 
So, what is there to do at Ghirardelli Square, if there is no chocolate factory? Shop, of course.
But, going to the square is not your average shopping experience. There are stores there that aren't anywhere else in the country. Some of these stores are Yap, Crown and Crumpet, and Elizabeth W.
Yap is a store dedicated to selling the safest and most fashionable products for dogs. It began when designer Irene Trias learned about a condition common in small dogs called a collapsed trachea, and that traditional collars were the cause of it.
Trias went on a quest to find another suitable product for her dog, but when her journey ended with no results, she decided to create something on her own. After showing it on the QVC television network channel, the products took off and she got together with co-owner Liy Kath and opened their first brick and mortar store in Ghirardelli Square.
Another store that has gotten its start in Ghirardelli Square is Crown and Crumpet. Following in the footsteps of the English tea rooms, Crown and Crumpet gives San Franciscans an alternative option to the Starbucks and Dunkin' Donuts.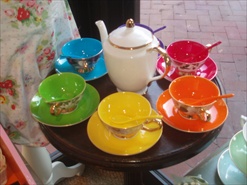 But, don't confuse this chic and modern shop with tea time at Nana's. The brightly colored room overlooking the water is anything but old-fashioned.
"When people, particularly in America, think of tea rooms, they think of sort of old-fashioned, what I call 'granny's front room'. Lot's of doilies and [old] furniture, and that kind of thing. We wanted to do it, but we wanted to get away from that, and make it much more fun, approachable, and eccentric," explained Dean.
Even though most about Crown and Crumpet strays away from the traditional, the menu does not. They offer 38 different types of teas including: black, white, oolong, and fruit and herbal teas.
They also have a special called tea for two which consists of sandwiches, scones, crumpets and a pot of tea. All of their pastries are made in house by a pastry chef.
The tea room is also a place for special events. They have done bridal showers, baby showers, and birthday parties for adults and children alike. But, make sure to get a reservation because this place is always packed.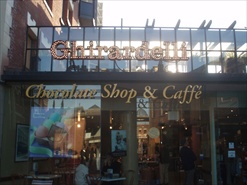 "When we first opened, obviously people didn't know much about us, but we have had a lot of really good press. We were just recently in "Town and Country" and all over the Internet, blogs and so on, so now we get very busy on the weekends" said owner Christopher Dean.  
When Dean and his wife Amy decided that they wanted to bring the English tradition to the states, there was no doubt where they wanted to start.
"There is great old heritage in this building. All of these buildings are historic. I have an interest in the feel and look of it because of all of the brick." said Dean.  
One other store that was drawn to Ghirardelli Square by its history is Elizabeth W. This perfumery was started in 1995 by Albert Wightman and inspired by Wightman's great-grandmother Elizabeth Wightman. The scents of the elder's garden like rose and lilac are the fragrances that fill the store.
"In the winter time we sell a lot of body lotions and body creams. In the summer time it is a little bit different, it is more soaps and things like that," said store worker Vicky Corrana. "Right now the most popular fragrance is Leaves, it's the newest."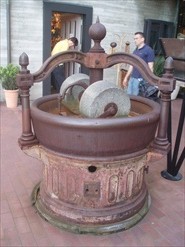 The all natural products are made with substances such as shea butter, aloe and naturally scented oils. Many of the customers of the store make their own fragrances by layering soaps, lotions and sprays with different scents.
One can also find products for the home like candles, diffusers, drawer liners and hanger covers.  
Local Christy Larson said, "I could smell the store from halfway across the square. Each and every one of their scents are amazing. I spritz the Sweet Tea and Lilac sprays on my sheets and they smell like they've been hung to dry in the sun all afternoon."
Even though Ghirardelli Square is the only place where you can find the Elizabeth W store, their products are available through their website and at some department stores.
"You can actually find us at Neiman-Marcus and we cater some high-end hotels," said Corrana.
All in all, if a traveler is looking for a place where she can dip her hands in gooey chocolate and leave with a souvenir of what she made, Ghirardelli Square is not the place for her. But, if she is looking to have an upscale dining and shopping experience, she should head over to Fisherman's Wharf in San Francisco and have her fill.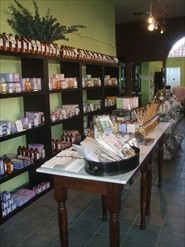 If You Go:
The stores of the square are open from 10 a.m. to 6 p.m. during the week, and 10 a.m. to 9 p.m. on weekends. The ice cream shop is open from 9 a.m. to 11 p.m. and 9 a.m. to 12 a.m. on the weekends.
More information on Yap, Crown and Crumpet, and Elizabeth W can be found on their websites:
http://www.yapwraps.com
http://www.elizabethw.com
http://www.crownandcrumpet.com  
Ghirardelli Square offers several options for shopping and dining. They also do special and private events, as well as host a wine festival and a chocolate festival.
To find out more about what the square offers visit http://www.ghirardellisq.com
The Ghirardelli Chocolate Factory currently located in San Leanardo, does not give tours, and is not open to the public.