Shuttle driver helps visitors enjoy Yosemite
YOSEMITE VALLEY, Calif.— It is 7 o'clock on a late October morning.
As the sun bathes the land in light, the birds chirp merrily in the trees and the deer begin to bound through the woods. A man in a blue work suit is shuttling Yosemite's employees as well as early visitors who are heading to the trails in the Yosemite Valley.
This is the very beginning not only of a day, but also of a new working experience for the man, given that every day there are different things happening in his work.
He is Bill Fagan, 51, one of the shuttle drivers in the village area of Yosemite Valley and Yosemite National Park.
The free shuttle provides convenient access to visitors around Yosemite Valley, including stops at or near all overnight accommodations, stores and major vistas. During the peak periods this year, according to the data from the Yosemite Valley Shuttle System dispatcher Jeanne Hughes, there are more than 22,600 people using the shuttles each day. Therefore, shuttle drivers become indispensable in the Yosemite National Park.
Fagan have been driving at Yosemite for nearly 19 years. He starts at 6:45 in the morning and works until 3:45 in the afternoon. Like most of employees at Yosemite, he works eight hours a day and 40 hours a week.
"Right now, I am a morning person. But not always. I like to sleep," said Fagan, laughing. For the sake of performing his work well, he got into the habit of arriving at workplace early each day.
"I have a room closed by. So, it is not too difficult," he explained.
| | | |
| --- | --- | --- |
| | | At left, Bill Fagan, 51, a shuttle driver who has worked at Yosemite National Park for 19 years (Photos by Yiyun Luo). Below, one of the shuttle buses on its route. Next, passengers fill one of the bus between stops in the valley. Next, visitors wait to board a bus. |
Fagan leads a single life, which he believes is easier for him and began his experience as a shuttle driver when he was about 27 years old. He never imaged he will do this.
"I felt into it by accident…it wasn't really my plan to being a bus driver. It is just something that happened. And I enjoy it and stick with it," Fagan said.
Fagan has passion in driving, especially in such a natural area. While for people who are tired of the hustle and bustle of life in the big city and have been dreaming of getting away from their work, Yosemite, undoubtedly, is a good place for vacation. For some people, like Fagan, who love nature and a relaxing life-style, Yosemite is an ideal work place.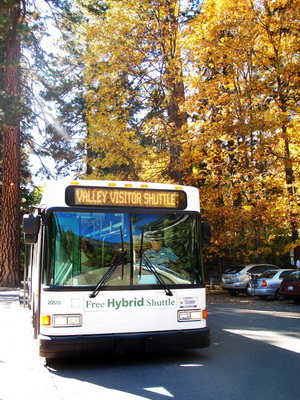 His first driving job is in the major ski area, the east side of Mammoth Mountain. Then, after five years working there, he made his step toward Yosemite.
"I like it. It is fun here," Fagan said. "Here is very relaxing and it's a more fun atmosphere. I meet people from all over the world. And there is something spiritual and something calming there. It is a great place to be in."
Happy driving in natural area such as this park, he has never dreamed of doing the same job in a city.
"That will be too crazy," Fagan argued. "The people here are nice, friendly and easier to deal with. And we don't really have a timetable we have to stick to. It's a little bit more flexible here. But the city is more demanding, rushing and scheduling…. I don't think I could drive a bus in the city."
To Fagan, even though the shuttle route at Yosemite is set and does not change, it doesn't mean he has to do the same thing over and over again every day like the city bus drivers.
"I have a variety of things and I keep the job interesting, too. I don't have the same thing all of the time. It depends on the seasons and what they need me to do," Fagan explained. "Sometimes somebody will come in and rent a bus, for like a wedding party or something… quite often, I get a chance to do the tours as well."
Furthermore, when driving down the village area roads every day, Fagan notices countless interesting things that can only happen in a national park, and they make work more enjoyable.
"I remember one story. In summer, we have a lot of people use the rafts when floating down the river. We were driving a road and a bear was going to cross the road. Everybody loves to see the bear. So I turned on the microphone and said 'look, a bear is crossing the road.' It ran down and jumped into the river and I slowed down to watch it. It swam in the river. Here came two kids with their raft and they saw the bear and they tried to turn the raft around. Everybody on the bus was laughing," he said.
Also, there are lots of people getting confused when driving at Yosemite, which might became funny stories for him, too.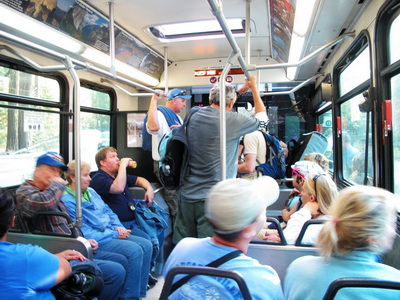 "Making a wrong turn and driving up the wrong side of the street or something. Sometimes, I saw them driving on a bicycle path instead of the street," he added. "I always make comment to people 'look at this guy, he doesn't know what he is doing'. And they laughed."
In addition, there are some special stories he recalls from inside the shuttle.
"A lot of times, when the bus is parked back here, squirrels will get into them. They will chew the wire or make a mess in the bus," Fagan said.
As interesting as his work is, it sometimes might involve an emergency.
"I have been very lucky. I haven't had to deal with anything too desperate," he said in a tone of relief when asked if he had ever been involved in an emergency situation. "Probably, more than most, the common things we have is somebody gets separated from their people and they will come up to us and say 'hey, we can't find our mum/child.' That is the serious thing I have got involved in."
As a shuttle bus driver at Yosemite, in addition to transporting passengers safely and answering their what-to-do and where-to-go questions, Fagan's day-to-day responsibilities include helping visitors understand the wildlife of Yosemite.
"There are reasons they made the national park — to protect it and preserve it. Some people they don't understand. They think they are coming to a park maybe like Disney land or something," Fagan said seriously.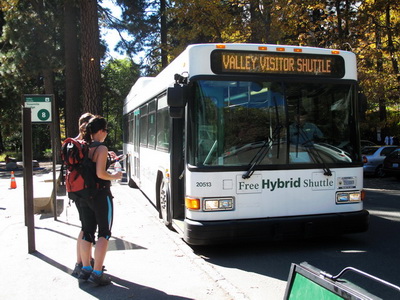 Fagan has witnessed many changes in his 19-year career with the Yosemite Valley Shuttle Service. He believes people can conclude their visit with a better understanding about why we have national parks. Especially when the park rangers, trail guides or even shuttle drivers can show them a bear, a deer, or a coyote, it makes much more exiting for them and then they remember and understand more easily.
As he drives through the haunt of the bear or sees an animal, such as deer, beside the road, he will slow down the shuttle and make a notice.
"It (a deer) is so cute," said Mayu Miyazaki, a Japanese girl from Canada, who is one of the passengers on Fagan's bus. She was happy that Fagan showed her the deer and gave her enough time to watch it.
.
"Look at the nature that you don't always take the time to look at. That is one of the great things being here," said Fagan, smiling. "Look at nature, and feel it and explore it. It is a spiritual atmosphere about this place."
That, he believes, is an essential reason why he loves and enjoys his work at Yosemite.
If You Go: