Paddleboats provide Biscayne adventure
HOMESTEAD, Fla. — It is 11 a.m. on yet another gorgeous fall Sunday in Miami. The sun beams in through my curtains, completely unobstructed, as there is not one cloud in the perfectly blue clear sky.
My cell phone buzzes on the bed side table next to my sleep-deprived heavy head and I am unappreciative of the sudden disturbance that interrupted my mid wakeup haze.
I strain to open my tired eyes sealed together from only four hours of sleep. As I click the answer button on my iPhone, I hear a far too energetic voice for this time on a Sunday.
| | | |
| --- | --- | --- |
| Click to see a short video clip by Lindsay Noris about the area around the Dante Fascell Visitor Center at Biscayne National Park. | |   |
"Rise and shine!!" my best friend Christina Zichelle yelled from the other end of the receiver, "It's time for our adventure!"
"More sleep," I moaned and hung up the phone.
I did not even have time to roll over before the buzzing began again.
"GET UP!" Christina's peppy voice boomed from my cell phone's tiny speakers, "We have been planning this for weeks. I know you're excited."
Fifteen minutes of convincing later, I was out the door, ready to embark on our highly anticipated kayaking trip.
After a quick stop at the local convenience store to fuel up on sandwiches and two detours to pick up my friends from their respective houses, Liv Italiano, Christina Zichelle, and I were on our way to Biscayne National Park to kayak through the bizarre alien-like mangrove trees that reside like soldiers along the bays shoreline, protecting their fortress from natural disaster and pollution.
| | | |
| --- | --- | --- |
| Kayaks, canoes and paddleboats greet visitors at the visitor center (Photos by Lindsay Noris). Below, the entrance to the park. Next, paddleboating and canoeing are a popular activity that many enjoy. Next, the park is a great place to bring family and friends. Last, a visitor brings a canoe out of the bay. | | |
"Let's hope we don't capsize and get eaten by sharks," Liv murmured in the back seat, clearly just along for the ride, already anticipating our impending doom, seemingly uninterested in the wild adventure Christina and I were so excited to begin.
"Quit your whining, there are no sharks," the two of us said, practically in unison, although we could not quite hide the slight doubt in our high pitched voices and expressions of fear sweeping across our faces.
But as we exited the highway and began the long stretch of lonely road surrounded by water and rows of palm trees, our crew came alive and mutual hope and excitement for our adventure finally arrived.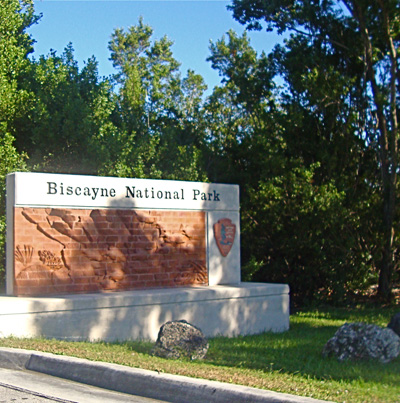 Because of the coastal scenery, our imagination got the best of us as we started to fabricate fantasies of Cuban drug lords and treks across the South African bush, when in reality, we were only in Homestead and a mere 45-minute drive from our safe haven back in Coral Gables.
As we pulled up to the park, we were welcomed by the placid, smooth open water and families picnicking along the shoreline and were instantly in awe by the serene beauty that surrounded us.
"They've got banana boats!" Liv yelled in rejuvenated excitement. But upon closer look, to her disappointment, what she originally believed to be the speeding yellow rafts of a ride made for an adrenaline junky, were simply slow paced, goofy bicycle-like paddle boats calmly floating on top the peaceful bay.
As we neared the rows of kayaks, canoes and paddle boats lined up in neat little racks on shore, our blood bubbling with excitement and anticipation and ready to embark on our kayaking adventure, it was time to face reality; there were three of us, and they had only two-person kayaks.
"Let's paddleboat!" Christina said, coming to the conclusion that it would be a much better experience if we stayed together in one boat.
We ventured over to the visitor center and gift shop where the sales manager, Javier Morejon, a middle-aged man in a khaki colored staff button-down, sat waiting for our arrival behind the counter.
As we discussed our options for a three-person water craft, we learned that, while we unfortunately could not all fit in one kayak, these were the most popular water crafts to rent here at the park and for just $16 for a single seater and a trip that would last an hour and a half, it seemed like a steal.
"We get people anywhere from 20- to 80-years-old here," Javier told us, "The older people do the glass bottom boat and the island tours, and the younger do snorkeling and diving."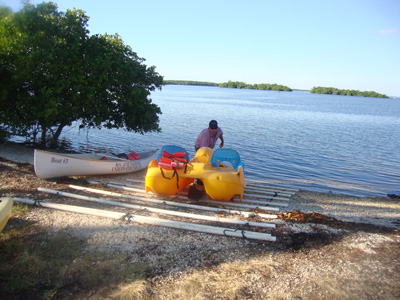 Tempted by the snorkeling trip on a gorgeous day such as it was, we unfortunately had arrived to the park too late in the day and with not enough money in our pockets for the $45 per person, three-hour reef tour.
The three of us finally settled on renting a two-person paddleboat for $30 and, after receiving our life jackets and a quick lay of the land, we boarded the bright yellow paddleboats with a slight air of embarrassment and awkwardness.
Two of us sat in front manning the pedals, while the smallest of the three, Christina, crouched in the back, holding on for dear life as the boat shook as we adjusted ourselves.
"Here we go!" Liv exclaimed, excitement finally catching up to her just a few hours delayed.
With hopes of seeing a pelican in mid descent, diving at great speeds to scoop up one of the many types of fish found in Biscayne Bay, or a hawk swooping overhead on the prowl, we pedaled faster and faster, but to our dismay, this exciting adventure was going no where, fast.
The boat slowly trudged along the open water towards the two small islands situated out ahead. They must have been less than a mile out, but as we pedaled onward, the islands seemed to get further and further away.
"Pedal, pedal, pedal! You can do it!" pushed Christina from the back of our little paddleboat. Little did she know how much our thighs burned from pushing the paddles that sloshed through the shallow marshy waters underneath us.
Not too far off in the distance the water splashed, giving us a new found surge of energy and incentive to paddle faster in hopes of catching a glimpse of whatever wild creature was jumping up to say hello.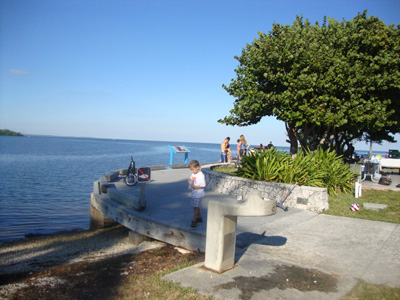 It could have been anything from the most-populated Mangrove Snapper to the daunting beast-like Barracuda, but out of the 512 species of fish that call Biscayne Bay home, out of the 512 possibilities, the splash of water was the only thing we got.
I could not help but wonder if the lack of fish we were experiencing was in part to the newly arriving Lion Fish that have been taking over the park waters recently.
The park rangers have been working hard to eradicate this highly venomous fish from the water, which despite its beautiful long flowing fins and intriguing striped pattern, poses a severe threat to the sustainability of this eco system and the vast wildlife found throughout the marshy waters.
However, the likelihood of a Lion Fish coming close to shore and being the reason for our inability to see any real wildlife is extremely low. They tend to like the clearer waters of the reef and have not ventured close to shore. For now, the wildlife in these tranquil waters seems to be protected from these unwelcome foreigners.
As we drifted in the middle of the bay, legs burning and hopes dwindling, we decided to head back to shore, giving up on the glorious adventure we had envisioned.
Once back on shore, we returned to the gift shop to pick up our ID cards and say our goodbyes to our new friend, Javier.
"You're back sooner than I expected," Javier said.
"We encountered a few bumps in the road, including a killer bee that followed us around wherever we went," Liv shot back.
As we replayed our non-adventure back to Javier, he quickly and casually mentioned the crocodiles and sharks that inhabit the shallow waters.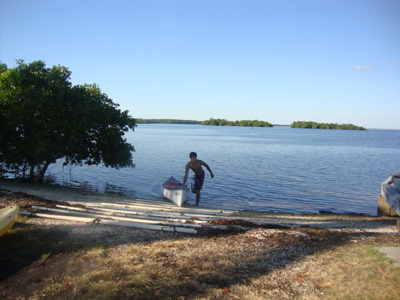 Christina, quick to notice, interrupted his casual banter, "Crocodiles and sharks?
Had you had mentioned that to us before we went out we would have never left shore!"
"That's exactly why I didn't tell you girls before," he responded, with a smirk spreading across his face, "There's no risk. They are shy and will go away from you. The sharks come into shallow waters to feed on the baitfish that have washed into shore.
Crocs are spooked when they see us. The sharks kind of check you out and leave, there is so much food, they don't want to fight you for it," he reassured us, making note that these creatures are more afraid of us than we are of them.
As the sun's heat began to fade, we took one last look around us at this newly discovered hidden gem called Biscayne National Park, soaking in one of the most tranquil scenes we had encountered in our four years in South Florida.
A soft splash in the distance, a soaring bird overhead, a young boy giggling, hotdog in hand, as he played tag with his father across the grassy picnic area, and the unusual twists and turns of the Mangroves roots devouring the shoreline.
"We might not have had the crazy adventure we were geared up for," Christina said, "but the escape from our hectic lives back in Miami to a nature's paradise was well worth it."
If You Go…
For an hour and a half tour, kayaks and canoes can be rented at $16 for singles, $25 for doubles.
Paddleboats are $30 for two passenger boats and $40 for four passenger boats.
Reservations are not required.
The website for trip reservations and rentals is http://www.biscayneunderwater.com and the phone number is 305-230-1100.
Parking is free.
Credit cards accepted.
All boats must be returned by 5:30 p.m.
Directions to the park: From U.S. 1 in Homestead, take SW 328th Street East to end at Biscayne National Park. From Florida Turnpike South to exit 6, Speedway Boulevard exit, turn left from the exit ramp and continue to SW 328th Street, turn left and continue until the road ends at Biscayne National Park.