Bicycles offer close-up way to tour Yosemite
YOSEMITE VALLEY, Calif. — As I coast around a corner on an old yet reliable beach cruiser, golden leaves flutter down from the branches that canopy the trail. Continuing east, I can still hear Yosemite Falls' rushing water crashing on rocks behind me. I pick up speed going through the turn and a cool breeze refreshes me as I pedal on through Yosemite Valley.
Driving a car through Yosemite Valley may seem like the easiest way to enjoy the impressive landscape in its entirety. Those four wheels can access almost the entire Valley in a half-day without anyone getting winded.
However, from afar, animals and subtle natural moments of the national park are often eclipsed by the enormity of the cliffs and trees. To be sure not to miss anything on my short two-day stay, I decided to explore the valley floor on a bicycle.
On my first day in Yosemite Valley, a brisk Friday in late October, I headed over to the Curry Village bike stand at 10:45 a.m. A large grey tent filled with bikes of all sizes and colors dwarfed the small hut that serves as the rental office. Sean Costello, manager of the bike stand, greeted me with a warm smile.
"[Riding a bike] is the best way to get around the park," Costello, who has worked at Yosemite for over 20 years, said. "Being able to see the Valley at your own pace is a nice advantage of the bicycle. On busy weekends cars are gridlocked, bumper to bumper, but on a bike you are just zipping along."
Costello filled me in on all necessary details of renting a bike. It costs $9 per hour to rent one bike and $25 to rent it for the day. Bikes can be rented until 4:45 p.m., but Costello suggests getting there soon after 9 a.m. if possible.
| | | |
| --- | --- | --- |
| At right, three bicyclists enjoy a picturesque morning ride on the Yosemite Valley Loop Trail (Photos by Lauren Sagaser). Below, a male deer grazes in the valley's tall grass off of a bike trail. Below, beautiful sturdy trees shade much of the Valley Loop Trail with their colorful leaves. Last, a distant view of Yosemite Falls and Valley is seen from a secluded section of the Valley Loop Trail. | | |
"It's best to get here as soon as we open, that way you get your money's worth too," Costello said. "With the prices we have once you get two and a half hours you've already got the daily rate covered. You may want to come back in an hour, but you may have so much fun you don't want to come back until we close at 5:45 p.m."
Guests pay for their rentals upon returning their bikes. There is a selection of 150 bikes to choose from at Curry Village. Helmets are mandatory for people under 18 and optional, but recommended, for adults.
I chose a light blue bicycle with a seat at a good height. In addition to the single speed beach cruisers, guests can rent tandem bikes and multi-speed bikes with burley cub trailers attached. The trailers accommodate one or two children up to 90 pounds total.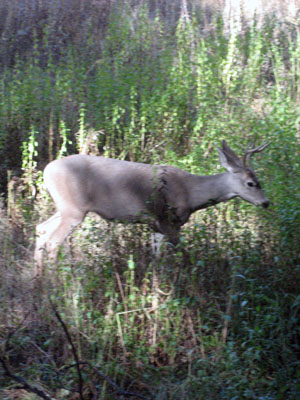 As I headed on my way Costello handed me a trail map, which doubles as a shuttle map. I decided my first stop would be Yosemite Falls. That way I could continue west on the trail, circle the valley and finish back at Curry Village.
The old-style cruiser took some getting used to. I have always used a mountain bike, so the upright positioning of the body seemed foreign at first. After about five minutes, however, I mastered the posture and pedaled with speed.
I immediately noticed the advantage that touring Yosemite Valley on a bicycle has over riding in a car. While vehicles piled up bumper to bumper, waiting to turn at a four-way stop, I whizzed by after a quick check to my left and right (there are stop signs for pedestrians and cyclists as well, where ever a trail meets the street).
Every two minutes I could not resist stopping to take a picture of the exquisite scenery. After riding through a particularly dense area of trees, I was greeted by a vast open valley with golden grass rippling in the wind and a spectacular view of Yosemite Falls from a distance. Then, trees once again enveloped the trail. This time, however, instead of dark forest greens, vibrant orange and gold leaves surrounded me.
It took only 10 minutes for me to arrive at my destination. I found a spot for my bike in the crowded rack at the base of the trail to the Falls. At each trail and building accessible to guests, a bike rack stands within 100 yards.
At first I was apprehensive about leaving the rental out in the open to be taken by the next person that came along, but Costello quelled my fears.
"That's the one thing I'll tell the guests: it's pretty honest and safe here in the park," Costello said. "We do not provide locks with the rentals because you don't really need one. What you want to remember is your bike number because when you get other bikes in the rack they all look the same."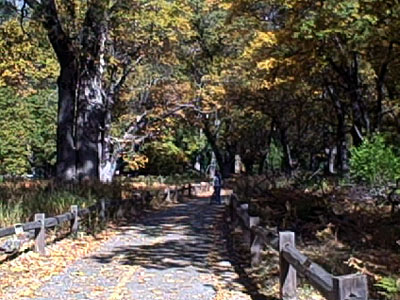 Heeding Costello's advice, I checked the sticker on the handlebars and wrote down my bike's number, 9121.
I took a leisurely stroll down the pathway leading to the foot of Yosemite Falls. After snapping a few pictures and admiring the view I returned to my bike and continued on the Valley Loop trail. I easily maneuvered through the traffic accumulating at Yosemite Lodge and headed toward Cathedral Beach.
Once again, the landscape absolutely awed me. The sun reflected off of massive cliffs, which lit up the valley that lay below the rocky terrain. While stopped, I intercepted Maggie and Drew Collins, an elderly couple from Nevada. The two, though up in age, had already pedaled through the park for over an hour and were planning on more.
"Nothing beats this view, huh?" Drew commented, noticing the direction of my gaze. I asked them about their experience on the rental bikes so far. "I love this kind of bike!" Maggie said, referring to the beach cruiser style.
"It's so much easier on my back, I was worried that I wouldn't be able to do it when [Drew] first suggested renting them."
We chatted about a minute more. As we parted ways, Drew told me that they had seen a herd of deer grazing about a two-minute ride ahead. I thanked the couple and eagerly sped on.
I crossed a small bridge (inaccessible to cars) going over the Merced River. I veered left away from the street that runs along the trail and was rewarded for my choice.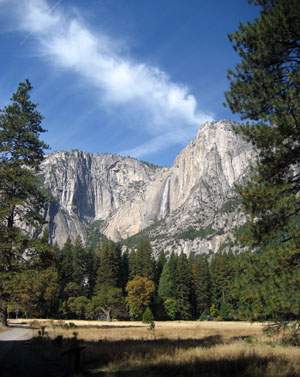 On the left side of the trail four deer were out enjoying an afternoon snack. There was no way to see the animals from anywhere besides the bike trail. Those in cars missed out on the sight. I stayed for a minute, just observing the tranquility of the moment.
I continued riding until 4:45 p.m. In six hours I had circled the 12 mile trail of the Yosemite Valley floor two and a half times, stopped at Yosemite Falls twice and sat down to eat. While on my ride I saw three more deer and two grey foxes. Both species would not have been visible from a car.
The following day I returned to Curry Village. After filling out paperwork and selecting a bike (pink this time) I was once again on my way.
I focused my attention on the east side of the park. I stopped at Mirror Lake and Happy Isles and walked both trails. Once again, bike racks were available to park my ride.
My second day of biking was as eventful as my first. My eyes were treated to intimate moments with wildlife, often from five yards away.
After four hours I had biked the trail one and a half times and hiked Mirror Lake, Happy Isles and Yosemite Falls. Exhausted yet satisfied after riding 50 miles in the weekend, I left Yosemite Valley confident that riding a bike through the park is the best way to go.
If You Go:
A single bike costs $9 per hour or $25 for the day, regardless of type.
Bikes can be rented at either Curry Village or Yosemite Lodge.
Rentals begin at 9 a.m. and end at 4:45 p.m. All bikes must be returned by 5:45 p.m.
The bike shops do not take reservations, but if you book your trip at http://yosemitepark.com a place can be held for you on a specific date. The bike must be claimed by 9:30 a.m. or it will be sold to someone else.
During the summer season the bike shops also rent out rafts to take on Merced River.
For more information, call 209-372-4FUN(4386).